Strengthen your presence on the shelf
One of the biggest hurdles consumer goods companies encounter is getting on the shelf. But the path to growth does not end there.
Building a brand and driving brand awareness hinges on whether a company secures a spot for its product. But true brand awareness and customer engagement is reliant on a few other factors, including optimal assortment and effective promotions.
Did you know?
The average U.S. grocery store stocks more than 39,000 items, offering consumers an overwhelming number of choices within each category.
Based on results from eye-tracking studies, 76% more consumers will notice the top-performing package design than the bottom-performing one within a particular category.
Optimized package redesigns have been shown to generate an average 5.5% lift in forecasted revenue when compared to current, in-market designs.
Mature brands should not assume that consumers are automatically considering them simply because they're well known. Consumer loyalty and customer engagement is more fragile than brands might expect: It takes hard work to brand build and stay top-of-mind. For this reason, it's imperative not to let breakthrough innovation overshadow 'small' innovation. Each deserves the attention its expected contribution commands.
Do you know how aware buyers are of your brand?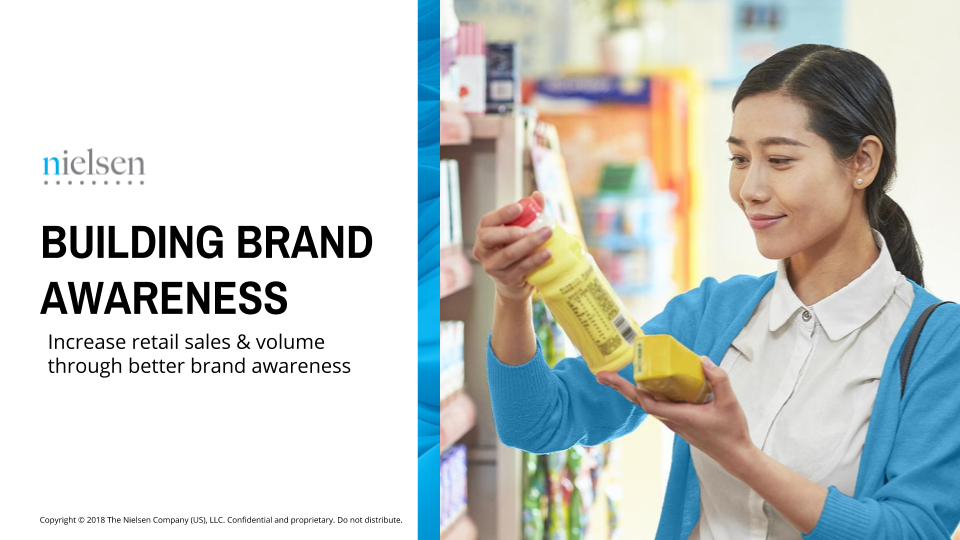 ---
Fill out the form below to access the brand awareness workbook.
Increase your brand awareness
Retailers want to understand how your brand is performing in the hearts and minds of consumers. NielsenIQ helps emerging businesses make informed decisions through affordable, easy-to-use, retailer-preferred measurement data. Contact a NielsenIQ representative today to find out more.