Welcome SuperZoo Exhibitors and Guests
Stop by and see us at booth #5567
Actionable Data for Pet Brands of All Sizes
Data is not a one-size-fits-all solution. But in the competitive business of pet supplies, data and insights play a major role in influencing brand growth.
NielsenIQ offers a wide range of solutions from NPI Label Insights and Analytics offerings for large brands to the self-service data platform for SMBs, Byzzer. Even better, NielsenIQ's flexible pricing model is designed for both emerging and established brands looking to accelerate growth without eating up their entire budget.
Our data solutions are accessible, affordable, and easy to use whether you have a team of analysts to make sense of the data or are flying solo. No matter where you are on your data journey, NielsenIQ has leveled the playing field for brands of all sizes. Our solutions can help you:
Win over more retailers
Gain more in-store presence
Increase ROI
Optimize pricing and promotions
Drive product innovation
Strengthen shopper loyalty
The right data can change your trajectory fur-ever!
See NielsenIQ Data in Action
Whether you sell pet food, consumables, supplies, specialty products, or more NielsenIQ provides the only holistic view of pet in the marketplace. Let us show you how it works and how you can use the data to stay ahead of the competition.
Give NielsenIQ a try with a free account
For SMBs, you can try out our Byzzer for free! Sign up for an account to get 3 free reports including category and brand trends, top 10 lists, and competitor comparison as well as a weekly email alert for your category and brand on pricing, market share, or market performance.
Are your sales growing as fast as the pet category?
To lead a market, you need to understand it. We have you covered with our complimentary download of the pet market overview.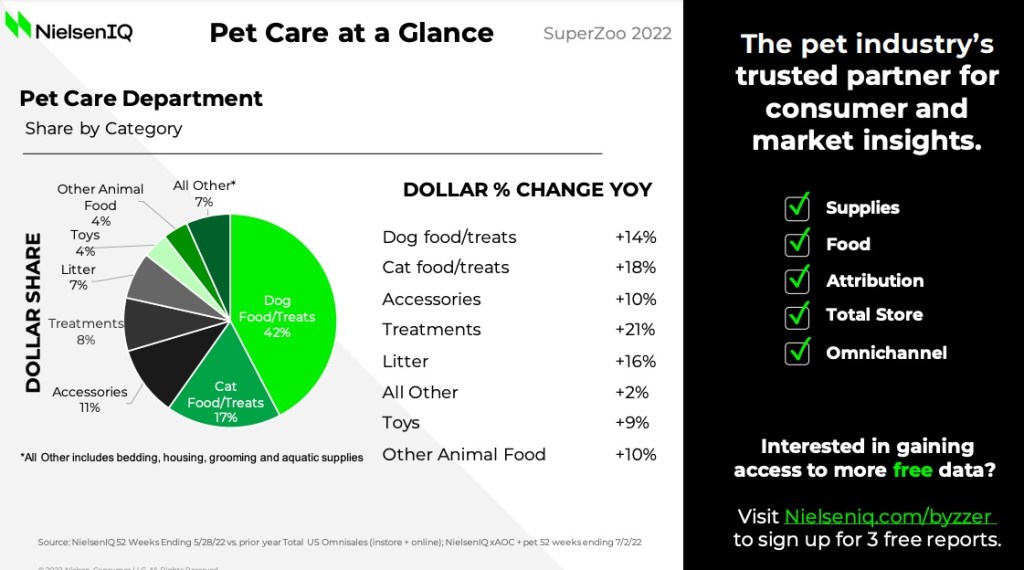 Contact us to learn more.