There are a multitude of factors that influence the way we shop and what leads us to make a purchase. Where consumers live is one of many factors that affects how much we spend, what channels we spend in, and how much we spend in each trip.
Canadian consumers make, on average, 156 shopping trips annually and spend $8,645 per year across all fast-moving consumer goods (FMCG) channels, which include grocery, drug, mass merchandisers, and warehouse club stores, among others. However, not all provinces are created equal.
Ontarians make fewer trips (152 per year) and spend 4% less than the average Canadian, with only $8,295 in annual FMCG purchases. Comparatively, their Albertan counterparts spend the most with $9,448 in annual purchases. But while consumers in Alberta are the biggest spenders, they are making fewer trips than the average consumer, with only 144 shopping trips annually.
How do consumers in Alberta spend more while also shopping less? They spend more each time they are in the store. During individual shopping trips, Albertans spend 18% more than the average Canadian, making their total basket worth $66. For retailers and manufacturers, that's a big basket to capture. But the right marketing techniques are important, as they have fewer opportunities to engage Albertan shoppers through in-store influences (e.g., promotions, price checking, merchandising, flyer, out of stock, etc.). Focusing marketing efforts on stocking up and bulk purchases could be a way to convince these shoppers to grow their baskets even further.
With FMCG shopping behavior varying across the country, retailers and manufactures need to adopt an action plan they can adjust for across the country's varying regions. One size does not fit all. Marketers can improve the effectiveness of their efforts if they develop and implement strategies that align with each region's distinct consumer shopping habits and preferences.
For example, on the other side of the spectrum from Alberta are consumers to the East (Quebec and the Maritimes), who spend only $52 per shopping trip. However, while these basket sizes are small, both have grown over the previous year, rising 2% in Quebec and 5% in the Maritimes. To better understand how location can drive shopping behaviors, we dove deeper into the consumer habits of the Quebecois. From languages spoken at home and work to the most visited retail channels, consumers in Quebec have distinct shopping preferences compared to the rest of Canada.
La Belle province remains distinct
From Gatineau to Chicoutimi and Montreal, consumers in Quebec shop less in Mass Merchandisers than the rest of the country. On average, Quebec households have fewer members, which likely has a direct impact the number of shopping trips and dollars spent in these large-format stores. Compared to their neighbours to the West, Quebec households have fewer children. In fact, 79% of Quebec households having no kids, compared with 69% in Ontario. Furthermore, more households in Quebec are one-member households (32% in Quebec vs. 25% in Ontario). With fewer household members, they are more likely to have smaller homes. Shoppers' living conditions and whether or not they have room to stock up and store products influence what (and how much) they buy.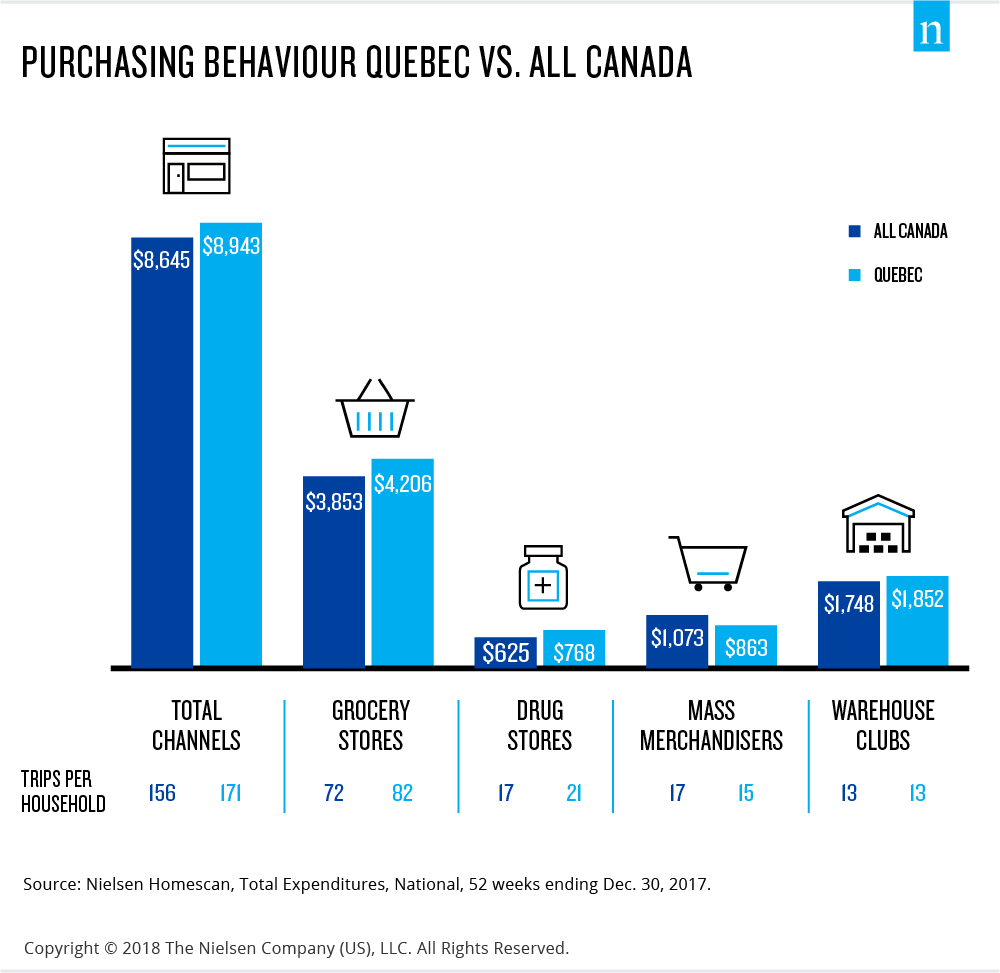 Adding to Quebec's differentiation is language, with 79% of the population's first language being French. Additionally, 71% of Quebecers only use French at home. Retailers and manufacturers looking to make a splash in the Quebec market should consider regional French language campaigns that will resonate with French-speaking consumers.
Quebec is a distinct province in Canada, but not the only one with regional differences. Regardless of the market(s) you are trying to 'win' in, get to know the cultural and regional characteristics that may affect consumer shopping behavior.