Women have always made less money than men. Isn't it time we changed that?
If you're a woman in North America, the OECD estimates that you make $10,000 less than your male counterparts each year, and you're charged between $1,300 and $2,135 more for products and services. It's a gender fine that adds up to about half a million dollars over your lifetime—and that's if you're lucky. If you're college-educated, a professional school graduate, a minority, or a Millennial, experts estimate that your gender fine ranges between $1 and $2 million.
So it's no wonder that in our recent Wise Up to Women study, we found that 32% of women in North America say they only have enough money for the basics. In fact, the World Economic Forum's 2018 Global Gender Gap report estimates that equality won't be a reality in North America for another 165 years. That's 57 more years than the global average.
What's weighing North American Women Down?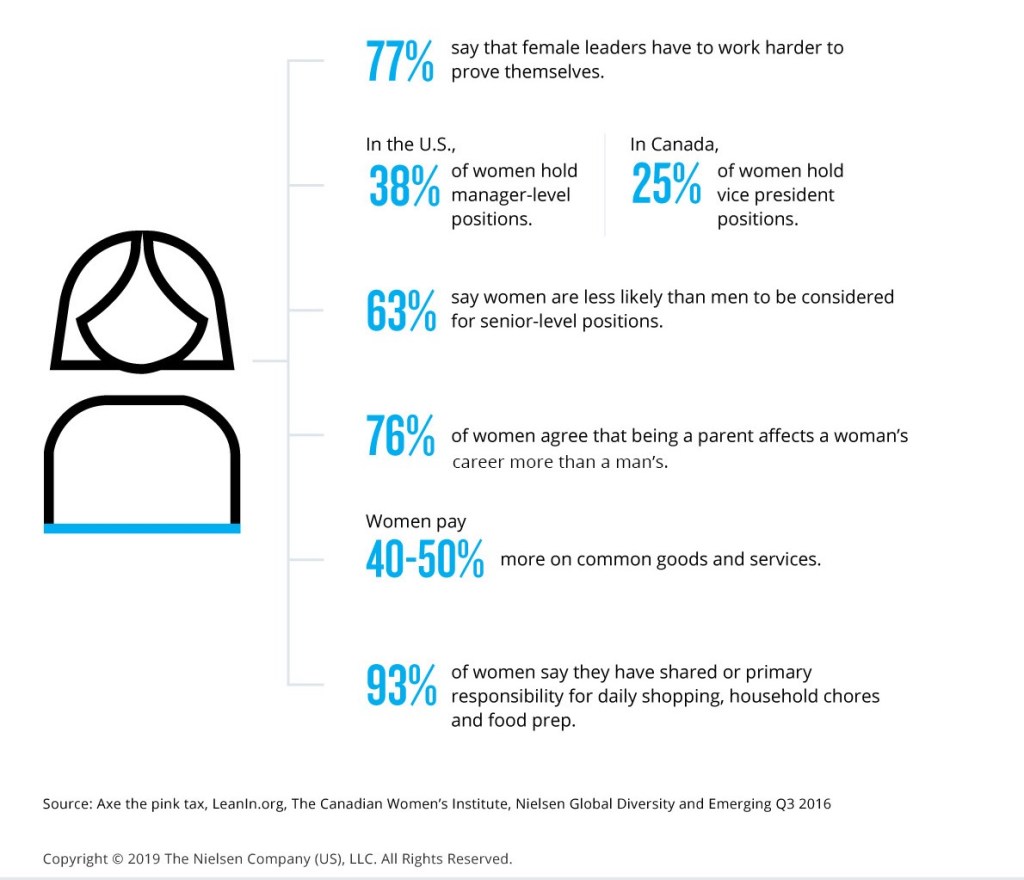 There is a male equivalent of the "pink tax," but it's not as big a burden. For women, the pink tax, or gender-based price discrimination on common products and services, is 40%-50% higher than it is for men, according to estimates by the U.S. government, the Canada Labor Institute and third parties. In some categories, the price difference is as high as 50%-100%.
Gender Disparity At The Shelf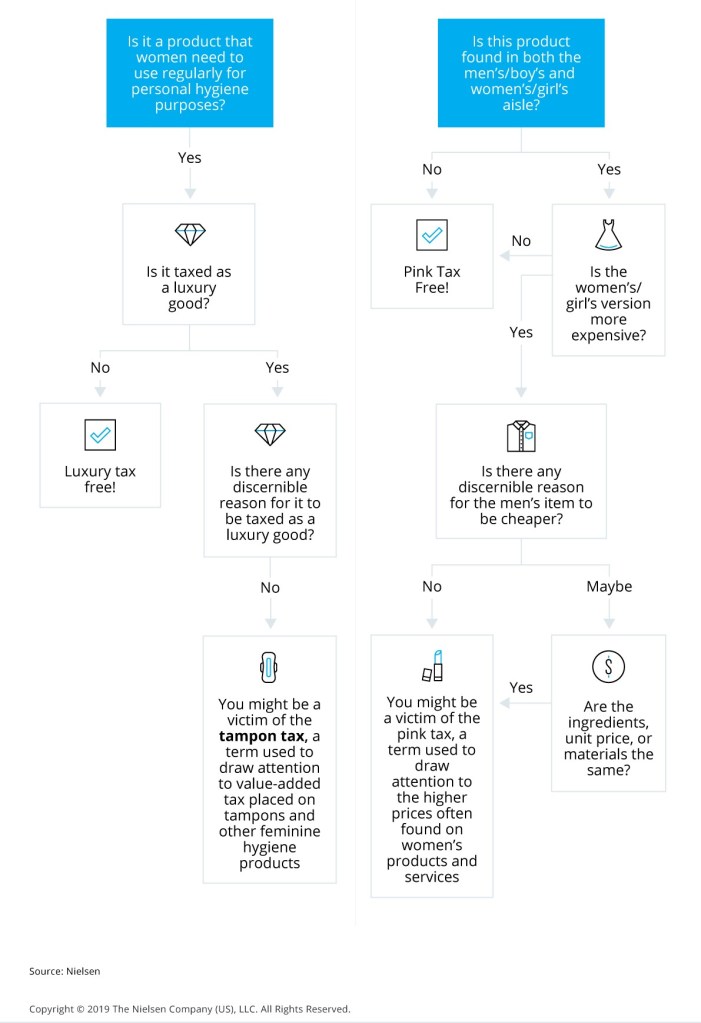 At work, 77% of women say that female leaders have to work harder to prove themselves, and 63% say women are less likely than men to be considered for senior-level positions. The data backs them up. According to a recent study by Lean In, men in America hold 62% of manager-level positions, while women hold just 38%. The Canadian Women's Institution reports that women hold only 25% of vice-president positions and 15% of CEO positions.
On top of that, women's to-do lists are longer. Ninety-three percent of North American women say they have shared or primary responsibility for daily shopping, household chores and food prep. And it's not just household jobs that monopolize women's time—it's the caretaking responsibilities as well. Three-in-four (76%) North American women agree that being a parent affects a woman's career more than a man's.
The fact that women are under-paid, overcharged and overworked is an old story. But with the #TimesUp and #MeTOO movements, we've entered a new era.
It's an era of social media activism, candid media headlines and truer portrayals of women in the media. In children's TV programming, for example, the percentage of female leads/co-leads hit 52% in 2018, according to a recent study between The Geena Davis Institute and Nielsen. That's up from 42% in 2008, and it's the first time that kids have seen gender equality in the programs they watch. On the flipside, however, the gender gap still persists in children's films, where only 32.8% of the lead/co-lead roles went to women in 2018.
It's an era of women lawmakers. In Canada, the federal cabinet is now evenly split between men and women, and 27% of the seats in the House of Commons belong to women, which is the highest percentage in Canada's history. And this year, the U.S. Congress opened its doors to a record-breaking 23.7%, or 127 women.
It's an era of challenger brands that are making themselves allies for equality and taking up the fight against the pink tax. Marketers are creating education campaigns, working with legislators to ban the practice, adjusting prices or giving women rebates on pink taxed items, and even creating gender-neutral innovations. Brands like Billie, Boxed.com, Burger King and more are working to educate consumers, give money back to women, and most importantly innovate for women.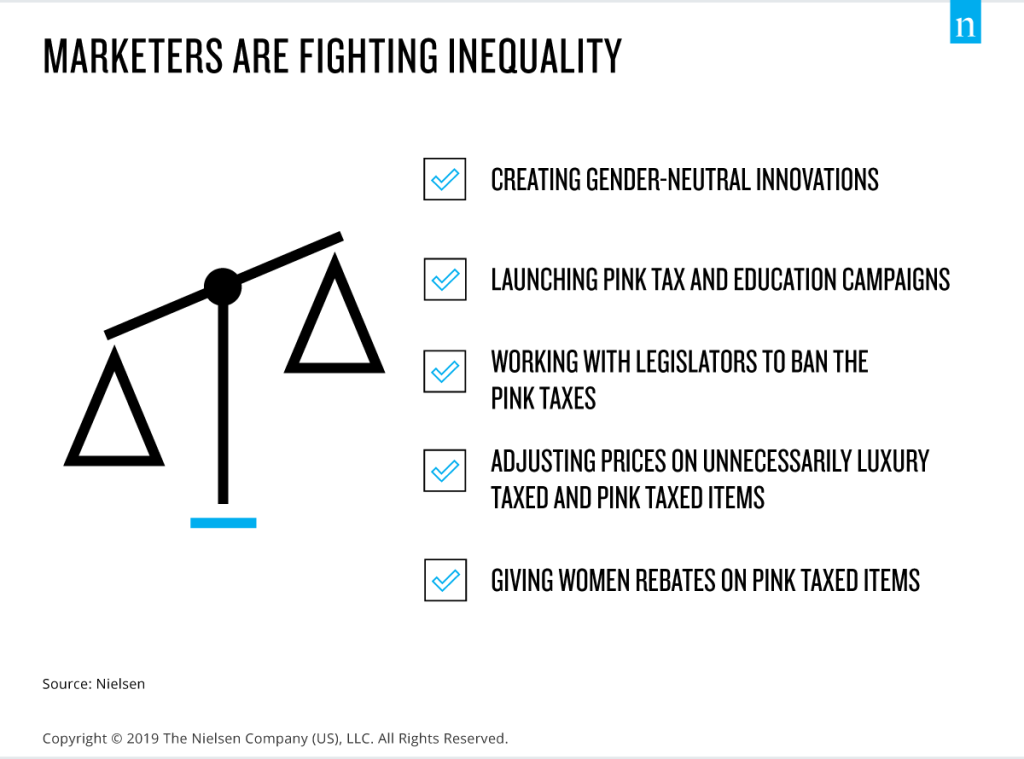 It's time for businesses to be an ally for women: They're increasingly showing signs of fatigue, disloyalty and higher levels of discretionary spending. Globally, North America has the largest gap in consumer optimism between men and women. Companies that help chip away at the $1 million gender fine will win over a powerful consumer group and ensure that people have more money to pay for child care, education, student loans, food and shelter. By supporting women, marketers will create stronger financially backed communities that can weather the ups and downs of the economy.
Methodology
The insights in this article were derived from the following sources: