In-store tech may boost the brick-and-mortar retail resurgence
Brick-and-mortar retail may be readying for a resurgence. And somewhat ironically, a handful of digital brands are leading the charge.
However, a key difference is that the experiences offered by tomorrow's physical retail stores won't feel like the ones Baby Boomers experienced as kids. We've seen far too many heritage retailers close up shop in recent years to know that it takes more than just open doors to attract and keep customers.
A global deep dive by NielsenIQ into emerging consumer demands points to the growing role of in-store technology. And investors are betting on it. In 2019 alone, a study from CB Insights found that investment in in-store tech spiked nearly 60% to $3.7 billion. Further, venture capital firm Fifth Wall and Thinknum Alternative Data say digital native brands like Casper, Peloton, and Warby Parker operated 1,700 stores in the U.S. at the end of last year, and JLL Research forecasts that digital natives will open another 850 physical stores by 2023.
And trends for fast-moving consumer goods (FMCG) may follow, based on the NielsenIQ investigation. Consumers have never been more receptive to technology than they are today. Smart technology is becoming ubiquitous, artificial intelligence is powering our playlists, auto tech is parking our cars for us, and it's time for our retail experiences to get in the game—especially in ways that help the 64% of global consumers who say their lives are getting busier.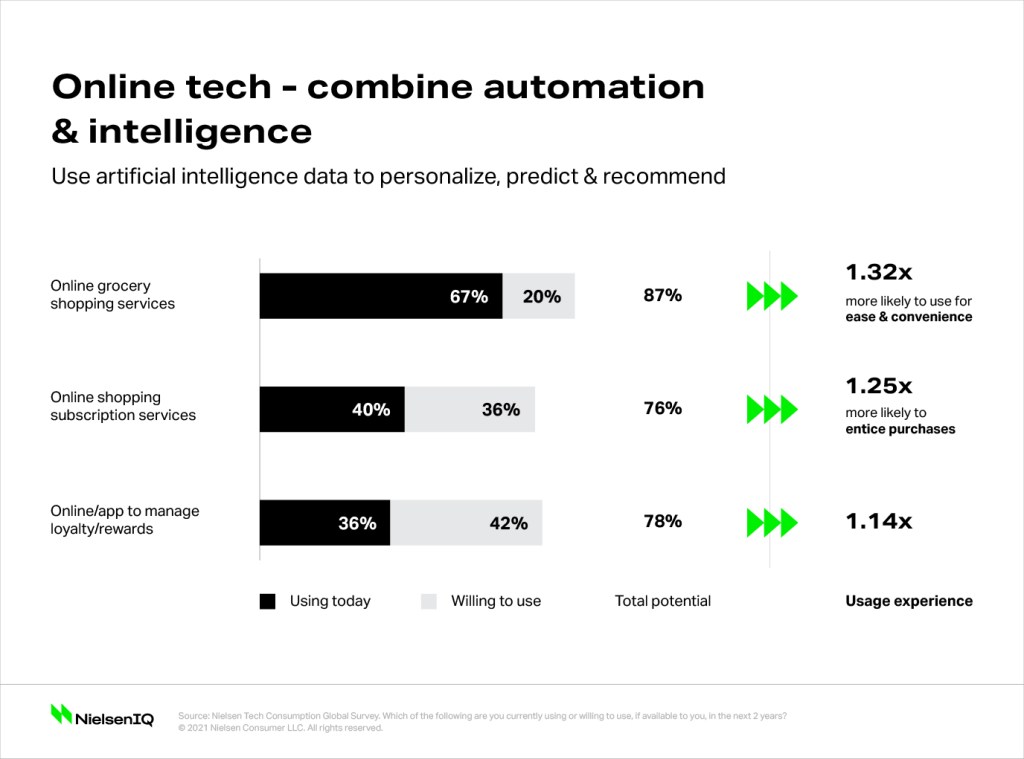 Global consumers are already using online technology
Industry trends aside, to keep pace with their busy lives, global consumers are using online technology that combines automation and personalization. Take online grocery shopping for example: A NielsenIQ study across 64 countries found that 87% of global shoppers are either using or willing to use these services. In fact, they're 1.32x more likely to use these services because of ease and convenience—two factors that are just as important in physical retail environments.
Saving time is huge with consumers. And in that respect, technology can be a brand or retailer's best friend simply because it will more than likely speed up the consumer experience. And while the online space has a bit of a head start with respect to using artificial intelligence and consumer data to personalize, predict, and recommend, it's certainly not the only place where that can be done.
In-store tech is starting to sprout, and it has plenty of open road opportunities ahead. But in looking at adoption for the in-store tech already in use, retailers have yet to fully solidify the value proposition among consumers.
"In-store technology, such as navigation apps and Bluetooth-enabled shelf labels, can transform in-store experiences, helping shoppers find what they need in guided, useful, and entertaining ways," said Ailsa Wingfield, Executive Director, NielsenIQ Global Intelligence. "These technologies can draw shoppers to products, convey real-time information, provide reviews, and promotions, all based on shopper preferences and habits, and combine function with fun to entice purchases."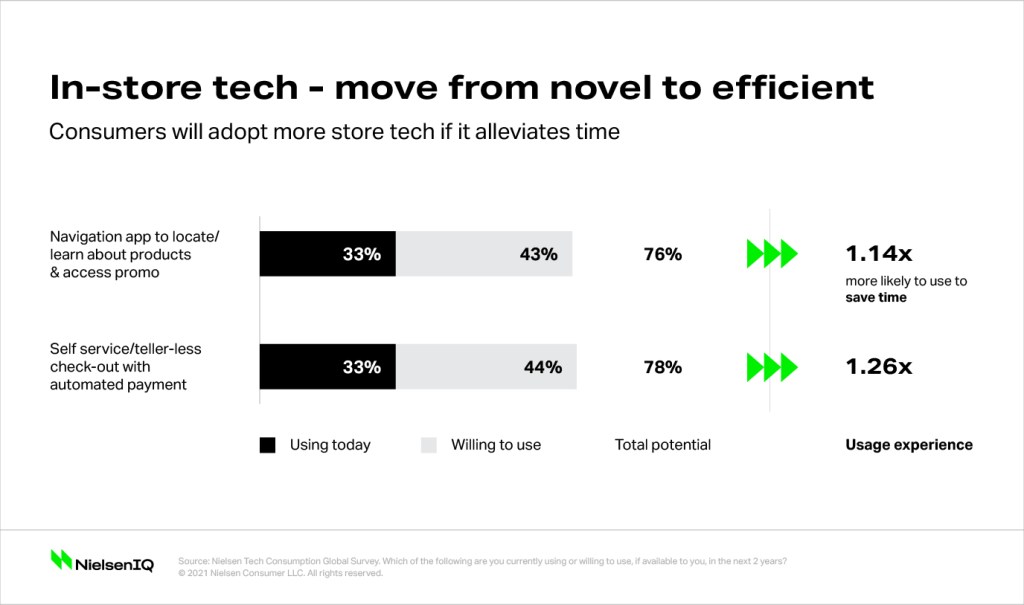 Gaming technology makes shopping fun
In recent conversations with video gaming industry experts about the proliferation of "gamification" beyond the entertainment realm, many agree that emerging technology will take hold in the enterprise and B2B space before scaling among individual consumers. While part of that adoption will be due to things like cost, safety, and basic feasibility, there's something to be said for introducing something fun into a routine task like shopping.
For example, home improvement retailer Lowe's has transformed the in-store experience through an app that helps customers find what they're looking for by locating items at their local store of choice. It also lets users set reminders while they shop and scan barcodes for detailed product info. Taking this experience further, retailers should think about adding personalized, in-the-moment rewards and promotions.
Retailers could also consider partnering with brands that are already leveraging budding technology. For example, an array of wine brands have partnered with the Living Wine Labels mobile app, which turns the labels on the bottles into augmented reality experiences that are unique to each vintage. Partnering with those wines, for example, would certainly upend the in-store promotions game.
Technology can help different categories in different ways. That's why brands and retailers need to develop category-specific strategies. For example, our Category Shopping Fundamentals study from 2017 identified that consumers find navigation, for example, more helpful in finding snacks and frozen foods than they do in finding beverages and pet care items. So as technology continues to permeate, it will be important for players in the CPG space to evaluate use-cases and consumer interest levels rather than simply deploying each new technological application that becomes available.