Predicting holiday spending across consumer types in the 'New Normal'
The holidays have always been a time for friends and family to come together, often in larger numbers than usual. But travel constraints and local health rules will force smaller gatherings in many parts of the world, and that will result in different festive spending patterns compared with years past.
As the holidays loom, we predict that consumers will fall into one of five groups that span the spectrum of existing financial and physical restrictions.
Each of these five consumer groups will approach the reset of their holiday shopping behavior uniquely. As plans change on a daily basis related to COVID-19 developments, it will be imperative that companies align their plans with the new circumstances consumers find themselves in.
In August, we identified four emerging patterns to help predict the drivers of pandemic purchase decisions. When applied to the new consumer groups that will emerge this festive season, these reset patterns highlight some important considerations when converting holiday shopping opportunities this year.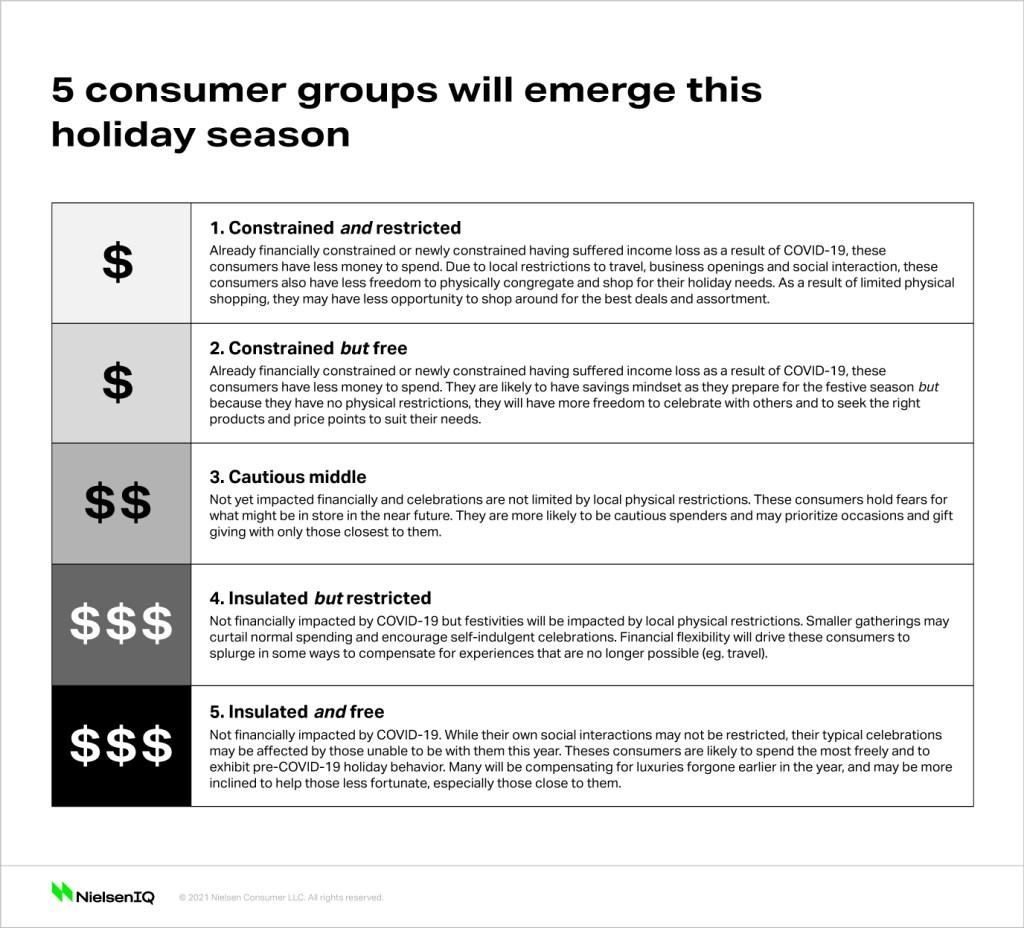 Basket reset – redefine what's festive
Holiday spending and gift etiquette will be redefined based on shifts in what and who will be considered essential to each consumer. To meet this shift, look at the broadened assortment of what consumers might consider "giftable" as an opportunity rather than a limitation. The door is open for non-festive categories to perform strongly this season. From a necessity that can no longer fit the budget, to a product that has been harder to get in stores this year, the definition of a "gift" will look very different this year.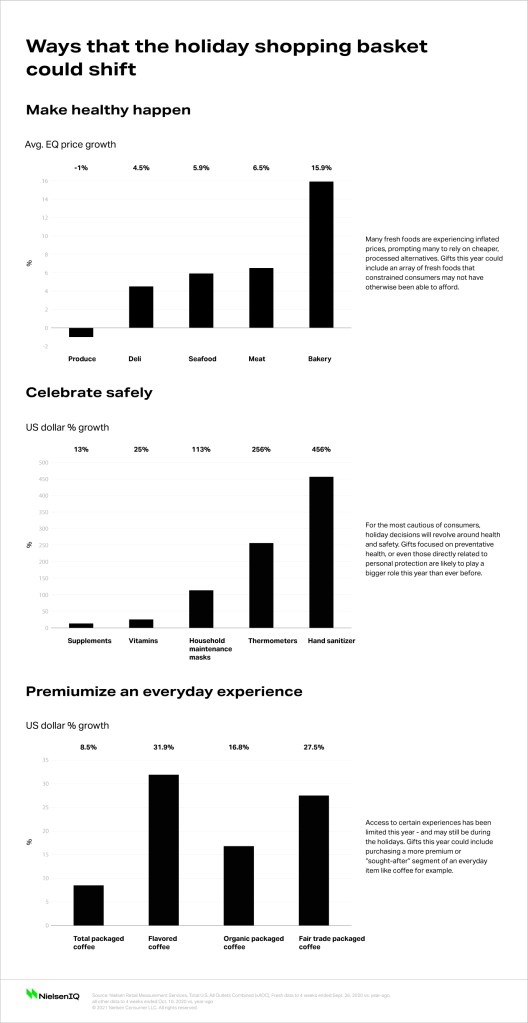 Homebody reset – think instant and distant
Gatherings will be smaller, more intimate and many will be planned at the last minute, according to the latest local COVID-19 guidelines. The home will be central to many festive celebrations as a result. Constrained consumers will seek to limit their out-of-home expenses by relying on home cooking and homemade gifts where possible. On the other hand, insulated consumers will be looking for opportunities to splurge and treat themselves with premium product offerings and at-home dining experiences. Companies can cater to new needs for instant or distant gifting by innovating the ways in which a product or service can be shared from the comfort of the home. Offering the addition of personalized cards to electronic orders or being able to digitally send a product voucher to a loved one could serve as brand differentiators this year.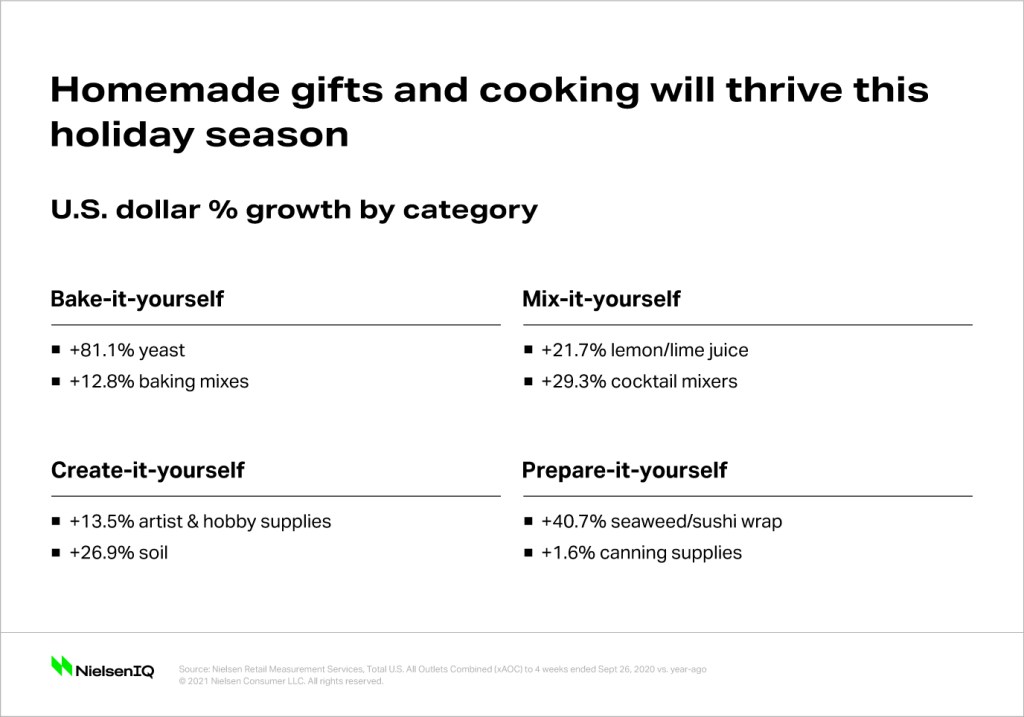 Rationale reset – engage with empathy
Traditions are being rewritten, and in light of shifting holiday norms, consumers may choose to spend more on themselves this year. Consumers are reworking their budgets and adapting to changes in local living restrictions. In doing so, they are constantly adjusting the criteria for what makes it on their holiday shopping lists. According to Lauren Fernandes, Director of NielsenIQ Intelligence Unit, "Showing how your product or service can contribute to a celebration, even if it's focused on the self or a single household, can help busy consumers make the trade-offs they need to." Aligning to the need for "just-in-case" solutions may be one way to capitalize on the changing rationale behind holiday purchases. "Many consumers are waiting until the last minute to see whether or not they will be able to celebrate with family. Offerings need to speak to things consumers can buy ahead of time that won't be a waste of money if plans change unexpectedly." says Fernandes.
"Without knowing what's ahead, many holiday shopping decisions will be guided with a priority on the self and what consumers think they could use or enjoy within their households."

Lauren Fernandes, Director, Nielsen Intelligence Unit
Affordability reset – convert impulsivity
Online shopping will power more holiday consumer behaviors than ever before. It has already been a huge year for e-commerce growth, and even ahead of seasonal holiday demand, online buying behavior has continued to thrive in markets around the globe. Constrained consumers will be the most selective, using online shopping to search for the best prices without leaving home. Meanwhile, insulated consumers will rely on online sales events to provide maximized value for luxurious and indulgent festive purchases. With limited physical touchpoints with consumers, it's important to create spontaneity, even in an online environment. Whether it's encouraging giving back to those less fortunate on the checkout page, or offering the addition of free samples to entice secondary purchases, there are many ways to trigger impulse purchases online.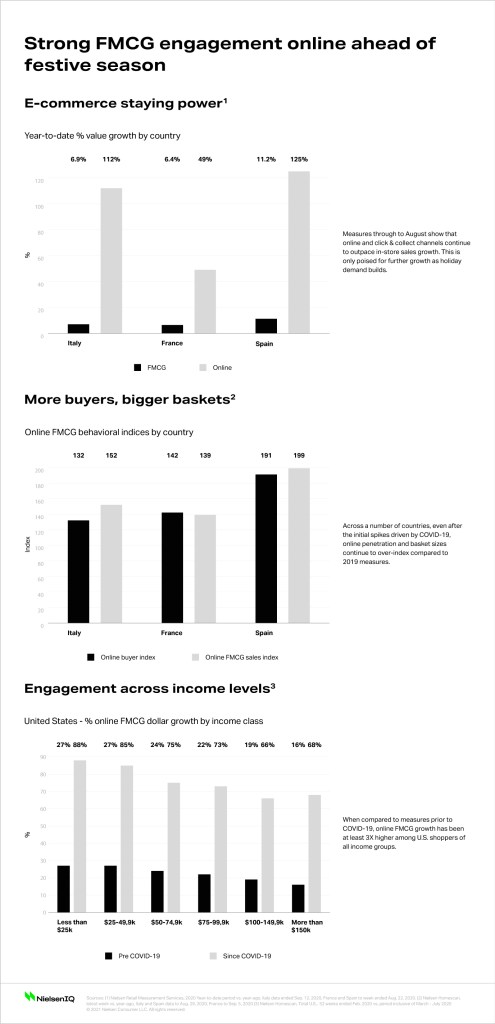 The bottom line is that there are key financial and pandemic-related circumstances that will alter when and how consumers celebrate festive occasions. The tried-and-true holiday playbook is largely out the window, but there is still strong demand among consumers eager to celebrate in different ways this year. Successful companies must adapt to these scenarios by tailoring seasonal offerings to local conditions and comfort points of consumers.
For more on how COVID-19 continues to impact consumers across the globe, visit our content hub.