Physical return will be gradual, with new habits slowing the transition
The closure of restaurants beginning on Oct. 30, 2020, has markedly changed French consumption habits for lunch and dinner. Before government restrictions, 70% of customers used to eat on-site for these occasions. Since the closure of restaurants, consumers have favored takeout and home delivery, but not enough to compensate for the losses experienced by on-site dining channels.
The use of food delivery apps has particularly flourished in recent times. But despite the demand, there has been no notable upheaval within the ranking of top apps being used by consumers: The leaders (Uber Eats, Deliveroo, and Just Eat) have kept a significant lead over the competition. And when it comes to restaurants themselves, even with dedicated communications, the use of restaurants' own apps has yet to really take off.
Other survey findings uncover that home cooking habits are particularly strong among French consumers. In fact, 74% of fans of out-of-home dining during the pandemic cooked at home for the first time, and this home cooking established itself as the preferred alternative to compensate for outings to restaurants. This preference for home cooking ranks much higher than in the UK for example, and far ahead of delivery or click-and-collect. Given the reduced mobility and widespread teleworking of French consumers today, the rising preference for home cooking in France is particularly telling. With far fewer opportunities to integrate out-of-home dining into current daily routines, this underlines the extent to which the return to normalcy may take time.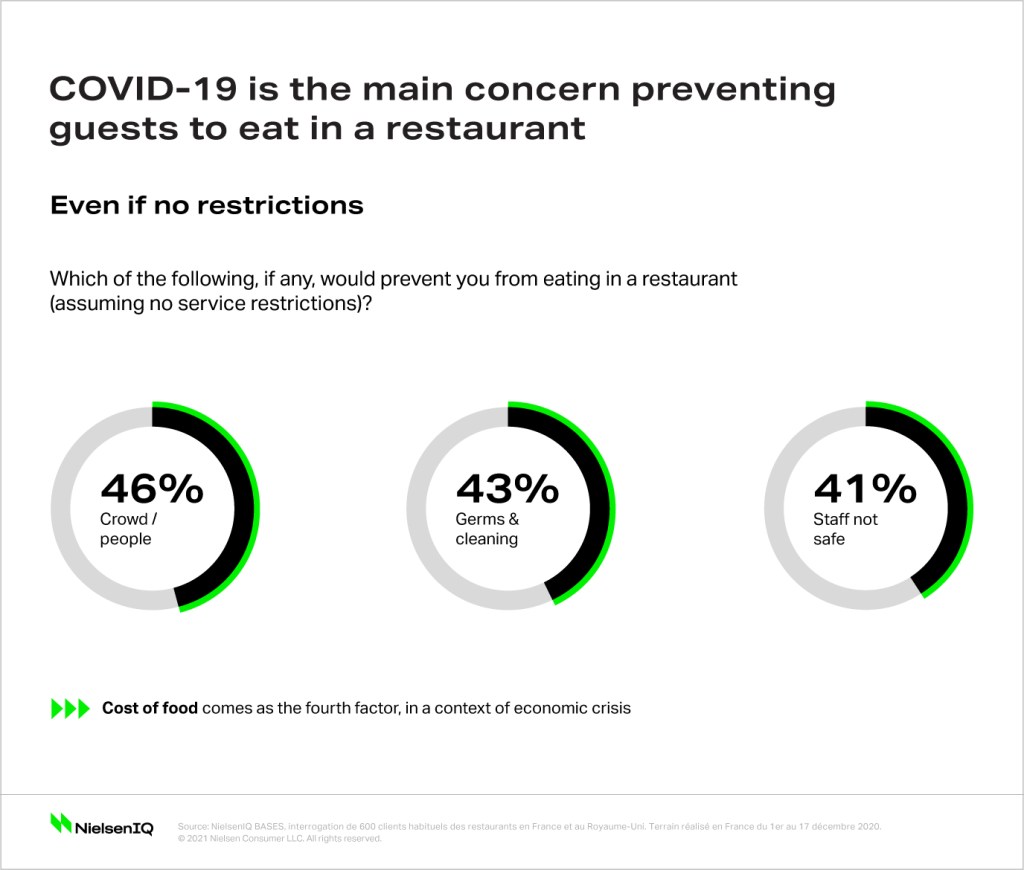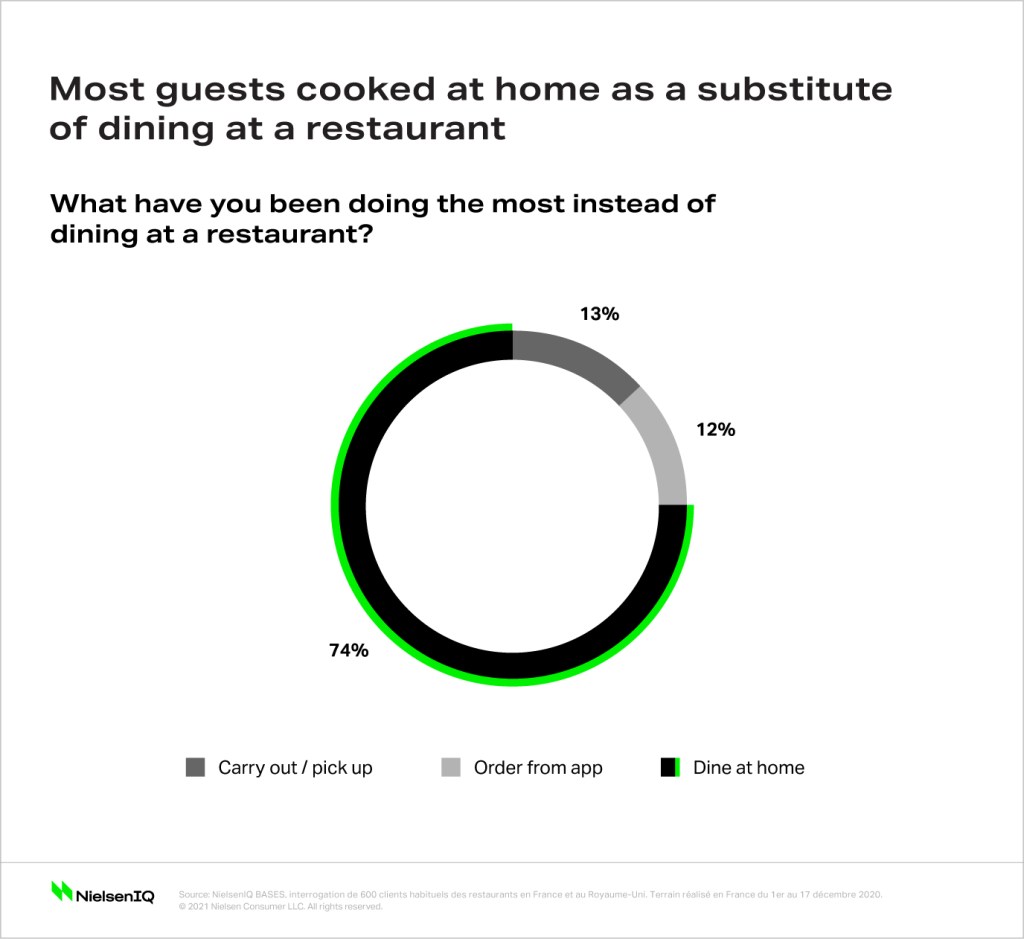 ---
Innovate to bring customers back to restaurants
Customers do not plan to return to restaurants as often as in the past. Taking meals with you could well remain a preferred solution for consumers when returning to normalcy: 25% of surveyed consumers in France consider takeaway as an alternative to on-site dining, even if all restrictions are lifted (compared with 13% previously). With the economic crisis impacting many households, restaurant owners will have to be particularly vigilant about the prices charged and promotions offered in order to maintain the loyalty of their customers.
Virginie Gorgeon, VP of Expanded Verticals at NielsenIQ BASES, reassures that "although customers remain cautious, the demand for out-of-home [dining] does exist. Communication is important. Restaurants have a vested interest in multiplying points of contact with their customers during and after the restrictions in order to maintain links, and to make their customers feel valued when they come back."
It's about time to prepare for a brighter future. When the restrictions are lifted, restaurants will compete for share of wallets, and also share of stomachs, as new cooking habits evolve. So how do you bring customers back to restaurants and create as much demand as possible?
This will be the optimal, and necessary, time to launch new or strategic innovation that brings your restaurant back to the forefront of the minds of customers. In order to boost attendance, restaurant owners will have to keep in mind more than ever that eating out is a pleasure, and for 42% of French customers it is the quality of the food that takes precedence. In fact, food quality ranks above that of cleanliness for 38% of consumers, and above choice in menu, at 31%.
Gorgeon concludes, "To prepare for reopenings, restaurants must remain faithful to their fundamental values ​​and reflect on their menu to offer dishes that will make the difference. Customers are looking for something different from what they are used to cooking at home. This menu optimization needs to be done throughout both on-site and takeout offerings."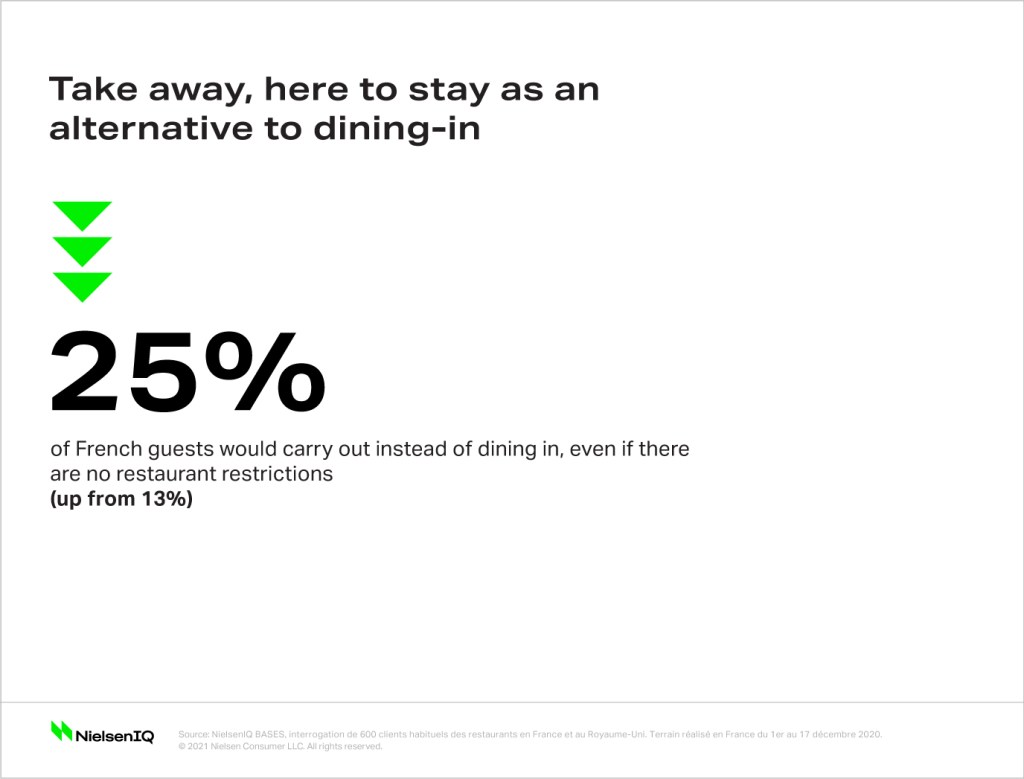 ---
About the survey
Interviews of 600 regular customers of restaurants in France and the United Kingdom, conducted in France from December 1 to 17, 2020.