---
Immediacy drives in-store shoppers
In the last year, e-commerce has captured more than its fair share of dollars for many product categories, with most of those falling in the health and beauty care segment. In fact, 21 of the top 30 categories with the largest e-commerce dollar share were health and beauty products during the 52 weeks ended Dec. 26, 2020. And while many of these products are soaring beyond their pre-pandemic e-commerce growth records, a handful of health and beauty categories remain predominantly driven by in-store sales growth.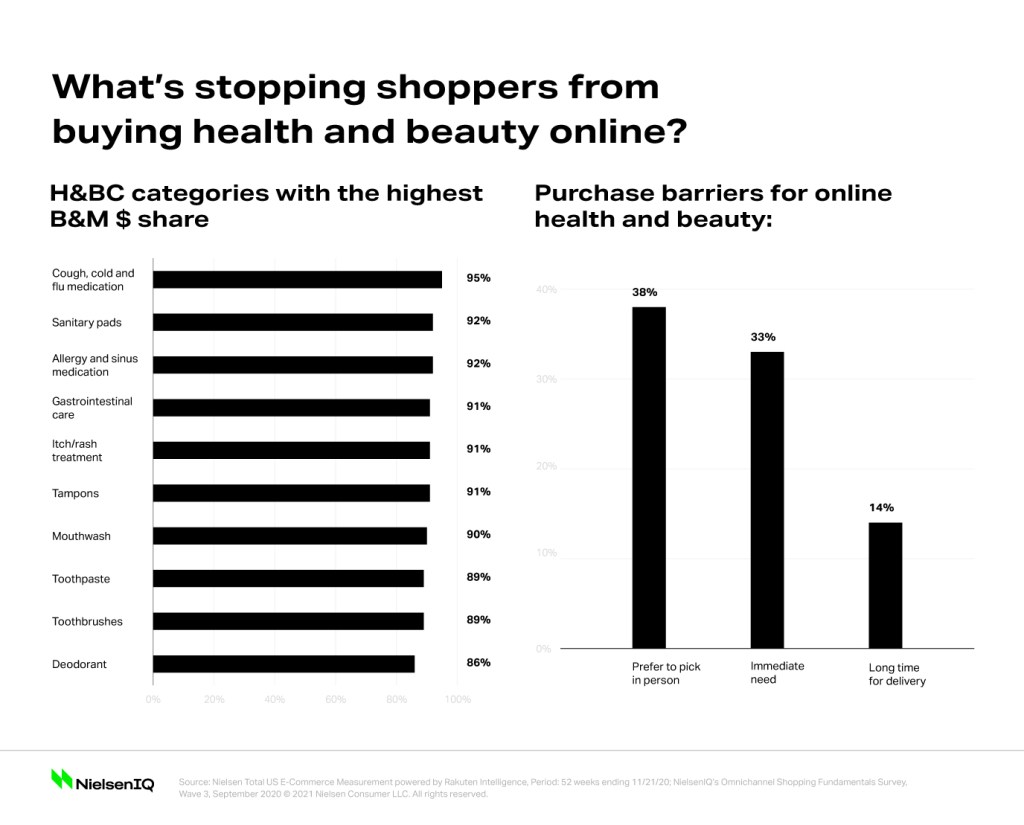 Despite the e-commerce lift spurred by pandemic purchasing, shoppers have made little movement toward the online buying of categories such as respiratory care, feminine care, oral hygiene, and deodorant. According to NielsenIQ's Omnichannel Shopping Fundamentals Survey, the top three barriers to online entry for health and beauty products are a preference for shopping in-store, immediate needs for a given product, and longer-than-ideal delivery time frames. In addition, survey respondents indicated a strong preference for shopping at mass merchandisers, grocery, and drug stores when purchasing the aforementioned products.
Online retailers have an opportunity to alter shoppers' perceptions of what is the "most suitable" channel for everyday health and hygiene necessities. Less than 4% of brick-and-mortar shoppers surveyed considered online to be the most suitable channel for purchasing the identified categories of respiratory care, feminine care, oral hygiene, and deodorant. There's opportunity to encourage more consumers to overcome perceived barriers to immediacy. By offering and heavily promoting the trial of subscription services, for example, retailers can fulfill shoppers' needs in a highly convenient, timely, and loyalty-driven manner.
---
Quality barriers remain for online grocery
Digital grocery sales grew by 125%, bringing online's share of total food and beverage sales to 12% during the 52 weeks ended Dec. 26, 2020. Despite this record growth, some online food categories are still almost entirely purchased in-store, with many of these products being perishable. Of the top 30 categories with the highest in-store dollar share, 25 are food items. And there are key reasons why shoppers are sticking to their brick-and-mortar roots with many food purchases.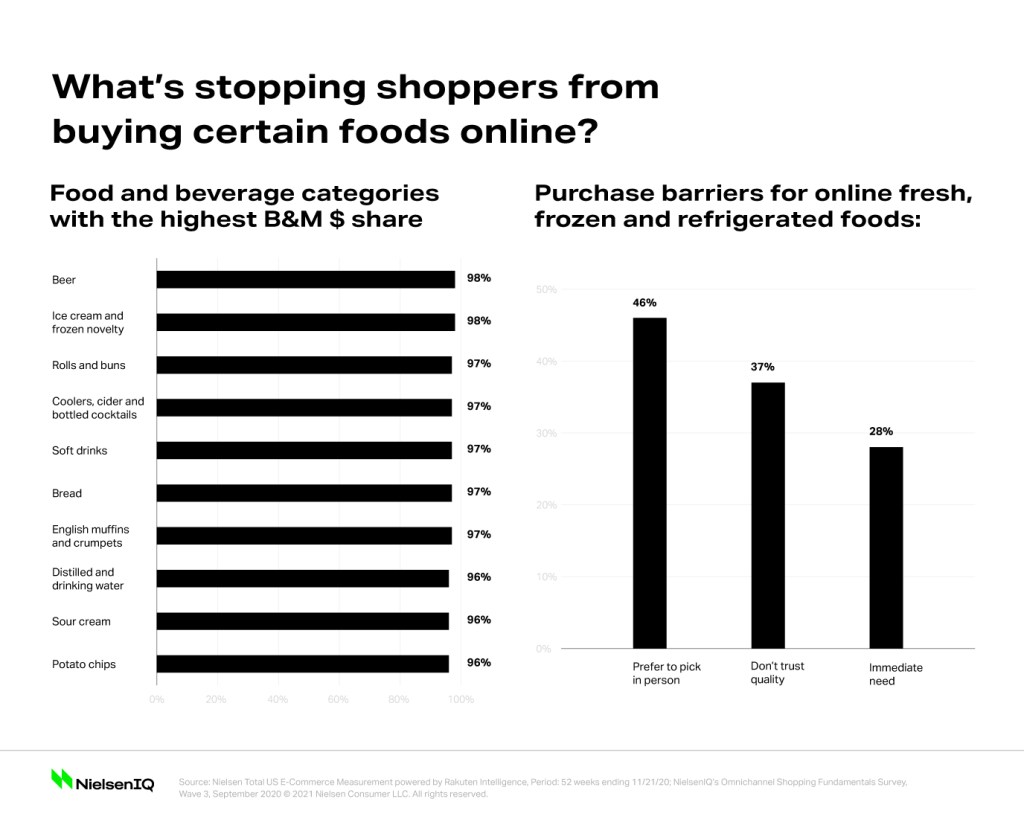 One compelling trend revealed was skepticism around product quality, which discouraged 37% of consumers from buying frozen, fresh, and refrigerated food products. This speaks to concerns over cold chain failures, which could impact the eventual eating experience. Another 46% of shoppers have been hesitant to purchase fresh, frozen, and refrigerated products due to a preference for selecting these items in-person. In these instances, consumer fears of product ripeness, or potentially receiving a product nearing its expiration date, have come to bear.
E-tailers can help alleviate quality concerns surrounding perishable products by promising prompt delivery time frames, while also ensuring that online pickup and delivery orders offer an identical quality proposition to perishable products purchased in-store. Further, e-commerce sellers can break down online barriers for fresh items such as fruit, vegetables, and meat by incorporating capabilities into their online platform enabling shoppers to select foods based on attributes such as ripeness and size. In addition, retailers can help shoppers further compare products online by profiling nutritional facts and ingredient information.
---
Recommendations for future growth
As the vaccine rollout progresses and shoppers feel more confident venturing back to brick-and-mortar stores, some pandemic-related behavioral shifts will fade away, while some will have a lasting impact on consumption. E-tailers need to ensure that they are providing solutions to widespread concerns such as immediate need, product quality, and prompt delivery windows in order to break down barriers to online entry and further entrench consumers in their online habits.
Omnichannel shoppers expect their standards to be met in terms of price, convenience, and product availability, regardless of channel, meaning retailers must ensure that they're presenting equal and seamless online and offline shopping experiences. This can be accomplished through identical online and offline product assortments and creating frictionless experiences for shoppers through home delivery, in-store pickup, or traditional brick-and-mortar shopping. In addition, shoppers of all circumstances have been searching for the best deals, as the future economic outlook remains uncertain. As such, offering the same promotions both in-store and online, in addition to price-match guarantees, will go a long way in retaining and attracting buyers in the long run.
As we progress into 2021,delivering a seamless customer experience, both on- and offline, will be imperative to capturing growth as the omnichannel retail landscape further develops.