CPG, FMCG & Retail
Developing not just one but multiple COVID-19 vaccines was the ultimate signal of achievement in 2020. But NielsenIQ has identified signs that large numbers of people may be unwilling to take the vaccines, at least not right away.
A new study undertaken by NielsenIQ's Customized Intelligence team shows significant levels of personal skepticism around taking the vaccines. In the 15 countries included in the study, 41% of consumers said they would wait some time before opting to take the vaccine, 12% said they would not take the vaccine at all, and a further 11% were undecided.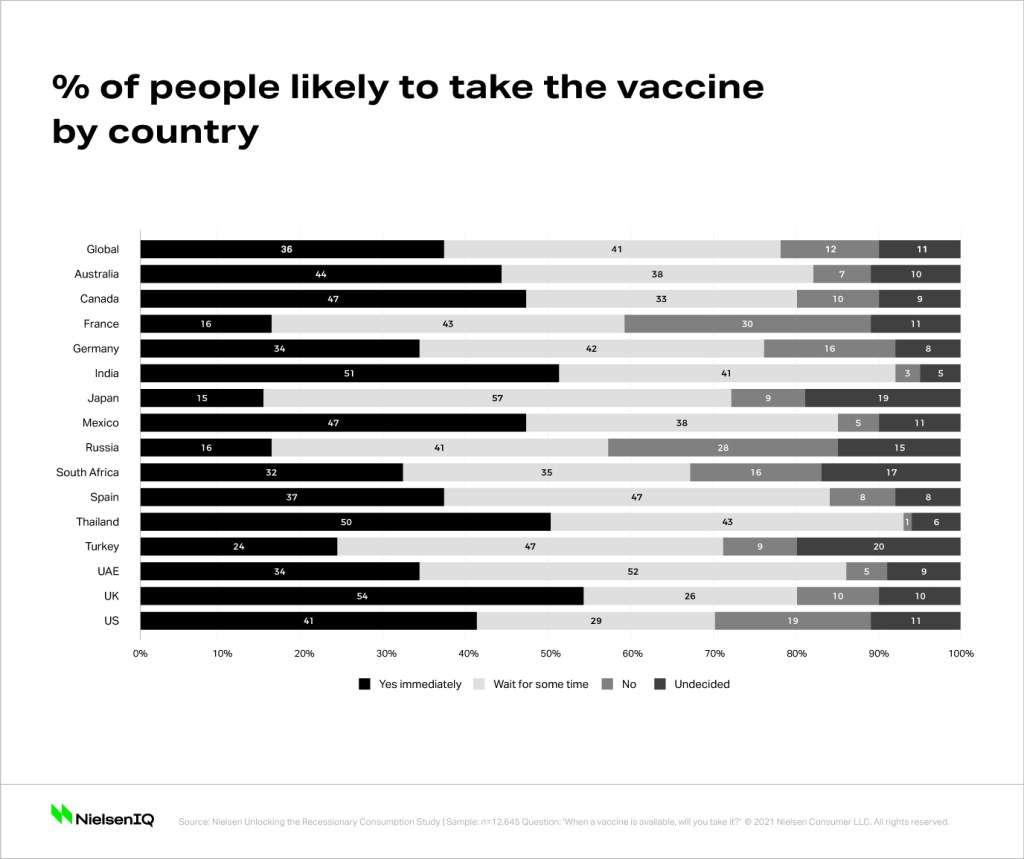 The vaccines are being touted as the panaceas the world needs; the one thing that allows us to get back to life as we knew it. But delays in taking the vaccine may slow efforts towards herd immunity and slow economic recovery.
Undoubtedly there are many factors that underpin these sentiments, and it varies by country. For example, at 30% France has one of the highest proportions of people indicating they did not intend to take a vaccine, whereas Turkey, at 20%, has a higher percentage of people who are still undecided about taking the vaccine.
---
Getting back to business as usual
As global markets strive to speed up their vaccination programs, these doubts from consumers could slow plans to return to more normal lifestyles. As a consequence, consumer goods companies will need to recognize the different confidence levels around the vaccines as they adjust their offerings in 2021.
Underpinning the adjustments needed, is a growing wealth divide that has been amplified by COVID-19. The divide can be viewed through two distinct groups of consumers identified by NielsenIQ: constrained consumers (those whose income or financial situation has been impacted by the pandemic) and insulated consumers (those whose income has not been impacted).
Across the 15 markets surveyed, 72% of respondents said they were watching their spend slightly or much more as a result of the disease. And while the availability of vaccines has some shoppers planning to spend more when restrictions lift, others will continue to be faced with ongoing or possibly even stricter household budgetary constraints.
For example, 16% of respondents said that after the vaccine becomes widely available in their country they will spend more on groceries, whereas 12% said they would spend less. When it comes to clothing, 19% said they would spend more while a slightly larger 21% said they intend to spend less. Answers to these questions appear to further reinforce the polarizing of consumers' spending abilities.
The hospitality industry has been particularly hard hit as a result of the pandemic and questions about its ability to bounce back swirl in many markets, the study found that 24% of respondents said they would spend more on out of home dining when vaccines were widely available while 23% intended to cut back. And in terms of confidence levels, 58% said they would not feel confident dining out, and the same number (58%) said they would not feel confident reducing physical distancing during these early days of vaccine rollouts. Along similar lines, the survey found that 52% would not immediately feel confident returning to their office despite the vaccination programs being made available to them.
Hope for the travel industry to return may also take time. The survey showed 70% of respondents would not feel confident travelling overseas and 59% would not yet be willing to make local travel plans.
---
Spotting early indicators
"The survey was conducted in December and confidence levels around the vaccines and the desire to take the vaccines may change as countries begin more concerted rollouts and deliver education campaigns around the vaccines, but there are clear signals here that the arrival of vaccines won't automatically put the world back on its pre-COVID path," said Scott McKenzie, NielsenIQ Intelligence Unit Leader.
"There will be nuances in each country, we see that very clearly in the more granular, country-level data. In 2020, consumer behavior was very similar all over the world because we were all responding to the same circumstances: the impact of a deadly disease. In 2021, behaviors will be much more varied by country and we're seeing that in this data that demonstrates some clear leading indicators."
An example of this is how people also appear to be preparing to face longer term recessionary challenges in many markets — 21% of respondents said they intended to put more into savings and investment, while 12% said they would allocate less to those areas.
---