An underserved yet powerful group
By 2024, the buying power of the U.S. Black population is set to reach $1.8 trillion.1 Yet despite this, their needs are still not being met by many beauty and personal care brands.
The Black population in the U.S. is expected to grow by 21% between 2022-2045 while the Non-Hispanic White population is likely to decrease by 18%,2 positioning Black shoppers as an ever-growing consumer group which demands increased focus.
With 54% of Black people in the U.S. currently under the age of 35 (compared to 46% of the total population), these are relatively young and dynamic consumers who are likely to be engaged by new beauty trends and innovations. Moreover, there has been a 26% increase in Black high-income ($50k+) households since 2010, signaling a rise in disposable income for luxury items.3
---
Some categories can skyrocket
The annual value of Total Beauty + Skin sales for Black consumers stood at $7.42B at the end of April, according to NielsenIQ Omnishopper. Hair Care is the top category for Black consumers, with approximately $2.29B in annual sales. This is unsurprising, given the unique needs of textured hair types and the popularity of natural hair movement. Yet what is surprising is that the Facial Skin Care category is the least lucrative, making just $1.05B. Generating $1.94B, the Cosmetics and Nail Grooming category is also surprisingly weak, considering the size of the overall U.S. markets for both categories.4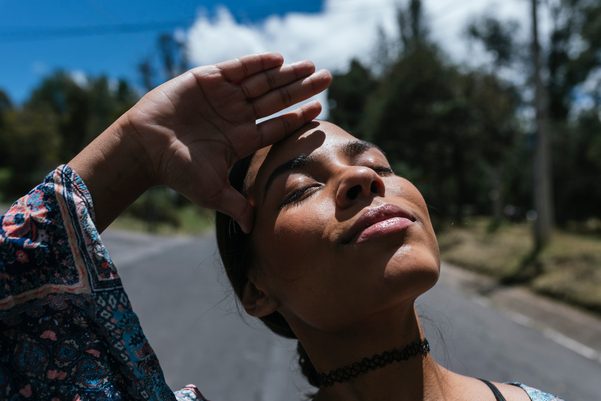 In the Cosmetics category, the top three areas of spend are:
• Nail Kits and Sets
• Eye Cosmetics
• Face Cosmetics
For Skin care, the top three areas of spend are:
• Cleansers
• Moisturizers
• Toners
Both categories offer opportunities for brands and retailers to better serve this lucrative consumer group.
---
Skin Care brands should step up their game
Just as textured hair has specific needs and responds best to certain products, Black skin needs specific treatments and ingredients to look its healthy, glowing best. But right now, many Black consumers simply don't have the skin care solutions they need.
Sought-after skin care ingredients for Black consumers are notably different compared to non-Black U.S. beauty consumers in general. For example, Vitamin E is more of interest for Black consumers: one-fifth of those surveyed were more concerned about having this ingredient in their skin care products than the average consumer. 5
Skin Care concerns and ingredients for Black consumers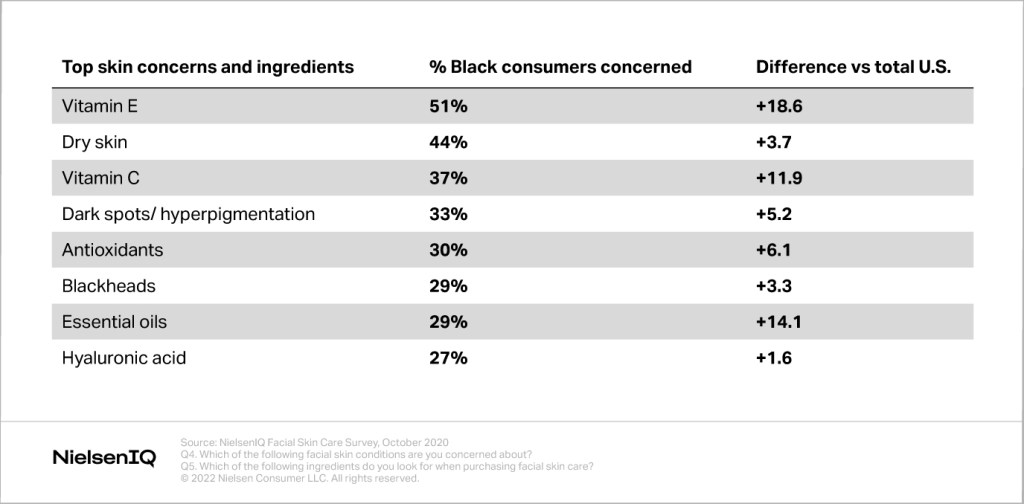 ---
What else is important to Black beauty consumers in 2022
A compelling 72% of respondents agreed or strongly agreed there is a gap in beauty offerings for the Black consumer.6 Black-owned or Black-founded brands are filling gaps that larger corporations have not met. Notably, 38% of Black women say they will pay more for haircare products from Black-owned brands.7
Previously, recommendations from family and friends were their key route to product discovery, but in 2021 this switched to online browsing. Despite the shift to online shopping, however, Black beauty consumers still prefer making purchases in-store, not online.
Any brand or retailer looking to sell to this consumer group should be mindful that:
Efficacy reigns supreme for these shoppers.
They are more likely to seek out natural products that address specific needs and are particularly concerned about skin care ingredients.
Listening is key to meeting their unique needs.
There is still a need for more diverse representation in advertising, employment and leadership.
Communications should use authentic, positive messaging that celebrates Black beauty.
---
Sources
Nielsen Consumer LLC
2018 American Community Survey
US Census Bureau, American Community Survey (ACS) 2010, 2018
NielsenIQ Omnishopper; All Channels Total US, 52 Weeks Ending 12/04./21;
Note: HBL is based on the syndicated department of Health & Beauty, which excludes any baby products NB: NielsenIQ's omnichannel measurement does not include independent beauty supply. This is most significant within Hair Care and results in minor underrepresentation of the size of the category
NielsenIQ Facial Skin Care Survey, October 2020
Q4. Which of the following facial skin conditions are you concerned about? Q5. Which of the following ingredients do you look for when purchasing facial skin care?
NielsenIQ ERG Survey Q: Do you agree with the following statements? I think there is a gap in the beauty product offerings for Black consumers. Scale Strongly Disagree to Strongly Agree. Q: What do you think is the biggest gap in the beauty industry for product offerings for the black consumer? Verbatim responses
Q: Which of these factors make you willing to pay more for a haircare product? 2019 (n=600) 2021 (n=500). Source: SSI, June 2021