Growth amid a decline in convenience store locations
In 2021, convenience stores achieved 6.9% dollar growth and outperformed growth rates recorded in grocery (-0.9%), drug (+4.8%), and all brick-and-mortar outlets combined (+2.3%). However, by December 2021, there was a 1.5% decrease in the number of operating convenience stores, with 148,026 convenience stores operating in the U.S., according to the 2022 NielsenIQ Convenience Industry Store Count.
Despite this being the fourth consecutive yearly decline in convenience stores, the overall store count is nearly identical to what it was a decade ago (148,126 stores in 2012), reinforcing the stability of the channel.
When looking at store counts by state, Texas continues to have the most stores in the U.S., equating to more than 1 in 10 convenience stores. Overall, the list of top 10 states with the most convenience stores is identical to the year prior. Texas is the only state in the top 10 that added stores (+47), while New York (-248), Florida (-219) and North Carolina (-200) saw the most closures.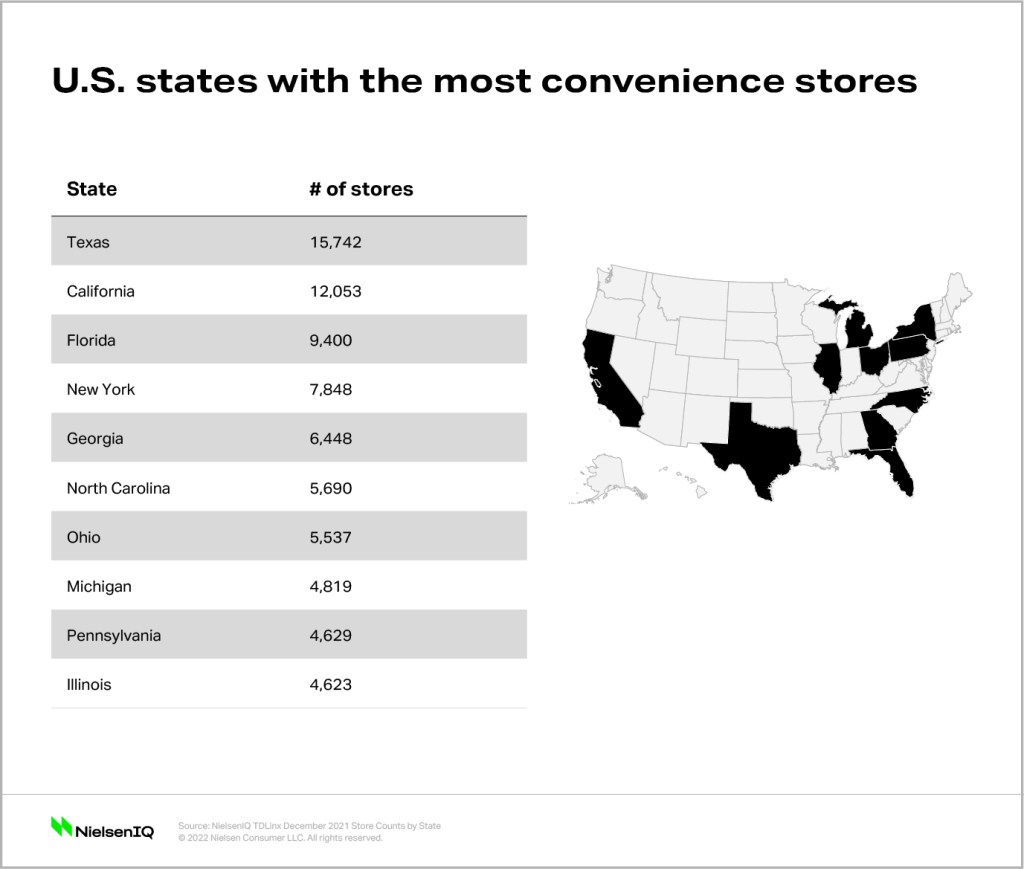 Enhancing the consumer experience
As consumers have returned to their busy lives and continue their cadence with e-commerce, the demand for convenience has gradually increased across channels. Convenience retailers have an added advantage here, given the premise of their store formats, but they need to offer more customized solutions that go beyond product offerings to deliver a truly convenient experience.
Innovations in packaging, food and beverage preparation, product portability, easy ordering and payment capabilities, and digital rewards programs are some factors to consider in providing an overall convenient and seamless experience.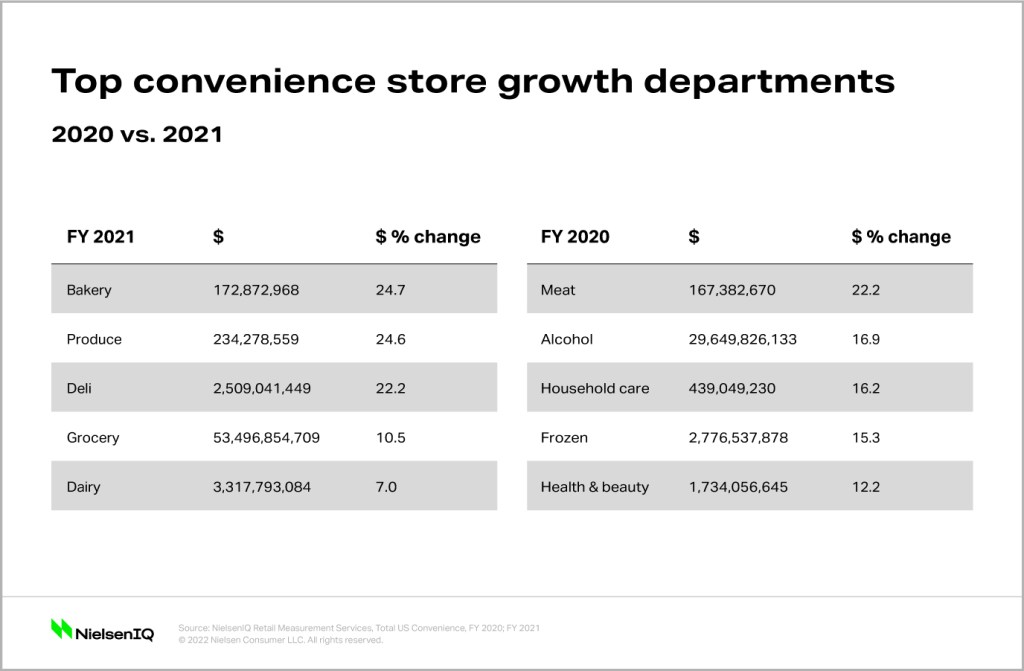 Addressing health concerns
Looking across convenience stores, growth is expanding beyond traditional categories like alcohol, processed meat, and household care to less-processed food items from the bakery, produce, and deli departments—which all saw sales growth surpassing 22% last year. This can be attributed to a shift toward proactive health management in the past two years. Consumers have taken their health into their own hands, adding and avoiding ingredients and items based on their personalized needs, and driving 10% dollar growth in "food as medicine" categories since 2019.
This trend isn't going anywhere either, as 61% of Americans plan to increase their efforts towards maintaining or improving their health over the next 12 months according to NielsenIQ's Consumer Outlook Report, and we can expect nutritional products that provide health and wellness benefits to largely fuel sales across channels.
To capitalize on this demand, retailers need to expand their snack and beverage offerings to include convenient products with better-for-you on-package claims (keto-friendly, low-fat, low-sodium) for the growing segment of proactive health consumers. For on-the-go shoppers, prepared and ready-to-eat/drink products that provide added convenience (i.e., resealable, single serve), in addition to nutritional benefits will become especially attractive.
Retailers need to clearly communicate the benefits their products offer to customers by clearly organizing assortments by product attributes (i.e., natural, organic, low-calorie). In addition, expanding selections for freshly baked and prepared food items will attract consumers looking to make better, but not necessarily the best, food choices.
Americans' pandemic mindsets are easing amid widespread vaccination rates and convenience stores will continue to gain traction as consumers' schedules book up. Shoppers who were stockpiling, avoiding brick and mortar stores, or temporarily stopped commuting have returned to their pre-Covid habits and are now reaccustomed to making quick trips to convenience stores once again. Retailers and manufacturers are tasked to aim higher to meet the massive shift in preferences as consumers' definition of health continuously evolves. Expect shoppers to maintain a strong preference for convenient, grab-and-go CPG items that offer some type of health and wellness benefit.