Why are more beauty shoppers turning to Amazon?
Consumers are spending less on non-essential non-food categories to offset painfully high food prices. But online beauty and personal care sales are proving more resilient than many CPG categories.
NIQ Omnishopper data confirms that Amazon is leading the pack when it comes to beauty dollar and unit sales growth, outpacing specialty, beauty, mass, grocery, and dollar retailers.
Amazon's current position in the beauty industry has been 10 years in the making — the e-tailer launched a premium marketplace in 2013, an indie beauty program in 2018, and its Luxury Stores project in the fall of 2020. The early days of COVID lockdowns catalyzed brand participation in these programs, notably among premium brands.
Now, when it comes to consumers' online shopping needs, Amazon ticks every box — convenience and value, a place to find otherwise elusive stock, and, increasingly, luxury products.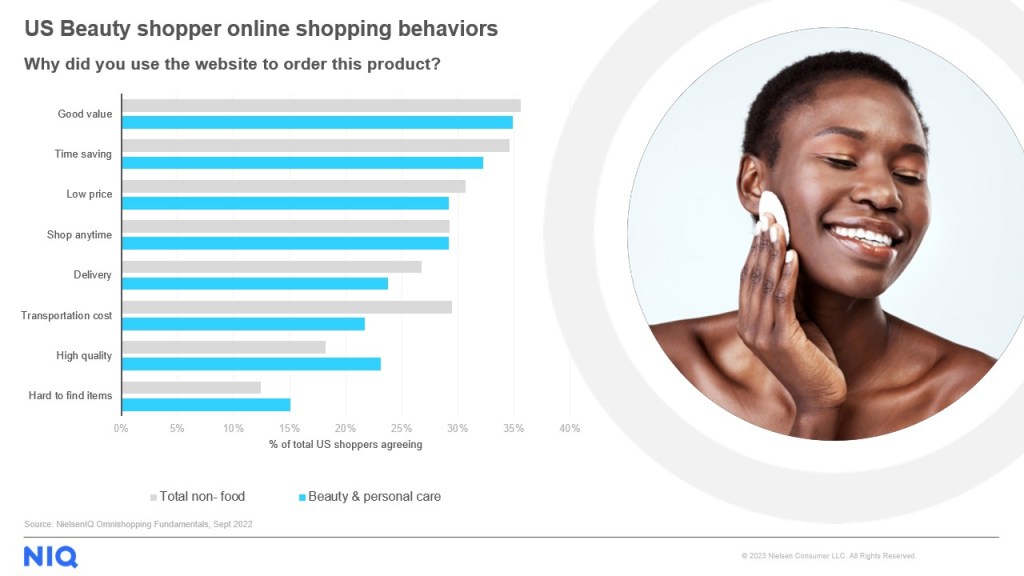 ---
How can brands get a full view of Amazon?
The first step to competing with and within Amazon: create a data-based strategy using:
Omnichannel shopper profiles: Panel insights that include both offline and online reads of consumer behavior can pinpoint your shopper profile — NielsenIQ Omnishopper shows that the average Amazon beauty shopper skews older, higher-income, in a 1–2-person household with no children.
Omnichannel sales data: With volume estimates from NielsenIQ Data Impact for Amazon, brands can identify their competitive set. On Amazon, brands compete against first- (1P) and third-party sellers (3P). Check out the download below for the 10 top-selling brands for both 1P and 3P sellers.
Search/attribute data: Essential to a full view of Amazon is an understanding of consumer search behavior in your category. A ranking of the product attributes consumers search not only gives brands easy access to trending consumer needs, it also shows which key words and phrases are most important to include in online product content. For example, the top-3 searches in the Amazon skincare category are Serum, Vitamin C, and Oil. If the product page for your skincare brand doesn't include a mention of "Vitamin C," you're likely missing out on sales.
Here's a snapshot of trending searches on the rise: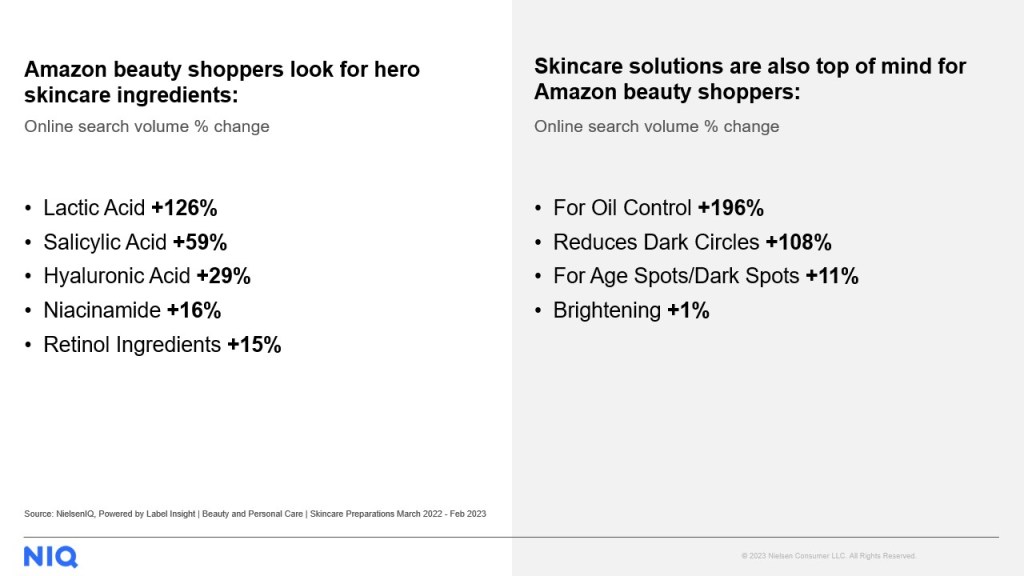 ---
The full view of the online beauty space
A full view of Amazon is within reach — understanding who is most likely to shop Amazon for beauty and personal care products, which brands you'll be competing with for their purchases, and what they're searching is a baseline for stronger e-commerce strategies and bigger growth.