Multiple variables will impact consumption
After a challenging 2021, MENA economies are set for recovery with the World Bank estimating the region to grow by 5.2% in 2022—the fastest economic growth since 2016. Economic recovery is expected to be uneven with oil producers benefiting from elevated energy prices and increased government investments.
This positive economic outlook, along with the sales impact of Ramadan, is evident in FMCG growth in Q2 2022. All AME markets showed both value and volume growth in this quarter compared to last year except for the Kingdom of Saudi Arabia (KSA). Ongoing supply chain disruption, higher transportation costs, and huge price volatility are creating growing pressure for incremental inflation.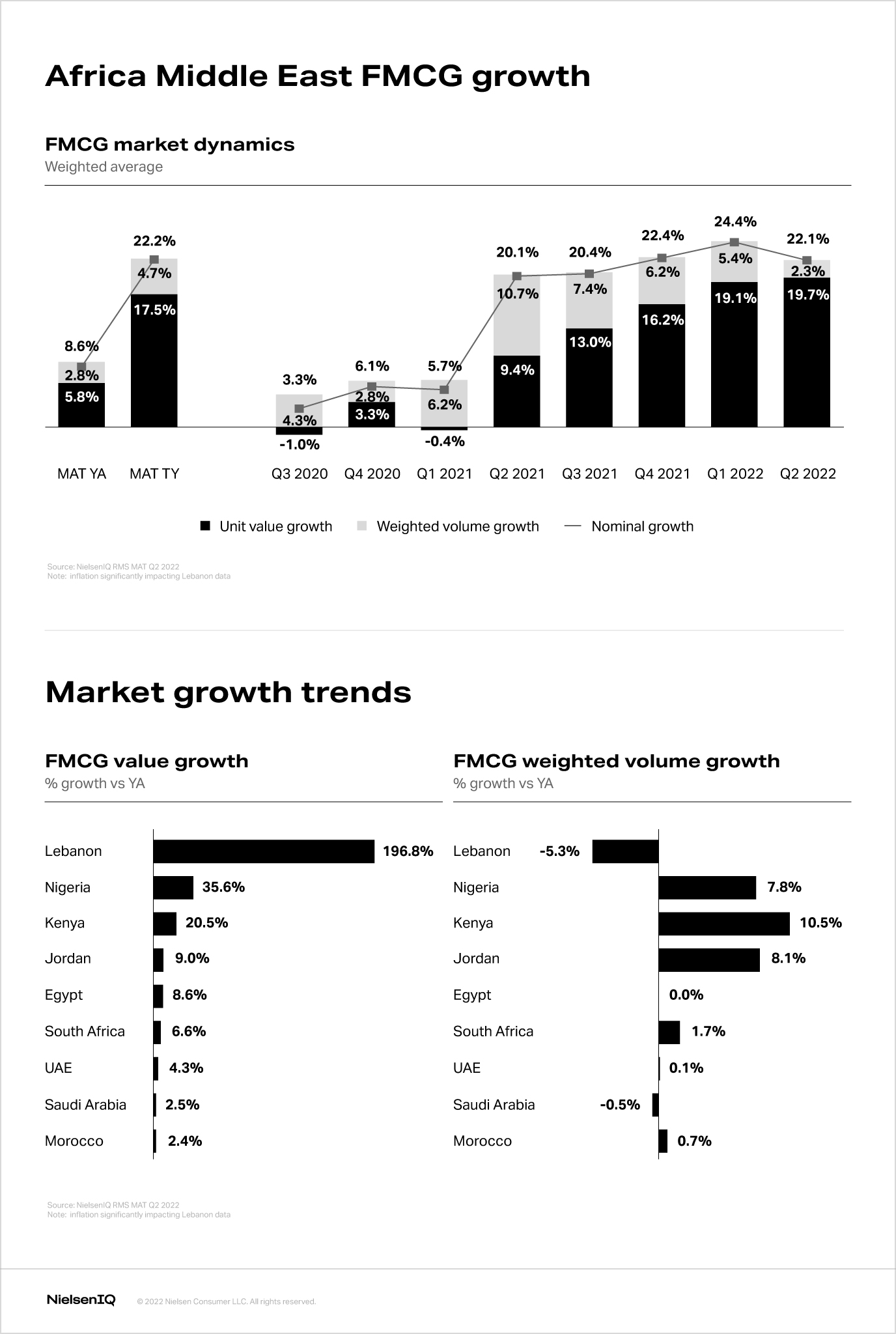 In this environment consumers' "normal" grocery baskets are being redefined. For many, disposable spending is very different from what it was two years ago. In the face of higher prices, shoppers are reevaluating which products are "essentials" and value trade-offs and compromises are the new norm.
---
AME hypermarkets and supermarkets record consistent growth
The impact of COVID-19 on the buying and consumption habits of consumers directly influenced the rise, fall, and resurgence of retail channels across the region, majorly disrupting the FMCG industry.
Hypermarkets and supermarkets are the most important channels in AME. In the three top-selling markets within the region—South Africa, United Arab Emirates (UAE), and the Kingdom of Saudi Arabia—these channels contribute to roughly half or more of FMCG value sales. After a volume growth surge of 7.6% in Q1 2020 caused by COVID-19 stockpiling, sales declined consistently before recovering in Q2 2021. In Q1 2022, value growth peaked at 18.7% mainly due to price increases and inflation, while volume growth slowed to 4.3% at the end of 2021 indicating cautious consumer spending.
---
Change in consumer priorities and preferences
Consumers are not only being more mindful of how much they spend and what to prioritize, they are also shopping differently. They believe the way to combat inflation is by embracing a selective mindset.
On average, consumers are using between two to three strategies to manage grocery expenses, from selecting lower priced products from their preferred repertoires to monitoring the cost of baskets and shopping online.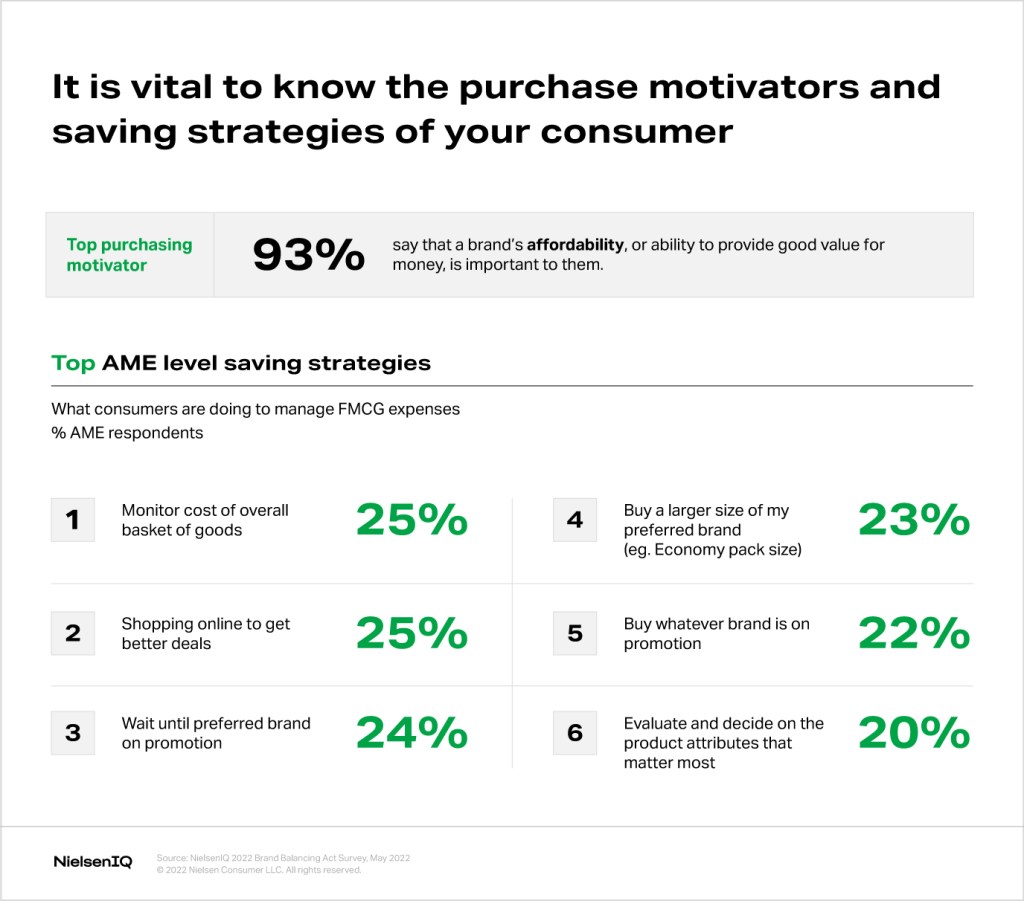 At the same time, consumers are expanding their shopping repertoires to find brands that fit their exact new needs. Thus, 51% of global consumers say they're buying a greater variety of brands (across multiple categories) than before COVID-19. This number is much bigger in AME: 60% for KSA, 65 for UAE, 66% for Egypt. Additionally, 67% of global consumers feel that if they look hard enough, they can find a brand that fits their exact needs. This is even more apparent in the AME region: 73% in KSA, 72% in Egypt, and 68% in UAE.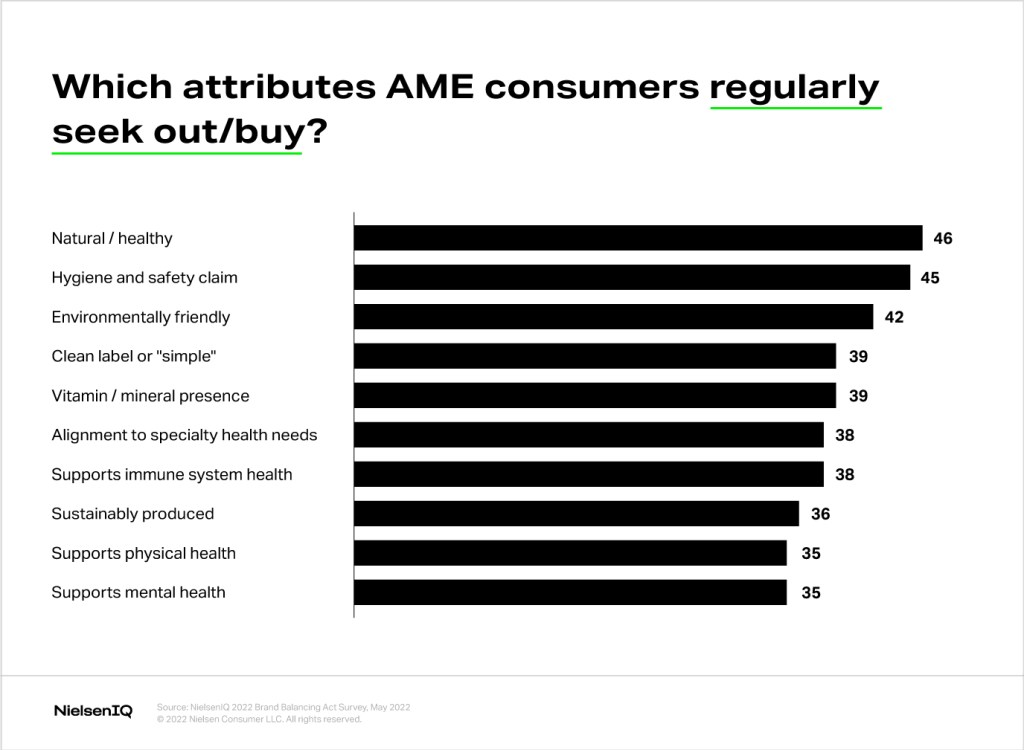 ---
E-commerce has become the accelerator of retail growth
E-commerce is now in hyperdrive and accelerating the shift to online shopping. Globally, the value growth of the e-commerce channel increased by 14.5% versus the year before. Today, e-commerce fuels retail growth around the globe, with online sales rapidly outpacing offline by double digits in many countries across the Middle East: +83% versus MAT'22 in UAE, +77% in KSA, and +68% in Turkey. In the Middle East, e-commerce is driven by a digital-first economy.
More and more consumers are turning to e-commerce to satisfy needs for convenience and variety of choices with a broader selection of categories offered online in the region.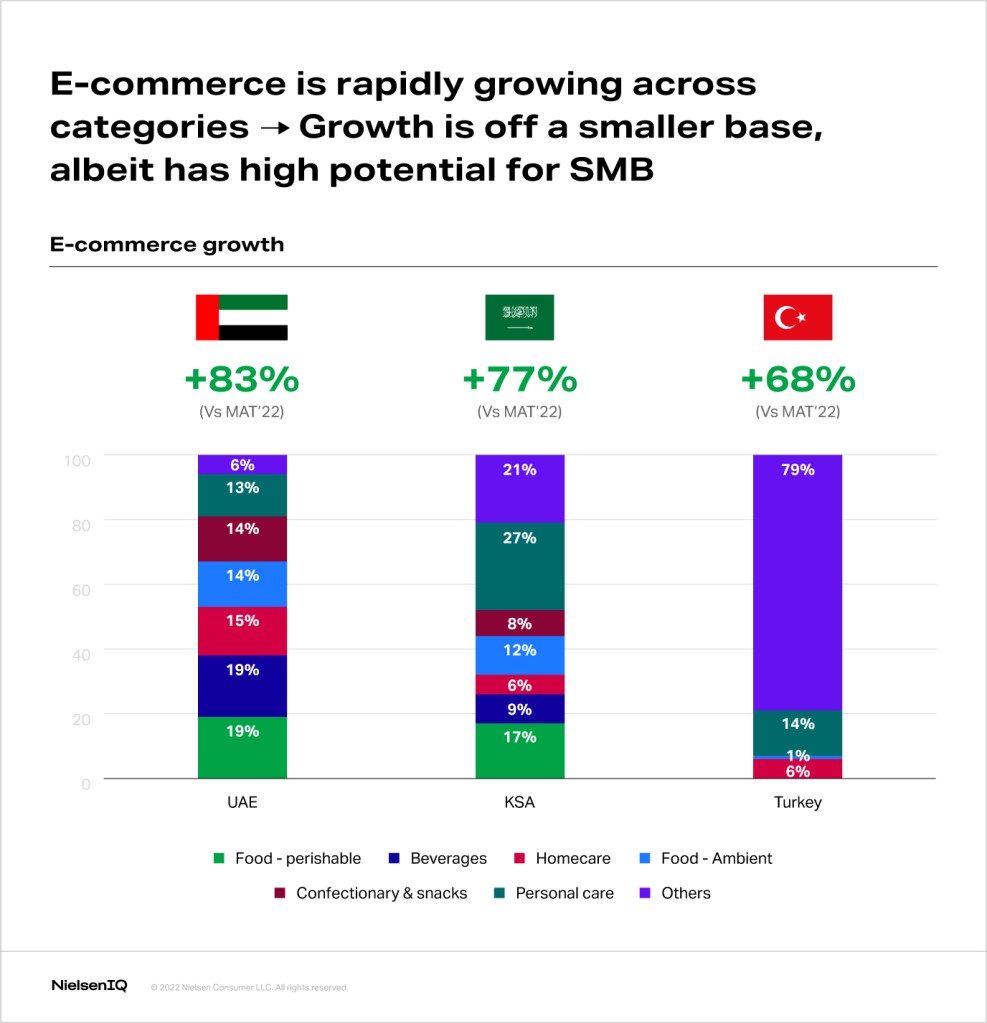 ---
The big bets shaping the future of consumer goods globally
The last 24 months have forced accelerated investment in areas like e-commerce, delivery, and digital tech adoption. The consumer goods industry globally is ripe for continued investment with trillions of dollars earmarked toward accelerating change over the next five years.
Where are companies investing money, time, and attention? While recognizing that there are hundreds of different areas of investment and innovation taking shape, NielsenIQ selected 18 popular areas of investment, reflecting a curated selection of global big bets shaping the future of consumer goods and retail.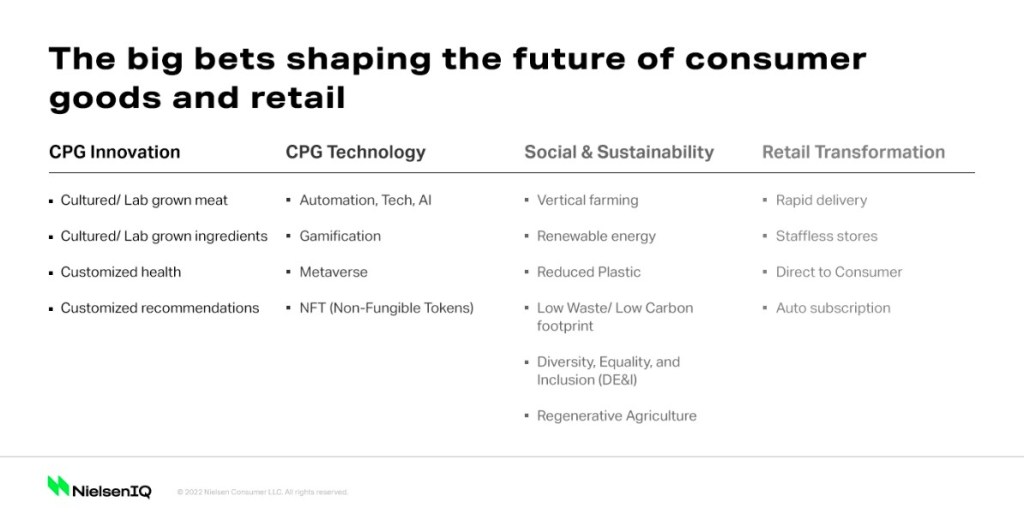 Recent research shows that consumer preferences and priorities are more dynamic than ever. According to NielsenIQ's 2022 Consumer Outlook online survey, 74% of global respondents believe that their priorities and resulting shopping habits have been impacted by the pandemic. Matching investments to sentiment, NielsenIQ conducted a directional survey of consumers in 17 global markets to gauge the general levels of willingness and "openness" toward adopting the big bets.
NielsenIQ's global consumer survey revealed that the investments that aligned with sustainability, inclusive of reduced or recycled plastic, lower waste, and renewable energy consistently ranked the highest around the world. Global consumers are serious about sustainability and have noted a strong willingness and acceptance toward sustainability-focused programs.
The survey results also indicate that direct-to-consumer (DTC) models have widespread positive consumer acceptance around the world. DTC models sprang to prominence in the past two years as pandemic-induced behaviors and homebody lifestyles provided more opportunities for trial and adoption.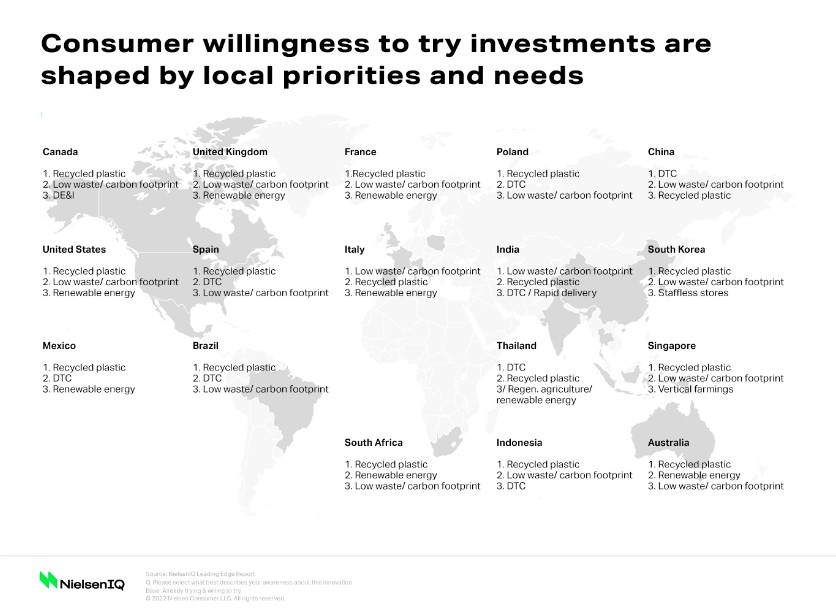 At the other end of the consumer responses are the negative sentiment or resistance to trial. For some, the road to future adoption may be long. The five investments that have the biggest lack of awareness or resistance to trial are lab-grown meat, customized health, NFT's (Non-Fungible Tokens), the metaverse, and lab-grown ingredients.
---
What lies ahead
Life will not return to how it was in 2019. Businesses are reinventing their portfolios and forging new strategies to navigate the new needs, priorities, and preferences of a changing consumer landscape. When considering these investment areas, business should ask questions like:
Where are the signals of change occurring at pace that will mandate change that may be unavoidable in the longer-term e.g: reduced plastics, renewable energy, DE&I?
What are the competitive advantages of being a pioneer or leader of industry change versus a follower?
Which investments have a better fit with my current portfolio compared to the vision of my future portfolio?
Does our corporate strategy have a longer-term plan? Is my company looking at our business and the impact these longer-term bets may have?
What processes do we have in place to consider other industry disrupters that will change the FMCG industry of the future?
NielsenIQ is here to help you understand more about what's fueling the future of FMCG and retail.