E-commerce has become an integral part of consumer lives across the globe. It provides convenience, access, and choice, and it has grown increasingly popular across multiple product and service categories. With improved internet penetration, the ubiquity of smartphones and the growth of online payments, the ecosystem for e-commerce has become conducive for online fast-moving consumer goods (FMCG) in many of the world's developing and developed markets. Consumer adoption of e-commerce for groceries varies depending on market conditions, delivery infrastructure, and maturity of FMCG companies in online business.
To understand the factors that lead to success in e-commerce across global markets, Nielsen's data science team conducted an in-depth analysis of 34 markets in developed and developing regions globally. With our rich data at the heart of our study, we then identified 10 key drivers for FMCG e-commerce success today and three pillars for growth tomorrow.
The 10 key drivers of FMCG e-commerce market growth are:
Four foundational drivers: market size, bank account penetration, internet penetration, smartphone penetration
Three macroeconomic drivers: ease of doing business, population density, postal reliability
Two social drivers: trust, savings culture
One supply driver: maturity of FMCG e-commerce players
Online FMCG sales are set to double globally over the next five years and will grow twice as fast in developing markets than in developed markets. Nielsen estimates that FMCG e-commerce will grow over the coming years at 18.4% CAGR (combined average growth rate) annually and total global sales will reach as high as US$400 billion by 2022.
"FMCG e-commerce success is higher in markets with densely populated areas, a pro-business landscape, postal reliability, trusting people, and a savings-conscious society will enjoy greater online FMCG success," says Kieran Duke, Client Lead, Data Science, Nielsen. "It is an interesting trend to follow wherein consumers in many markets are leaping from traditional trade directly to e-commerce and Asia is expected to provide some of the biggest growth opportunities for online FMCG over the next five years."
Identifying the future potential of markets is crucial for FMCG businesses that would like to consider e-commerce as an important channel for growth. Nielsen FMCG e-commerce study has identified future market potential of each of the 34 markets through deep analysis of three important levers: favorable mega trends, strategic investment landscape, and technology & innovation in their respective markets.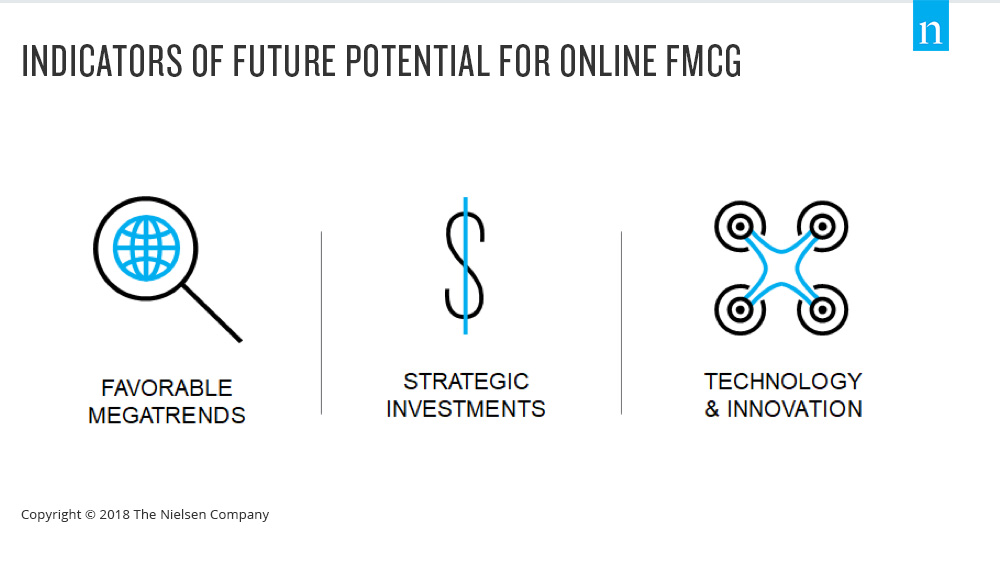 Many large FMCG brands, manufacturers, and retailers are considering e-commerce as a strong focus in their overall strategies. The ability to implement omni-channel strategies and provide convenient solutions to consumers will help in further growth opportunities. Nielsen's e-commerce solution can help in further understanding consumer insights in online FMCG and help businesses leverage their overall strategies in multiple markets.
For additional insights, download our Future Opportunities in FMCG E-Commerce report.