Bubbly, sparking wine, Champagne, prosecco. No matter what you call it, it's a little glass of heaven to those who drink it. But while it's easy to substitute one name for the other, there are distinct differences between Champagne and prosecco. While they're both sparkling white wines, Champagne is produced from chardonnay, pinot noir, and pinot meunier grapes grown in the Champagne region of northeast France, while prosecco hails from the Veneto region of Italy and is made mainly from glera grapes.
Names aside, sparkling wine sales in the U.S. have been on an upward trend, growing 10% in the 52 weeks ending Oct. 15, 2015. And the growth isn't connected to name recognition. In fact, prosecco has gained tremendous ground, as sales grew 36% over the year, while Champagne sales grew just 8%. Despite the prosecco sales gains, however, Champagne still accounts for 20% of sparkling wine sales in the U.S. The Italian offering accounts for 14% of sales. Prosecco's lower price point may be spurring the sales growth, as the average price per bottle is $12, well below the $52 average for a bottle of Champagne—more than four times more expensive than prosecco.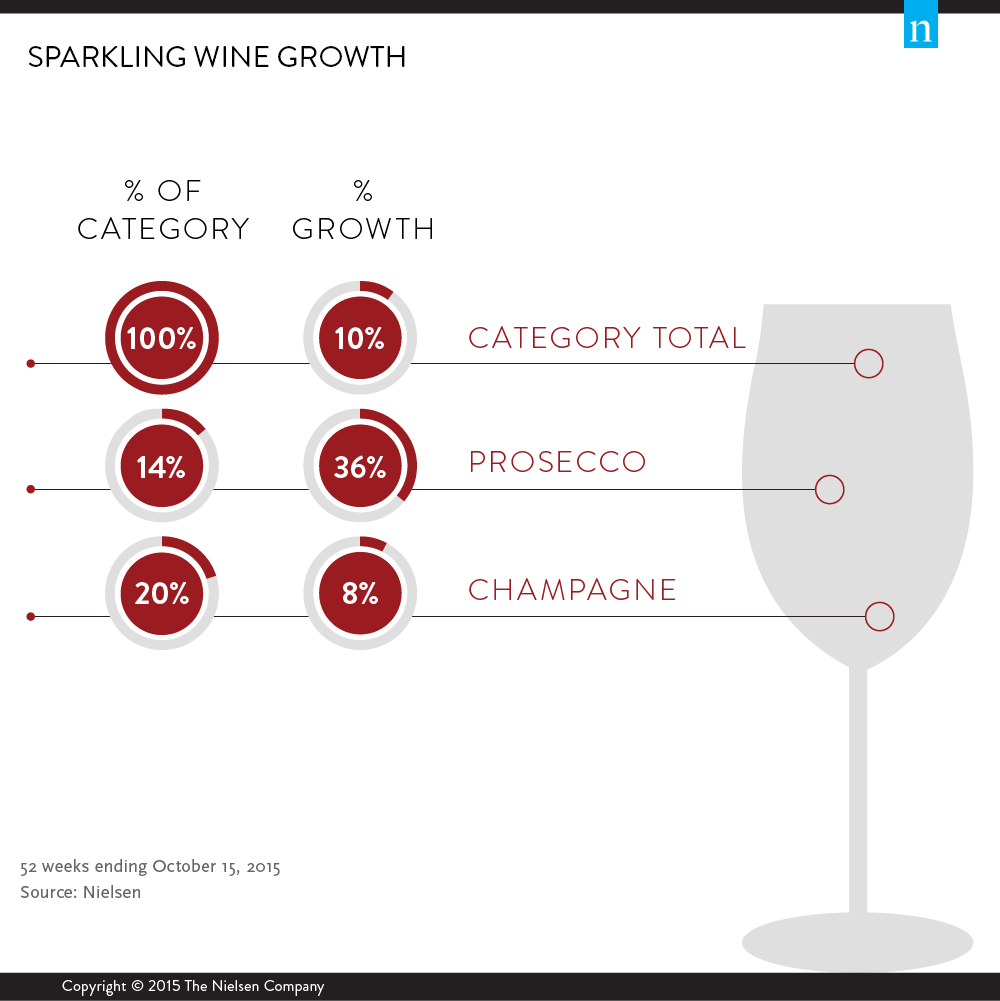 Prosecco is also bringing new buyers to the sparkling wine category, and encouraging expanded sparkling purchases. According to a NielsenIQ Homescan panel study, one-third of volume growth in the prosecco category in the year ended March 1, 2015, came from new sparkling buyers. Another third of that growth came from consumers who already enjoy sparkling wine but bought more by either adding prosecco to their sparkling mix or buying more prosecco. The last third of prosecco's growth came from buyers purchasing prosecco instead of other sparkling purchases.
Holiday sales cause sales to spike across many categories, including sparkling wine. Prosecco sales benefit less at year-end than Champagne does, however, as its annual sales are less reliant on purchases between Thanksgiving and Christmas. Specifically, the last seven weeks of the year account for 30% of annual prosecco sales, compared with 36% of Champagne sales.
While Champagne still dominates the U.S. sparkling wine market, prosecco is enjoying a boost from the Italian bubbles and gaining ground. Whatever the preference, both will likely grow in popularity as we get further into the holiday season.