Even though traditional and homemade drinks will always remain popular in India, packaged beverages are gaining traction with Indian consumers, who are now frequently reaching for their more convenient-to-consume counterparts—soft drinks. While consumption is on the rise, soft drink manufacturers have some distance to go before they fully capitalize on the opportunity.
Over the past two years, the soft drink industry has seen a value growth of 11% compound annual growth rate (CAGR) and a volume growth of 5% CAGR. In total, 1.25 billion people in the country drink 5.9 billion litres of soft drinks in a year. This makes India's per capita soft drinks consumption large, but just 1/20th of that of the U.S., 1/10th of Kuwait, one-eighth of Thailand and Philippines, and one-third of Malaysia.
Driving up per capita consumption of soft drinks in India calls for decisive action by the industry to catch up with the growth rate of other fast-moving consumer goods (FMCG), including the food basket, which currently outpace soft drinks (Food CAGR is 9%). Over years, the soft drinks category has also been affected by issues related to health concerns and pressure from government policies. However, there have been sporadic efforts to drive growth in rural areas in recent years, which have received only a tepid response, as rural consumption levels still stand at two-third of that of consumption in urban areas.
The challenge for this industry, therefore, is to restore its pace of volume growth by increasing the per capita consumption of soft drinks in India, catch up with international consumption levels of soft drinks and perform at par with other FMCG categories in India, like salty snacks, chocolates, and biscuits.
The three growth drivers for the soft drink segment
Small evolving segments like energy drinks may not be sufficient to either drive the per capita consumption or bring in the desired growth for this category. The first challenge that this category faces is to outpace other impulse consumption and traditional options available and clock high single-digit growth in volume. Moreover, the category is dependent on soaring summer temperatures across the country, and a delayed onset of rain and winter can affect demand.
We identified three winning strategies that give growth impetus to India's soft drink category:
A continuous and aggressive focus on innovations
Making the category season-neutral
Focusing on execution
Among all beverages, we see that carbonated soft drinks (CSD) are firmly in the lead, followed by non-carbonated mango-flavored drinks.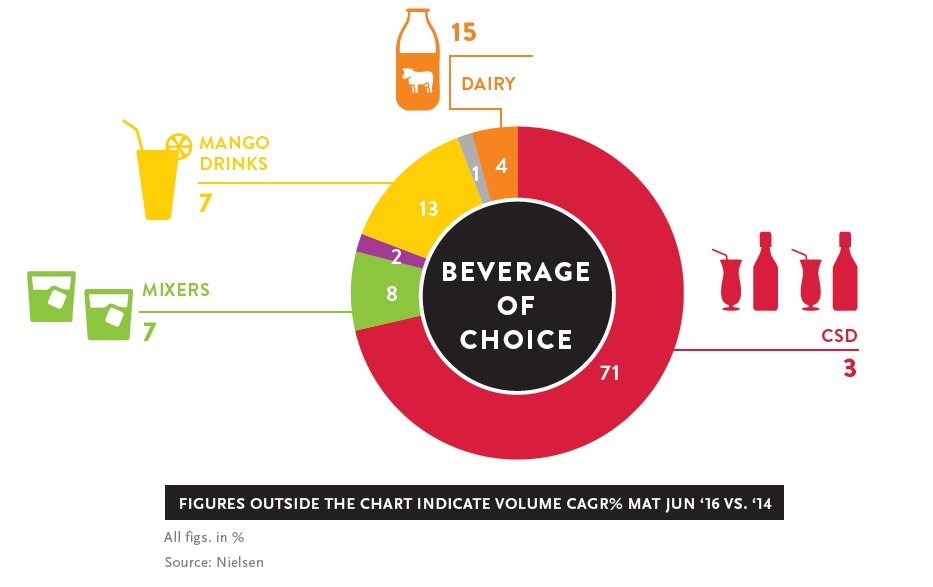 For more details, download the full report (top right).