The daily trip to the supermarket has long been ingrained in Londoners' routines. Popping into the local shop to pick up a few items, or grabbing a meal-deal from the supermarket for lunch at the office or dinner on the way home, was a standard practice. But, with most offices shut and huge numbers of Londoners forced to work from home as a result of the COVID-19 pandemic, travel into the capital has come to a halt, and so has the daily shopping.
Many Londoners have smaller, beverage-size fridges, making the daily shop a necessity, with many picking up their groceries on the way to or from work. But the ongoing travel and virus-related restrictions have forced these city-workers to become home workers, leaving their previous shopping patterns and most-frequented stores behind. This has had a massive impact, with some stores located in the city center seeing massive sales declines. But the sales haven't disappeared; they've simply shifted locations, moving closer to home.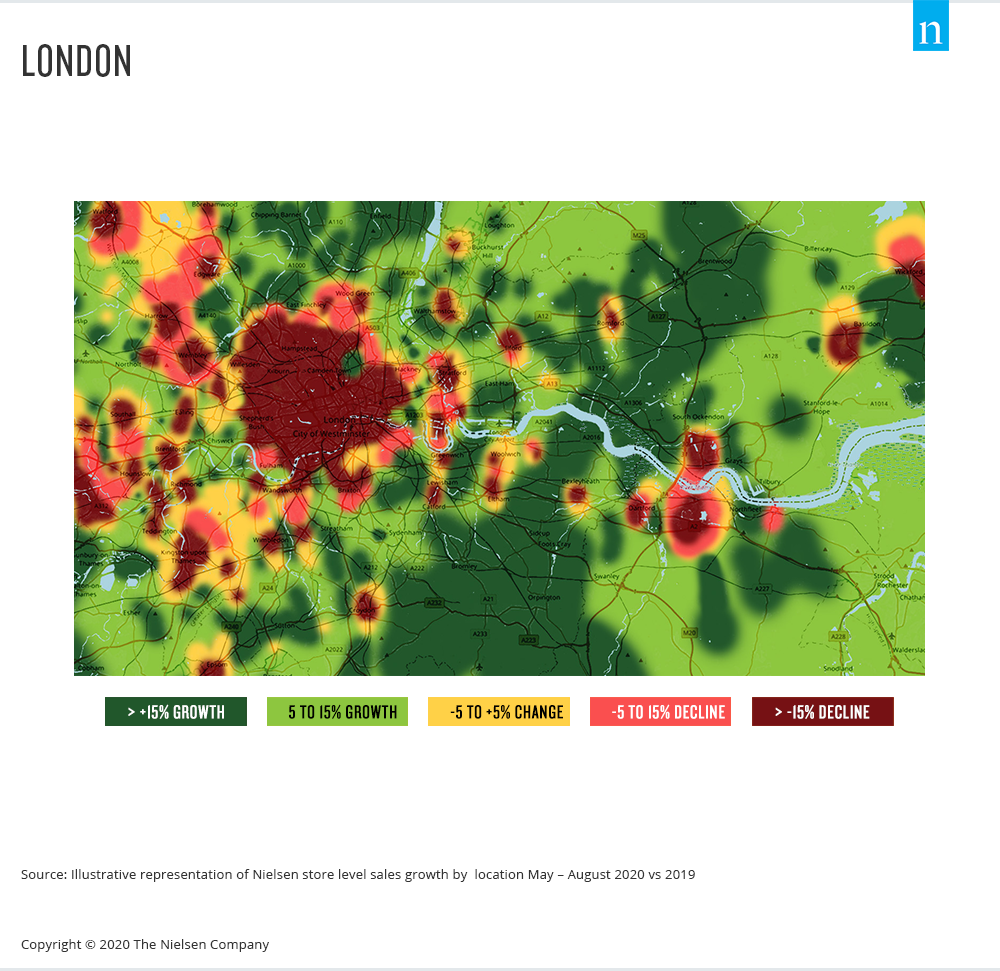 The city map tells the full story. The red areas highlight where FMCG sales fell by more than 15% between May and August of 2020 compared with the prior year. The large central area represents London's key business and financial centers, travel hubs, shopping districts, and tourist attractions. The smaller pockets of red denote critical transport hubs and routes that feed the surrounding commuter towns. In contrast, the green areas are the outlying, more suburban areas, where FMCG sales have surged by more than 15%, as shoppers stick closer to home.
This redistribution of spend between city centers and suburbs has had a profound impact on the U.K.'s "golden stores"—the highest-revenue-generating stores. In 2019, U.K. shoppers spent £145 billion on FMCG, and 80% of those sales came from just 20% of stores. This year, sales had already exceeded £122 billion through Nov. 7—that's £9 billion more than this time last year—but changing purchasing behaviors and a rebalancing of stores means that 80% of these sales now come from 19% of stores. This seemingly small 1% difference represents a major shift in the U.K. retail landscape—and billions of consumer spend being made in different stores.
Anne Haine, SVP Europe, Intelligent Analytics, NielsenIQ, says: "The U.K. retail landscape is becoming more concentrated, and some of the country's highest-revenue stores are experiencing extreme shifts in their relevance to consumers and overall contribution to retail sales. As rolling lockdowns and restrictions continue across the U.K., and in densely populated city centers such as London, it is critical for manufacturers and retailers to recalibrate for this re-routed spread of spend. "U.K. food retailers—whether large supermarkets or local corner shops—have been a lifeline for shoppers. Consumers continue to adapt their routines in line with the pandemic, and many of these behaviors, such as working from home, will continue even when restrictions ease. Manufacturers should be taking a close look at their distribution strategies, while retailers review their current store formats, locations, and expansion plans to better meet these new routines."