Across the U.S. retail landscape, the convenience channel has been the offline channel to watch over the past year. With the country in the throes of the COVID-19 pandemic, the convenience channel is poised to be even more dominant as stay-at-home restrictions are lifted.
Last November, NielsenIQ forecasted that the U.S. convenience channel would grow faster than all other offline channels over the next five years. When we look at the importance of proximity to our homes and the desire among many to avoid large crowds, convenience stores have the ability to write their own future. To do so, they need to embrace the opportunity to expand beyond categories traditionally expected from the channel. Baking staples, for example, aren't common on the shelves at most C-stores, but sales of the category have been on an upward trend across the U.S. since the week of March 14, 2020, as consumers settled into restricted living conditions. The same can be said for household cleaners and fresh meats. As consumers begin to evolve into their new normal, convenience stores can put themselves into the consideration set for these new need states.
Consumers also don't typically think of C-stores as a good source for things like dish soap, eggs, and butter. These staples, however, are generating stronger sales as consumers spend more time at home. And many categories associated with health and safety are scarce on the shelves of many retailers. In the case of consumer stock-up items like toilet paper, disinfectants, and cleaning products, drug and food stores have capitalized on demand, while C-stores haven't. However, recent trends in C-store data does show a lesser decline in year-over-year sales trends, indicating that the channel is seeing some benefit from eased restrictions and consumers receiving their stimulus checks.
The global pandemic has sparked an unprecedented spike in shopping for consumer packaged goods (CPG). At the onset of the pandemic, the shopping trended toward shelf-stable items and sanitizers. As consumers became comfortable in restricted living, supply chain strains evolved to personal care and hair care categories. Importantly, C-stores aren't known for the in-demand categories that have tracked massive growth over the past several months, yet they could be. Sales of a few categories, however, are selling better at C-stores than they are in aggregate across the entire CPG landscape.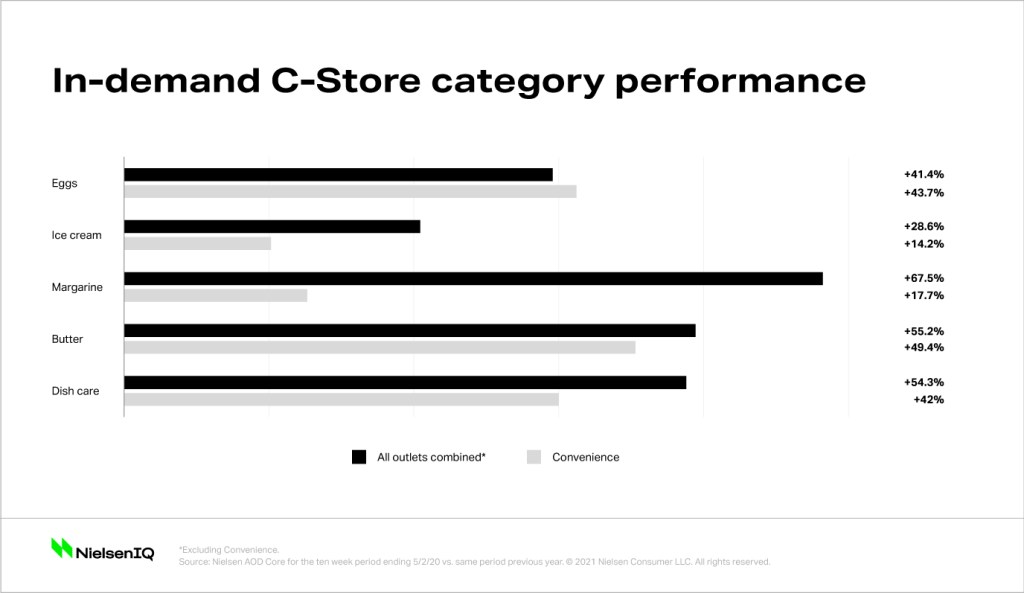 As countries, cities, and regions transition from restricted living to a new normal, consumption and lifestyle changes will hinge on how long it will take markets to move to that state. The longer consumers stay in quarantined living situations, the harder it will be for their living and purchasing behaviors to snap back to how they were before the pandemic. Said differently, if a market is unable to move beyond the current reality for an extended period of 12 months or more, the more likely the consumers will be to maintain the behaviors they adopted under restricted living conditions.
In the U.S., businesses in many states have reopened in limited or partial capacities, allowing consumers and businesses to take initial steps toward post-lockdown life. Generally speaking, the states that are reopening some businesses and public areas are located away from the hotspots closer to the East and West Coasts.
Even with the start of spring and the partial reopenings of many U.S. states, a recent NielsenIQ survey of consumers from 70 countries found that 71% of Americans expect the spread and intensity of the local impact of the virus to increase. More than half believe the impact of COVID-19 will last four to six months, while 28% of Americans believe it will last longer than six months. With that sentiment, there's little doubt that many U.S. consumers will continue practicing social distancing and shopping at smaller stores that are closer to their homes.
In light of economic uncertainty and consumer concerns about the novel coronavirus, consumers will continue shopping closer to home for a more diverse assortment of products and categories. In the short term, convenience stores have the opportunity to meet the everyday CPG needs of consumers as they navigate their markets' path to the new normal. Importantly, however, C-stores will have to develop marketing programs that highlight their connections to their communities and inform consumers about expanded assortments for everyday fill-in needs. In the longer term, traditional CPG retailers will need to demonstrate safety and hygiene in addition to product and category arrays that align with consumers' evolving needs.
For additional insight, download our six tips for engaging convenience shoppers.