The e-commerce effect
Online consumer packaged goods (CPG) sales in the United States increased $63 billion in 2020 vs. 2019. To determine the success of that growth, it's important to view e-commerce within the context of overall omni sales—both online and offline.
Driven by the rapid growth of food and beverage sales, e-commerce accounted for one-third of omni CPG growth. Yet more importantly, the success of e-commerce while brick and mortar sales remained elevated proved that a retailer's online growth does not have to come at the detriment of in-store sales. In fact, new research from NielsenIQ shows a positive correlation between the strength of a merchant's e-commerce program and their overall success.
---
Food and beverages assume mantle of leading CPG department online
For the first time, food and beverages overtook health and beauty last year as the leader of CPG sales online. Previous barriers to entry such as concern with trusting another individual to select fresh foods were set aside at the onset of COVID-19 restricted living. Yet compared to non-edible categories, food and beverage remains heavily under-developed.
"More than 22 million people bought groceries online for the first time in 2020, but the department's overall penetration rates of online buyers are about half of non-food departments. This penetration gap amounts to a $60 billion opportunity," according to Liz Buchanan, head of NielsenIQ's North American consumer intelligence business. "With shopping behaviors in 2021 largely shaping up as a continuation of 2020 trends so far, it's food and beverage categories that will continue to drive CPG growth online. Retailers delivering a positive experience and earning a shopper's trust throughout the process will gain the upper hand."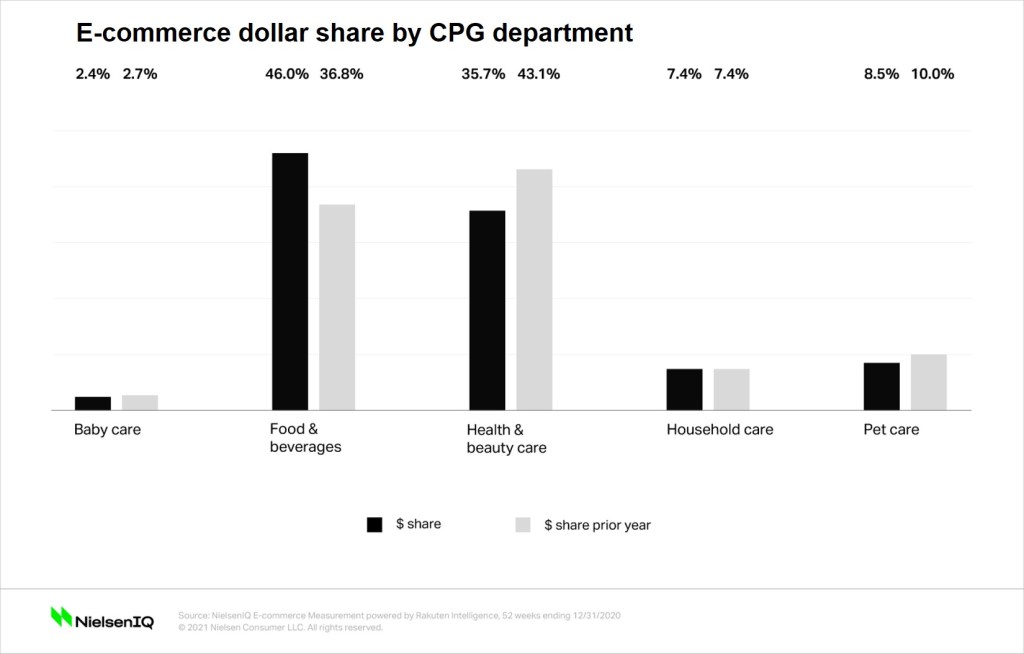 ---
Using an omni lens to evaluate the impact of e-commerce
As of September 2020, just 6% of households considered themselves exclusive online shoppers. The overwhelming majority of people still toggle between online and offline, even for products with high subscription rates for auto re-ordering like pet food. For many, e-commerce supplements routine shopping in-stores without fully replacing it. This shines a spotlight on the importance of executing an omni strategy to deliver a seamless experience for shoppers across all touch points.
Given the unique circumstances of 2020, almost every merchant within the food, club and mass channels increased sales both online and in-store. But a recent analysis from NielsenIQ found that on average, retailers who gained at least 20% of their growth last year from e-commerce had the highest total omni growth. In fact, it more than made up for lower in-store growth rates.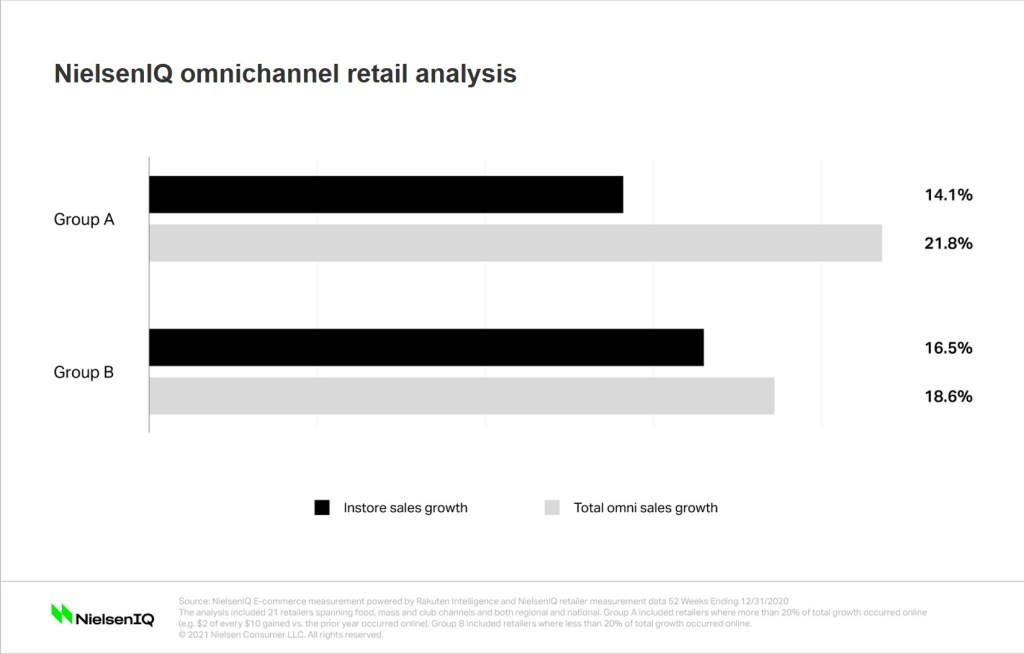 The challenge every retailer continues to face with e-commerce sales is the reduced profitability on each order. Retailers are pressed with finding ways to lower costs by fulfilling orders more efficiently to boost the bottom line. Without this efficiency, higher omni sales growth attributed to e-commerce may be misleading if it doesn't translate to higher profits. In 2020, thousands of new stores introduced curbside pick up which offers the simultaneous benefits of helping merchants reduce delivery expenses while giving shoppers a better sense of control over both cost and timing.
However, a curbside pickup option isn't enough to win the online race. Maximizing the value of each shopping trip further helps to offset the added costs of online orders. The retailers in group A average nearly 25% more annual spend per buyer than the retailers in group B. Finding ways to better engage shoppers with unique search functionality and stronger algorithms for cross-promotion can improve the shopping experience and build the basket.
With the continued divide of economic impact on shoppers throughout the world, retailers and manufacturers will be pressed to evolve with their shoppers' changing needs. Assortment, pricing, distribution, and innovation will need to be recalibrated both online and offline to unlock consumption in 2021.
"As more retailers progress along the e-commerce maturity continuum, some are finding ways to differentiate themselves. And the divergence in performance is starting to really show in the data which offers tremendous insight into the blueprint of what is and isn't working," said Buchanan.
---
The bright future of food and beverage sales online
With non-edible category sales still dominated online by retailers like Amazon and Chewy, the emergence of food and beverages is an important avenue for many food, club, and mass retailers to compete against the online pure players that have gained market share in recent years. And with food and beverages accounting for three-quarters of all CPG dollars, the balance of online power is shifting, and it's fueling omni success.
Lorem Ipsum…
Lorem ipsum dolor sit amet, consectetur adipiscing elit. Duis felis arcu, pulvinar a ipsum vel, elementum pharetra massa…
Lorem Ipsum…
Lorem ipsum dolor sit amet, consectetur adipiscing elit. Duis felis arcu, pulvinar a ipsum vel, elementum pharetra massa…
Lorem Ipsum…
Lorem ipsum dolor sit amet, consectetur adipiscing elit. Duis felis arcu, pulvinar a ipsum vel, elementum pharetra massa…
Lorem Ipsum…
Lorem ipsum dolor sit amet, consectetur adipiscing elit. Duis felis arcu, pulvinar a ipsum vel, elementum pharetra massa…