Eastern European retail landscape calls for a reset
We saw remarkable growth in modern trade and e-commerce in Eastern Europe towards the end of 2021 and early 2022. The proximity of small format stores (convenience stores, groceries, and drug stores) to where consumers live, and the convenience of online shopping enticed patronage of mobility-constrained consumers. This helped drive growth in modern trade and online channels. NielsenIQ's retail data shows that convenience stores grew sales by 11.1% while traditional trade showed 6.4% value growth. In Q1 2022, the e-commerce channel experienced unprecedented 72% value growth over last year. This new retail reality in Eastern Europe challenges manufacturers and retailers to optimize product range to successfully navigate the new retail landscape.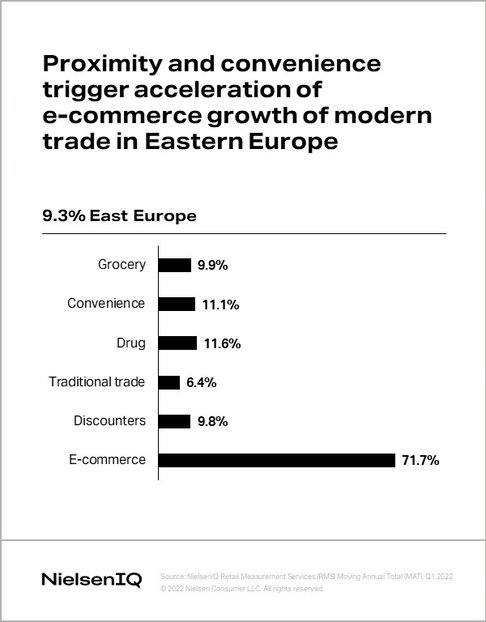 ---
Hypermarkets and supermarkets are the most important channels for Africa and the Middle East (AME)
After a challenging 2021, AME economies are set for recovery with World Bank estimating the region to grow by 5.2% in 2022— the fastest economic growth rate since 2016.
On the retail front, hypermarkets and supermarkets are the most important channels in AME. In the top three markets within the region (South Africa, United Arab Emirates, and the Kingdom of Saudi Arabia), this channel contributes to nearly half or more than 50% of FMCG value sales. After a volume growth surge of 7.6% in Q1 2020 in hypermarkets and supermarkets, because of stockpiling and panic buying, declines followed in the next few quarters until recovery started in Q2 2021.
In Q1 2022, value growth peaked at 18.7% mainly due to price increases and inflation, while volume growth slowed to 4.3% at the end of 2021 indicating cautious consumer spending. Almost all consumers are looking at various strategies to manage expenses in some way. On average, consumers are using between two to three strategies to manage grocery expenses by selecting lower priced products from preferred repertoire, monitoring cost of overall basket, and shopping online.
---
Normalization of consumer behaviors in Western Europe dictates channel performance
The relaxation of COVID-19 restrictions has caused shifts in Western Europe. As consumers returned to dining and entertaining outside of their homes, they reduced the amount of food and drinks that they were purchasing in stores. In effect, the total value of FMCG sales declined 2% in Q1 2022 compared to a growth of 0.4% in 2021. The biggest impact is being seen in supermarkets, where volume sales declined by 4.1% in Q1 20221.
Discount stores and convenience stores benefited most from the normalization as consumers went back to shopping more often, with proximity as one of the top factors impacting the choice of the retail brand.
Convenience channel is responsible for almost 11% of all sales in FMCG2 and looks set to grow as retailers develop new stores and adapt formats to meet changing shopper lifestyles. Discounters, which now account for over a quarter of FMCG sales in Western Europe, are seeing the fastest growth in Great Britain with sales up almost 7% in Q1 20223.
The rapid development of e-commerce slowed down compared to the hyper accelleration during the height of the pandemic.
---
It's full speed ahead for e-commerce, while traditional trade bounces back in Asia Pacific
E-commerce accounts for 19.5% of FMCG sales in Asia and was the second biggest retail channel in 2021. The importance of e-commerce as a retail channel has unmistakably increased during the COVID pandemic, with nearly 50% rise in value growth in 2021 from 2019 or pre-pandemic. While South Korea and China both have more than 30% of FMCG sales coming from online sales, Singapore, Australia, and Taiwan are also seeing steady growth in e-commerce. NielsenIQ forecasts that in the next few years, these countries will get 20% of FMCG sales from e-commerce.
Traditional trade continues to lead FMCG sales in Asia with over 45% of sales generated by over 18 million stores across the region. Traditional trade bounced back with a strong double digit value growth of 12.3% in 2021 versus 2020 and 7.6% against 2019. Across Asia, offline hyper/supermarkets are on the downtrend as shoppers move to online versions of these retailers.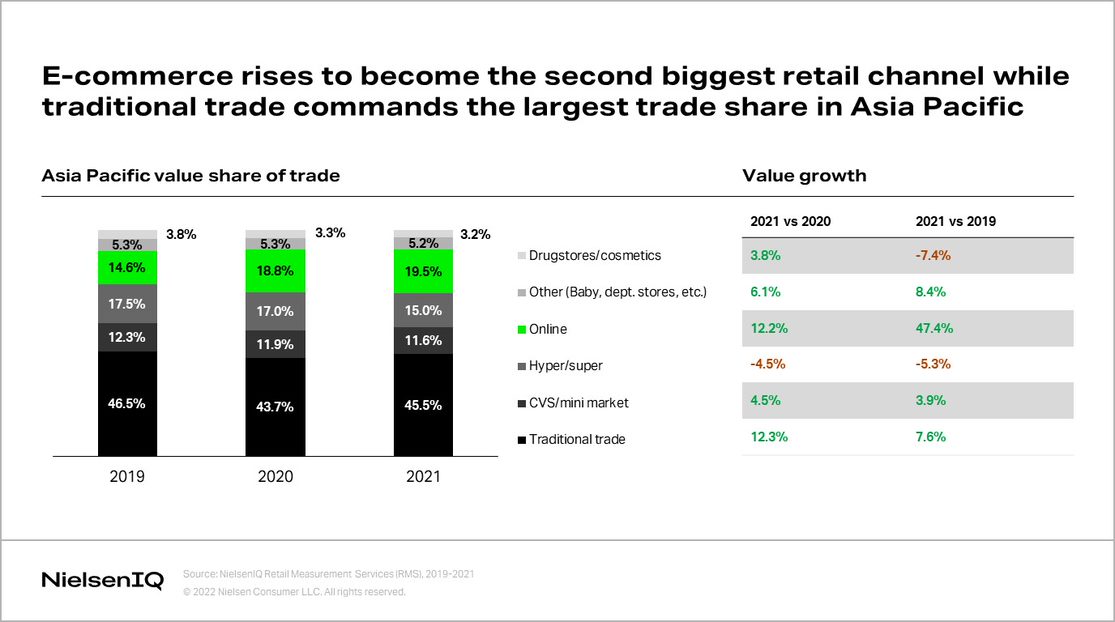 ---
Traditional channel and on-premise make a big come back in LATAM
After experiencing a decline during the pandemic, on-premise (and other channels i.e., perfumeries, small convenience stores) and traditional retail channels are seeing a recovery. The lifting of COVID-19 restrictions paved the way for the resumption of work on-site and the reopening of traditional trade and on-premise. By the end of 2021, retail data covering the Latin America region reveal that on-premise (and other channels) recorded a value growth of 24% while traditional trade follows closely with 22.6% value growth in 2021 versus 2020.
---
Spot the shifts in retail, quickly
If anything, COVID-19 has taught us that the ways in which consumers buy and where they shop, is evolving swiftly. How brands stay relevant in this ever-changing environment will depend on how fast they are able to spot the shifts in the retail landscape and adjust their distribution strategy to reach the retail channels which are most important to their customers, with the right product offers. To uncover growth and drive positive outcomes for their business, manufacturers need precise visibility of their performance and the markets they operate in. They need to make data backed decisions to power their growth strategy.