A growth surge in FMCG e-commerce sales
When it comes to regional e-commerce sales in Asia Pacific, Korea and China lead the way with e-commerce accounting for more than 30% of FMCG sales in each market. NielsenIQ forecasts that markets such as Australia, Singapore, and Taiwan will have over 20% of FMCG sales coming from online channels by 2025. As the significance of e-commerce continues to grow, brands and retailers must have the right product portfolio to adjust to this growth surge.
In a NielsenIQ BASES survey of consumers across Asia Pacific in February 2022, 58% of consumers identified price as a top factor when buying online. Now that consumers expect to find the cheapest prices online, it is a challenge to control discounting. This highlights the need for optimization of pricing and promotions online.
---
Categories leading online sales in Asia Pacific
While the baby and skin care categories continue to grow, traditional categories such as beverages (beer, carbonated soft drinks), laundry powders, and detergent have found their way to online shopping carts. Surprisingly, fresh food is becoming an important driver of online purchases. Consumer Panel data from Singapore reveals that fresh fruit and vegetables are the number one category purchased online.
To fully benefit from the uplift that the online channel can give brands and retailers, it is imperative for FMCG manufacturers and retailers to change the way they look at this retail channel. The FMCG industry must adjust to different measures of success for online and offline channels. There is also a need to understand consumers' online behavior, and to access daily and weekly data trends with retailer splits that enables manufacturers and retailers to zero in on days which boost sales like important online sales events like Double Days.
---
Unlocking online growth opportunities with data
Data from NielsenIQ's E-commerce Accelerator shows extraordinary sales uplifts for categories and brands during Double Day events (September 9, October 10, November 11, etc.). Here's an example that illustrates the impact of the event on a brand's sales.
In 2021, a facial cleanser brand in Thailand grew more than 13,000% during the 11.11 online sale compared to its past three weeks' performance. When looking at purely online sales ranking over the six months prior to the event, the same brand was ranked #15 in terms of sales via the online channel, but it jumped to #2 during Double 11. Whereas in the brick-and-mortar channels, this brand ranked # 234 over the six months prior to 11.11.2021. Demonstrating that for some brands and categories, online selling is a very viable option.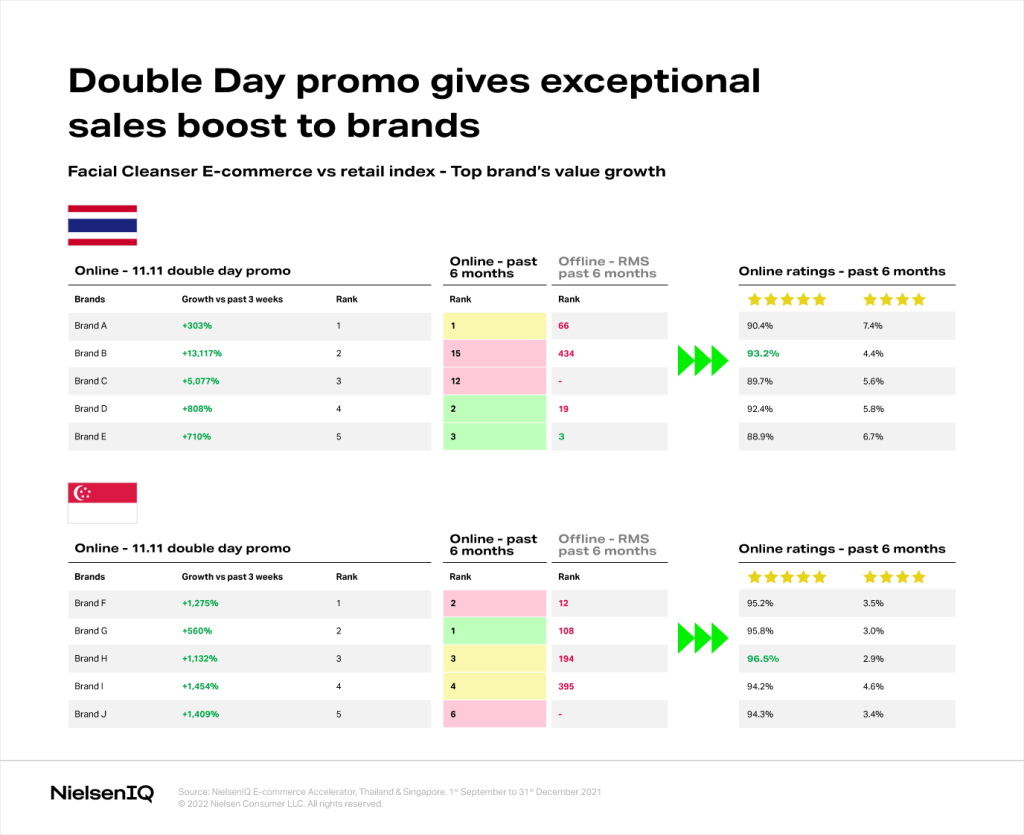 Online data trends also help identify the best distributor for a product or to know whether the sales are coming from official and non-official sellers in market apps like Shopee and Lazada. Brands and retailers need granular data to understand sales value, sales unit, price per unit, and digital shelf analytics to make informed decisions. Customer experience is a crucial factor in the online world, that is why customer ratings are critical. These are important data and insights that brands and retailers need to build their winning e-commerce and omni strategies.