CPG inflation puts consumers in recessionary mindsets
First, the good news: in December 2022, the rate of overall inflation in the US and Canada slowed for the sixth straight month, offering temporary relief in time for the holidays and potentially setting the stage for 2023.
Lower fuel and utility prices helped boost consumer confidence in Q4 2022, but inflation is still painfully high, especially at the grocery store. CPG prices continue to soar, pushing Canada closer to a consumer recession and driving consumers to take more saving measures in both countries.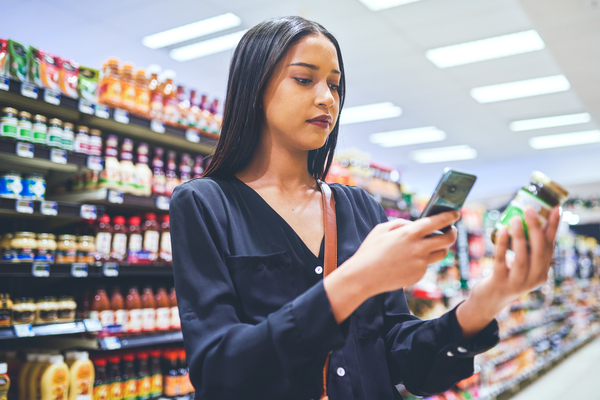 What is a consumer recession?
A consumer recession is when the core habits of traditional consumption have shifted, forcing shoppers to behave as though a recession is already here. To quantify this dynamic, NielsenIQ analysts have created scorecards for the US and Canada that take several notable variables—focusing on how consumers say they feel about the economy and what their behavior actually shows them doing. We've identified six leading indicators to determine an overall score out of 100%, which denotes a full consumer recession.
---
US consumer recession score remains steady
In Q4 2022, higher consumer confidence, lower levels of inflation overall, higher than expected job creation, and relative political stability after mid-term elections helped cool recession fears. 59% of Americans thought the US was currently in a recession, an 8-point drop from Q3 2022. Despite this brighter outlook, changing shopping behaviors and spending shifts reflect the need for savings and concerns for a US recession.
These factors combined with high holiday moods served to keep the US consumer recession score neutral, decreasing 2 points from Q3 2022 to 56%. This score means behaviors indicating a recession are present, offsetting the lower sentiment regarding the US being in a recession.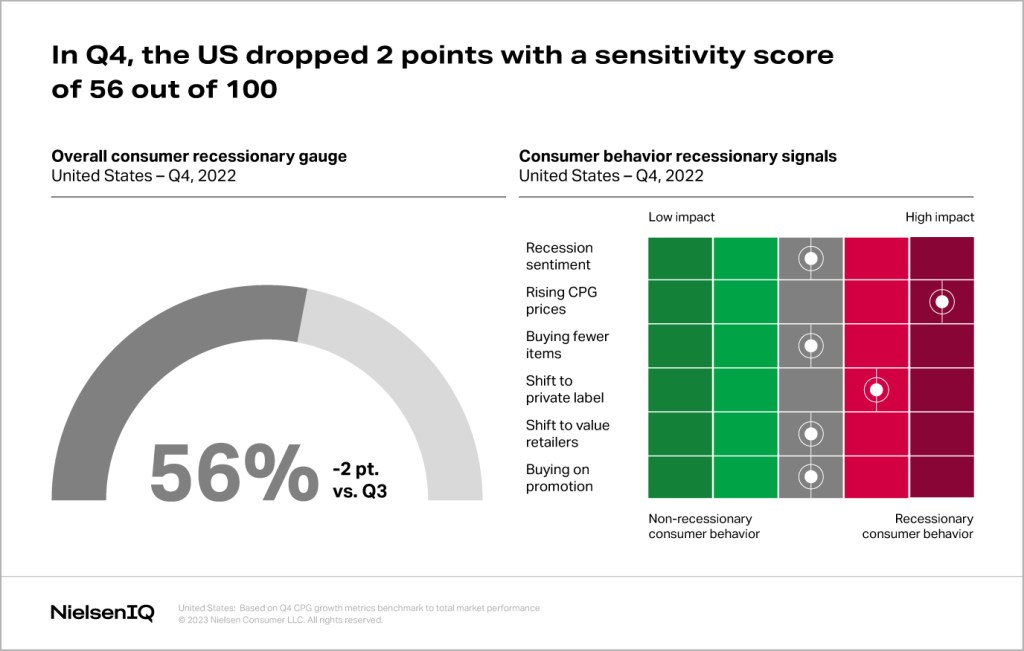 At the same time, rising food costs are testing consumer resilience.
In Q4 2022, 40% of shoppers surveyed cited rising grocery prices as a top concern, ahead of economic downturn, high fuel and utility costs, and COVID-19 resurgences. And it's no wonder — in Q4, the annual average CPG unit price increased 11%. As a result, US consumers are spending $761 more on CPG than they were this time last year.
CPG dollar sales growth is being fueled almost exclusively by these higher prices, reaching 12% inflation in Q4. Inflation is hitting all areas of the grocery store, driving overall CPG dollar sales up 8.4%. As a result, 32% of US shoppers surveyed by NIQ are buying less or restricting their carts to the essentials. Q4 saw the following sales increases (and volume/unit contractions) in the US: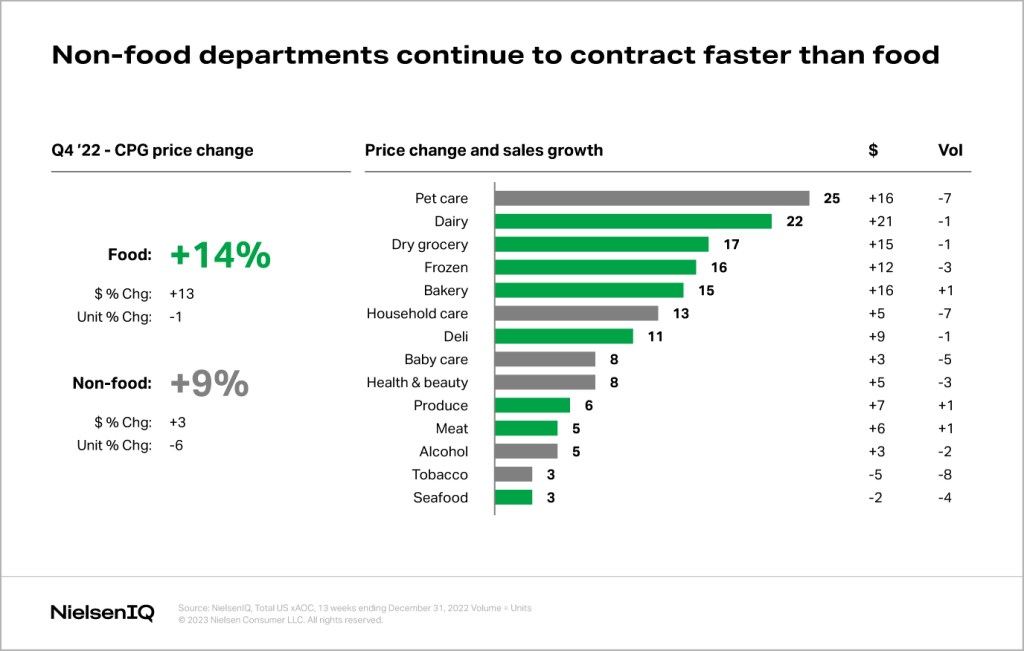 ---
Canada inches closer to consumer recession
The scorecard also shows rising indicators of a consumer recession for Canada, which increased its score 2 points from Q3 2022 to 73%.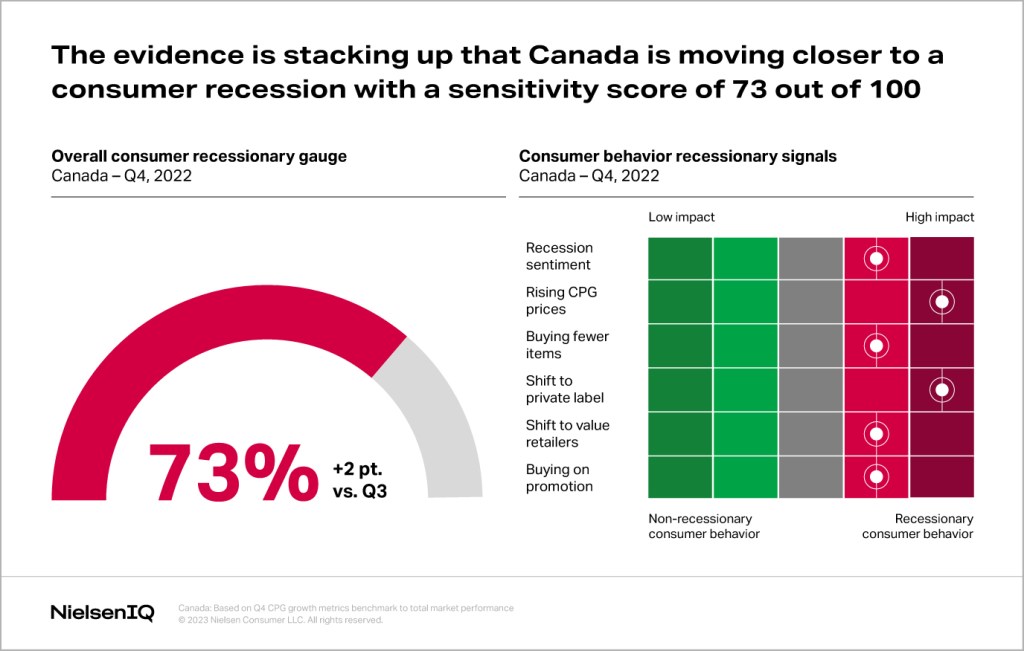 Inflationary pressures along with rising interest rates are leaving Canadians less financially secure — and keenly aware of rising prices at the grocery store. Among NIQ survey respondents, 56% say that rising food prices are a top concern.
The annual average price of CPG products increased 8%, which equated to an extra $660 spend on CPG products compared to last year.
Inflation drove dollar sales up across CPG departments but volume sales remained relatively unchanged in Q4 as consumers shift consumption back into the home: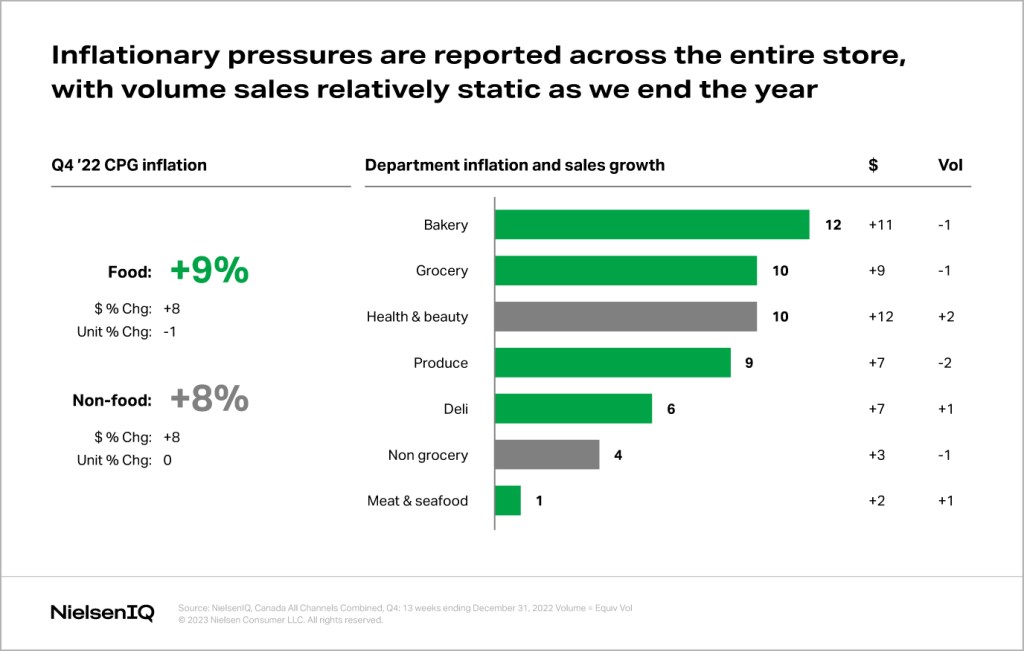 ---
---
3 consumer savings strategies gaining steam
This growing sense of financial insecurity has caused 90% of Americans and 94% of Canadians surveyed to change the way they shop to save money on groceries. Here are 3 savings strategies shoppers are turning to in the US and Canada:
Store switching: Shoppers are shifting their spending to value retailers in increasing numbers and value retail's growth is surpassing the total market as a result. This growth surge is fueled by sales in essential food departments. Many consumers are willing to shake up their routines and switch stores for the lower-cost alternatives offered by value retailers.
Buying cheaper options / more private label: Another primary savings strategy for US and Canadian consumers is to purchase less expensive brands. As a result, private label product sales have grown steadily —and faster than national brands —over the last 3 quarters. Private label share of total CPG sales now exceeds 19% in the US, a record high, and 18.5% in Canada.
Seeking promotions: As consumers spend more on inflated prices for fewer products, some promotional activity is resuming to win back consumers that have shifted to competitive retailers and brands. Promotional activity and purchases gained momentum in Q4 2022, outpacing non-promoted activity in both the US and Canada.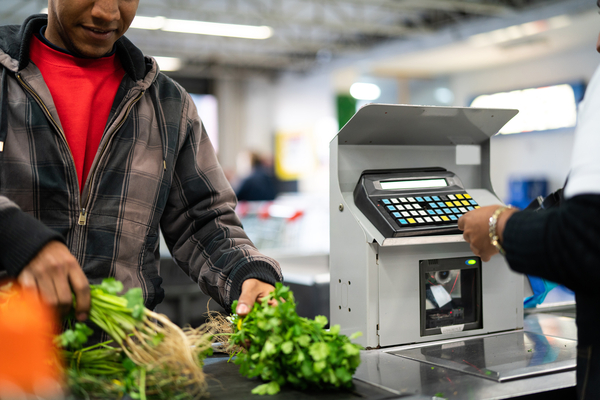 The Impact
If prices continue to rise over the next three months, shoppers plan to cut back their spending in categories like makeup/beauty, alcohol, chocolate and candy, meal kits, and soft drinks.
---
Adapting to a consumer recession
Despite some inflation relief outside of the grocery store and more optimistic US mindsets in Q4, consumers are still being faced with difficult decisions at the shelf.
For CPG retailers and manufacturers managing these new shopping behaviors means innovating and differentiating assortments to compete with private label products and value retailers, and managing price reductions and inventory for profitable promotions.