The importance of the On-Premise channel continues
Australian consumers see the On-Premise channel (Restaurants, bars, pubs, etc.) as an important part of their lives— 21% of surveyed consumers report that they absolutely love eating and drinking out and would be lost without it, and 51% enjoy eating and drinking out and would feel disappointed if they could no longer do it.
6 out of 10 Australians also feel confident that they will be able to afford to visit the On-Premise channel as frequently in the next 12 months as they did in the past 12 months, according to CGA by NielsenIQ's On-Premise User Survey (OPUS). Conducted in September 2022, the OPUS indicates consumer spending power in the On-Premise channel is resilient. OPUS offers an unparalleled understanding of On-Premise behaviors, occasions, and preferences alongside the ability to uniquely profile specific brand and category consumers, as well as the most valuable sub-channels.
Consumers in Australia spend an average of AUD 230 per month in the On-Premise channel and the top sub-channels that they typically visit include casual dining restaurants (informal dining at 67%), pubs (56%), restaurants (formal dining at 41%), followed by sports clubs, bars, hotels, and nightclubs. The most popular occasion types across On-Premise visits are casual meals (58%), special occasions (53%), and relaxed/ quiet drinks (46%).
Australians are also far more likely to visit On-Premise venues in the suburbs as opposed to city centers. This reflects an ongoing trend towards the "importance of local," with 27% of Australian consumers stating it's more important now that their drink is made in Australia.
---
Drinks of choice
While more Australians are visiting suburban venues, this doesn't mean they're all looking for cheaper options. When it comes to the quality of drinks, 53% of consumers in Australia are willing to trade up in the On-Premise channel and are likely to pay a little extra for a better-quality drink when out. This shows how important quality is to consumers. However, Australians also tend to prefer good value — this dichotomy presents a significant challenge for drinks suppliers in positioning their brands as we move into 2023.
Beer, wine, spirits, and soft/hot drinks are the top categories that are consumed when out of the home. However, keeping up with global trends, Australians are also favoring cocktails — consumption of cocktails increased over the past year, with 1 in 3 consumers drinking cocktails more frequently. Interestingly, cocktails are increasing penetration across more casual, typically "beer occasions," like after-work drinks.
Hard seltzers are also an emerging category that has seen consistent growth, booming worldwide. The growth of this category in Australia could in part be due to the desire to live a healthier lifestyle. More Australians are choosing hard seltzers in the On-Premise channel "to be healthy".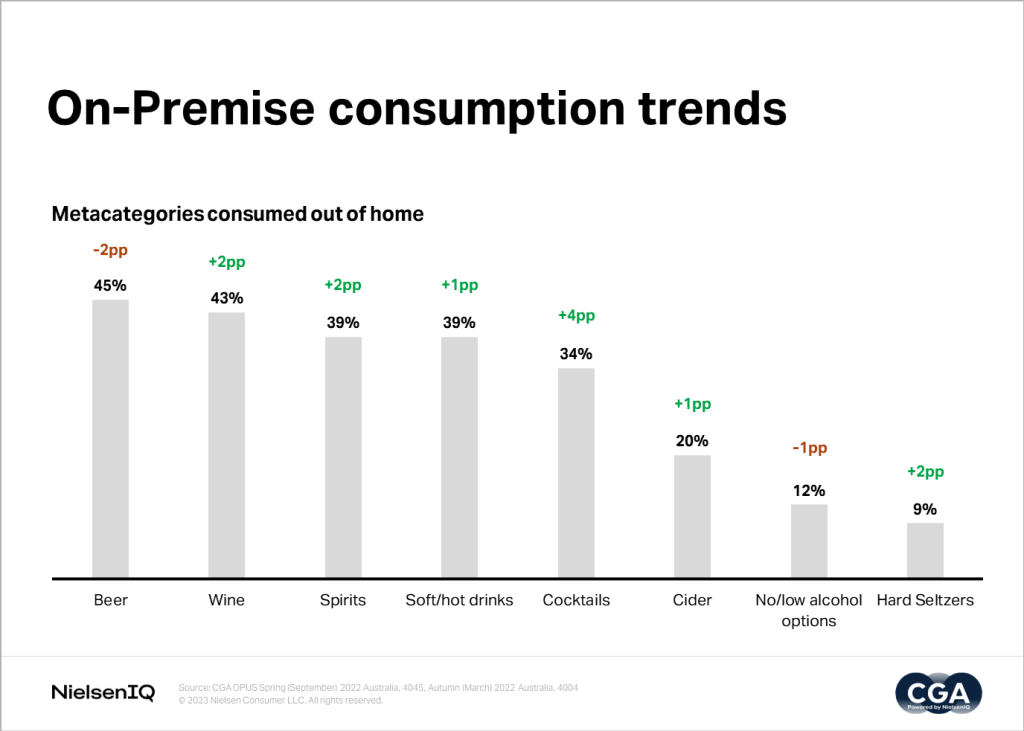 ---
Outlet Index — Leading On-Premise segmentation solution
In addition to OPUS, which provides robust insights to track consumer behavior, habits, and preferences of consumers in the On-Premise, CGA by NielsenIQ's Outlet Index provides unprecedented analysis of the size and shape of the ever-changing On-Premise channel in Australia. As a comprehensive database of On-Premise venues (name, address, and consistent segmentation), Outlet Index is proven to help suppliers to optimize their sales targeting strategies, enhance customer databases and segmentation, and understand and close distribution gaps within the On-Premise channel.
Take the guesswork out of your planning and remove the uncertainty about how your category/ brand is consumed in the On-Premise channel; a channel vital for trial and exploration and building long-term loyalty and brand equity.