Deals, trends, and data — the recap for 2023 October Deal Days
Deal seekers were out in droves to shop the October Deal Day event. Nearly 40% of those surveyed claimed that they were shopping for deals. This event makes for a great start to the holiday spending season and allows for deal seekers and cost-conscious consumers to make purchases early before the holidays. However, holidays and everyday essentials both played a critical role in consumer spending during this event. Let's take a look at the data and explore where consumers spent a little further.
Our experts explored the data from the recent Deal Days that occurred on October 10-11th, and here's what we found:
Deal seekers are shopping early for gift-giving holidays and utilizing deal-savings strategies and events such as July's Prime event, October's Deal Days, and Black Friday.
The biggest non-CPG category items that saw the largest lift in sales during this event were apparel and electronics, with approximately one-third of consumers surveyed reporting that they made purchases from these categories.
Consumers are seeking savings on the beauty and health and wellness categories, marking them as the highest sellers for CPG during this event and largely influenced by social media.
Shoppers of households with children under 18 had the biggest spend compared to households without children under 18.
How did 2023's October Deal Days compare to July's Prime event?
Of the shoppers surveyed, 55% stated that they are repeat shoppers of July's Prime event. However, it's interesting to note that with the awareness, intent-to-purchase, and deal-savings strategies, 40% of consumers stated that they spent less during their Deal Days event shopping trip in October than during July 2023 Prime Day. 36% of consumers stated that they spent more.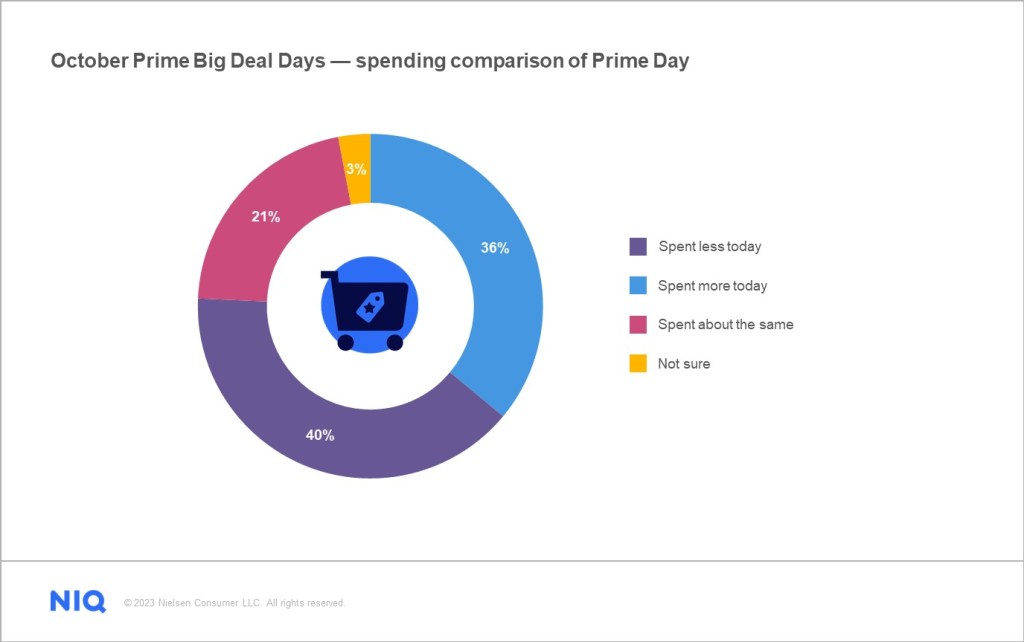 ---
Was holiday shopping as a gift-saving strategy a major component?
We anticipated holiday shopping to be a major player for consumers during October's Deal Days event as shoppers capitalize on gift-saving strategies for the upcoming holiday season. Our survey results showed that consumers who shopped the event were equal deal seekers and holiday shoppers, stocking up on both everyday essentials (31%) and holiday gifts (31%).
A remarkable 80% of consumers who shopped noted that they had completed 25% of all their holiday shopping, showing the follow-through that consumers have for the planned intent to shop early, capitalizing on deals, and mitigating the impact inflation has on the holiday season. A large majority of those surveyed (69%) state that they plan to shop on Black Friday as well — meaning Black Friday is still a relevant and key shopping event for deal-seeking consumers
What was the actual impact that Halloween had on this event?
We anticipated the proximity of the October Deal Day event to the Halloween holiday to have little impact on the ways consumers spend based on last year's results. We saw the same trend occur this Deal Day as we did last year, with candy coming in 11th place with 15% of sales for everyday essentials from those surveyed.
Households with children under 18 experienced an increase in spending overall
Of those surveyed, households with children under the age of 18 experienced an increase in spending in nearly all categories. No surprise here, though, the largest increase was seen in toys, with an overall category spend of 36% for those with children in the household compared to 22% for those without children under the age of 18 in the household.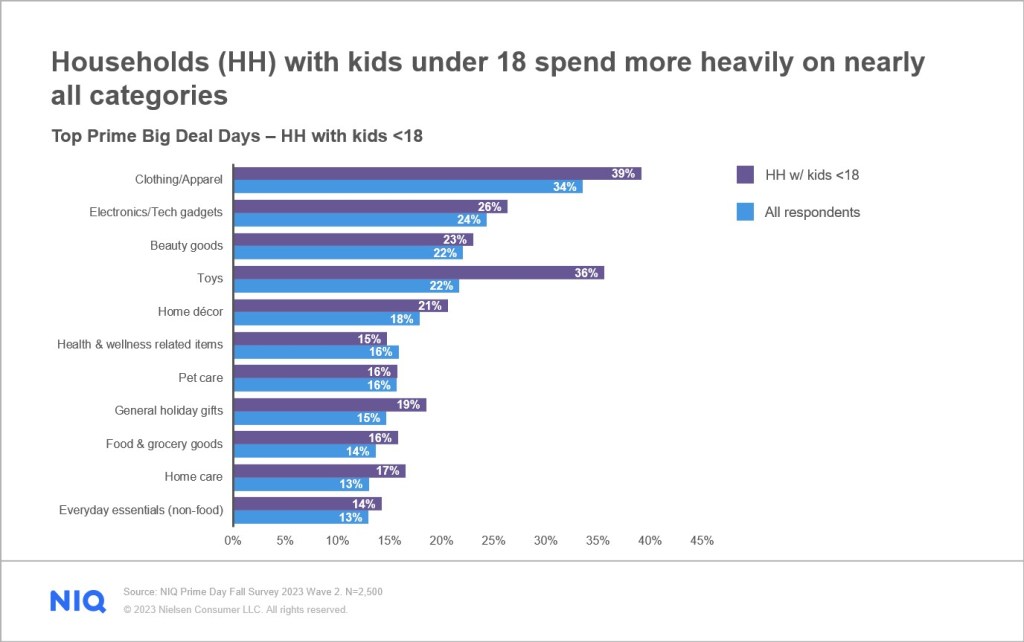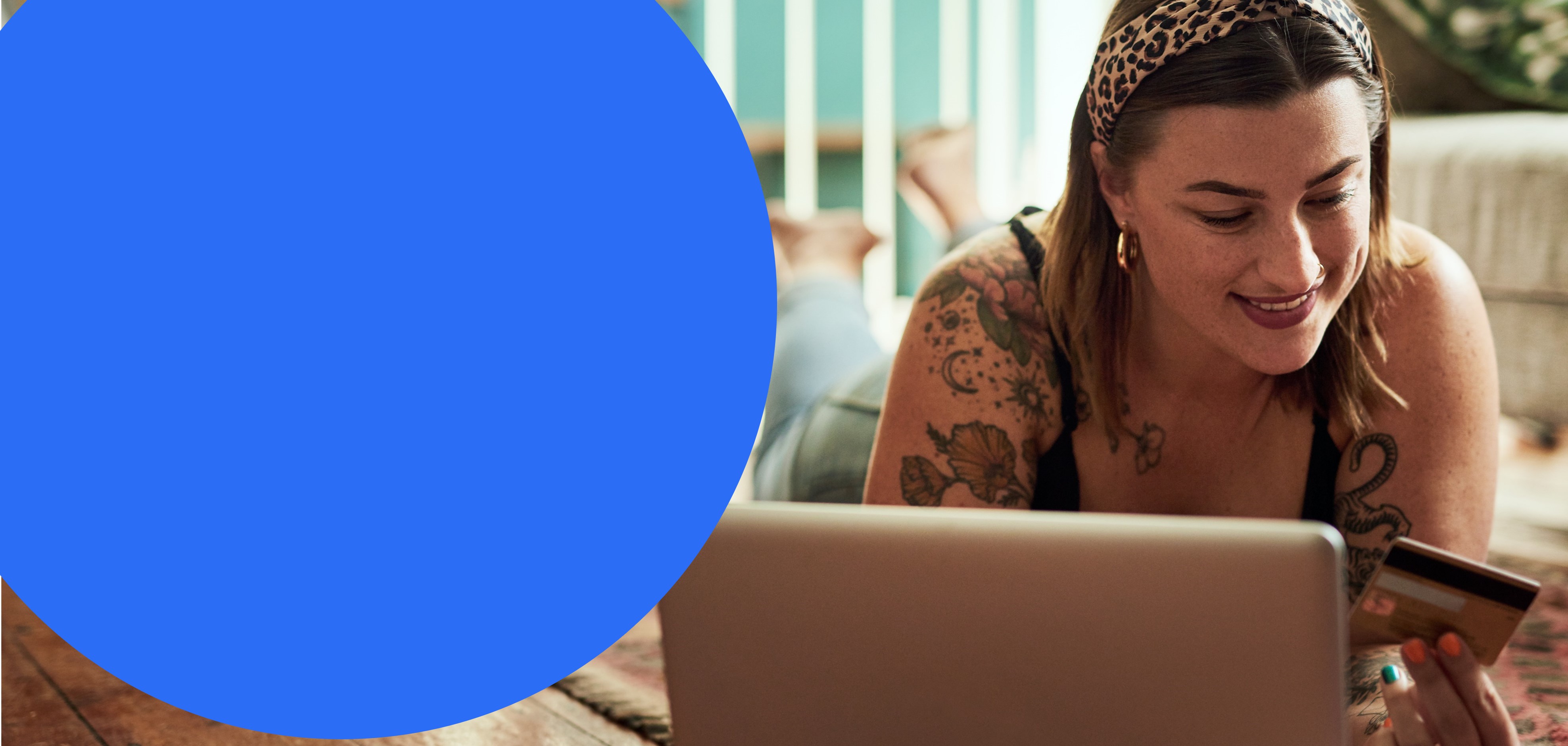 NIQ's Prime Pulse
The Omnichannel Intelligence Handbook for Deal Days and Beyond
Category leaders from October's Deal Days
Roughly a third of consumers surveyed (34%) reported shopping for clothing and apparel during Prime Deal days, and 24% shopped for electronics and tech gadgets.
The beauty category came in a close third for overall category spending at 22%, dominating the CPG sales market, followed by health and wellness, tied with pet care at 16%.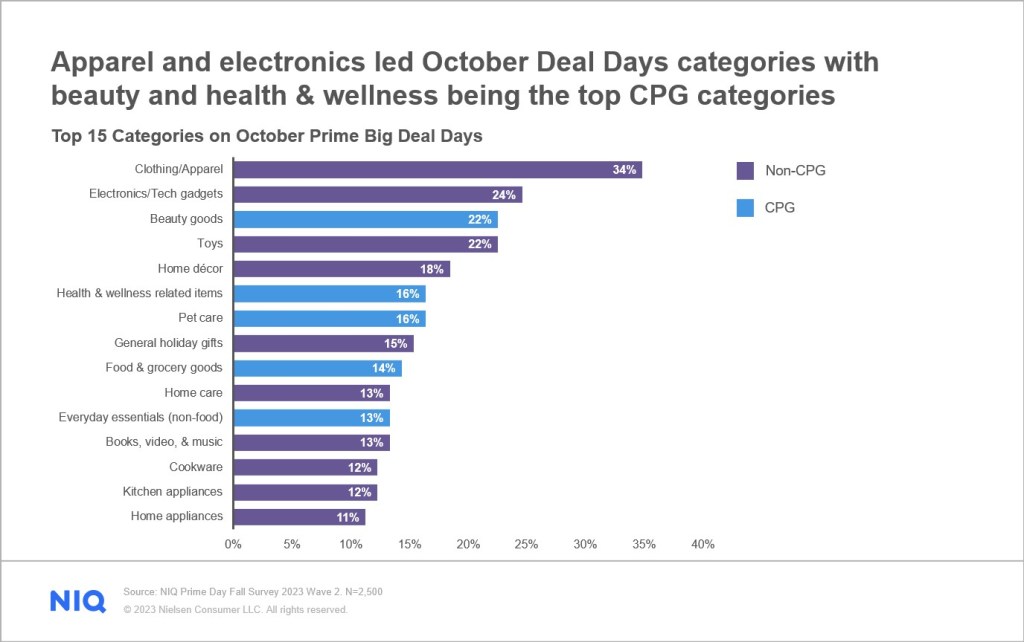 The top CPG goods
Of those surveyed, the top 5 everyday categories purchased during October's Deal Days were: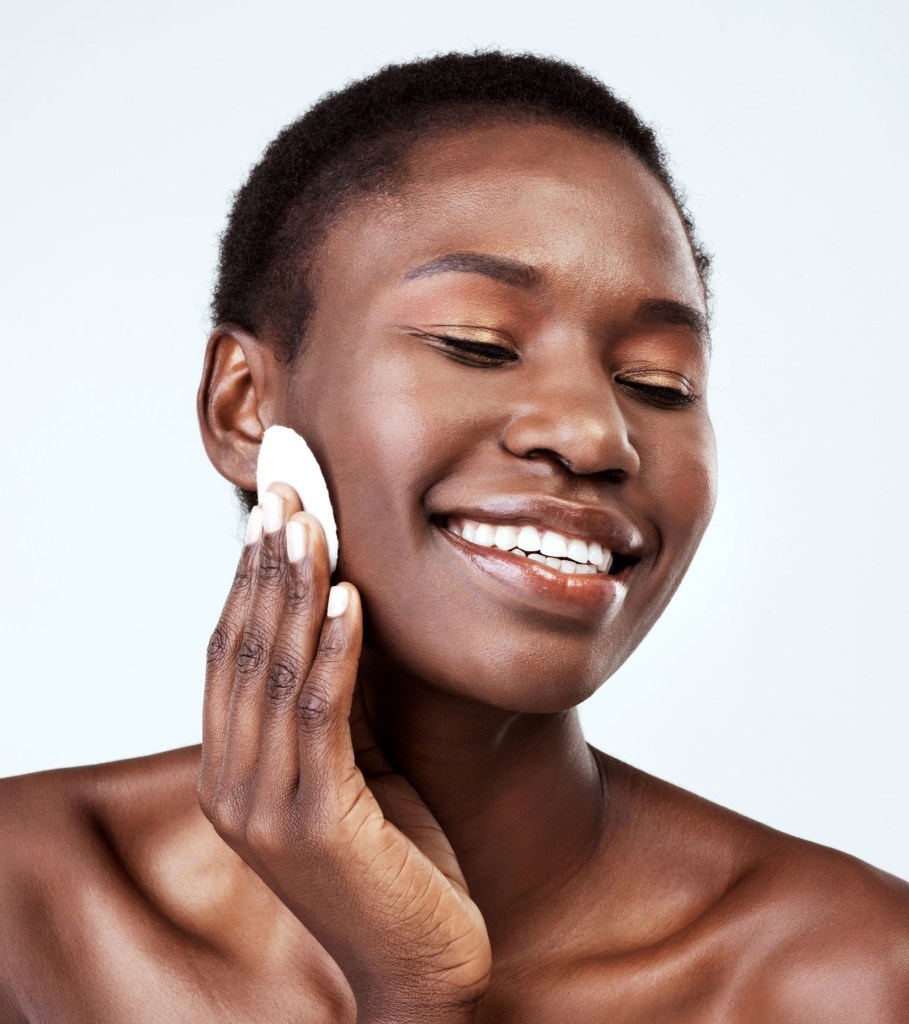 27%
Skincare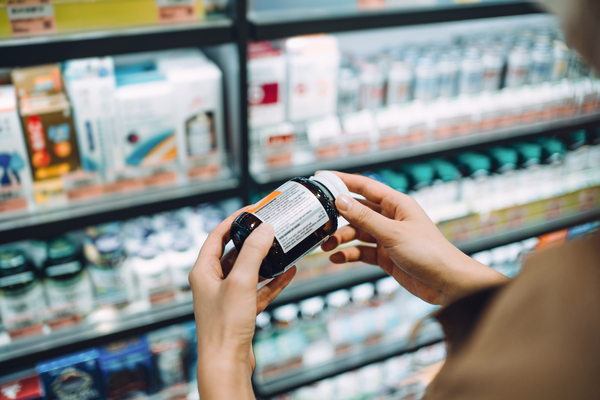 26%
Vitamins or supplements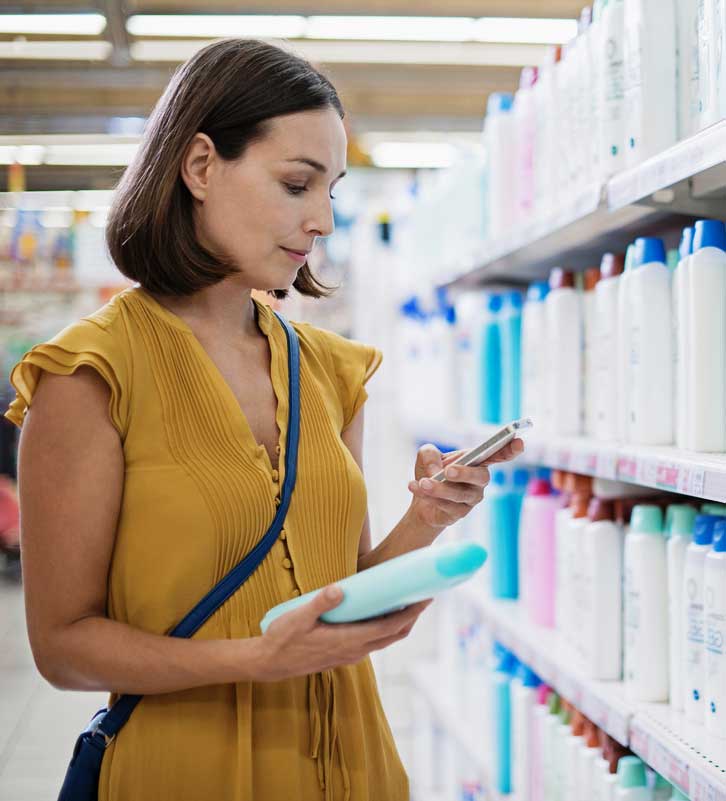 24%
Hair care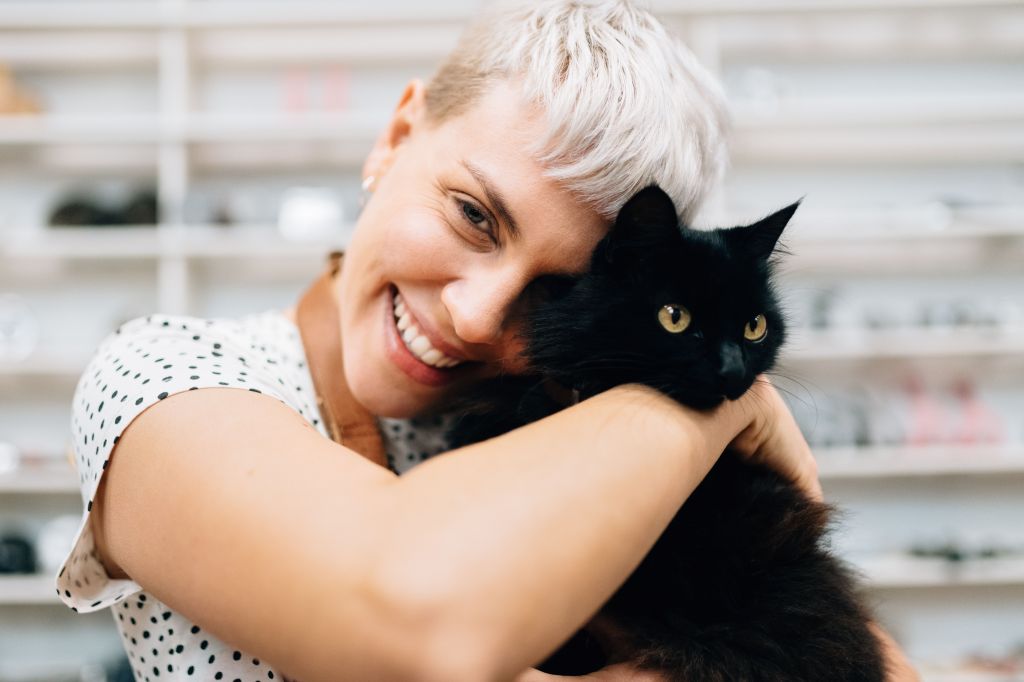 22%
Pet care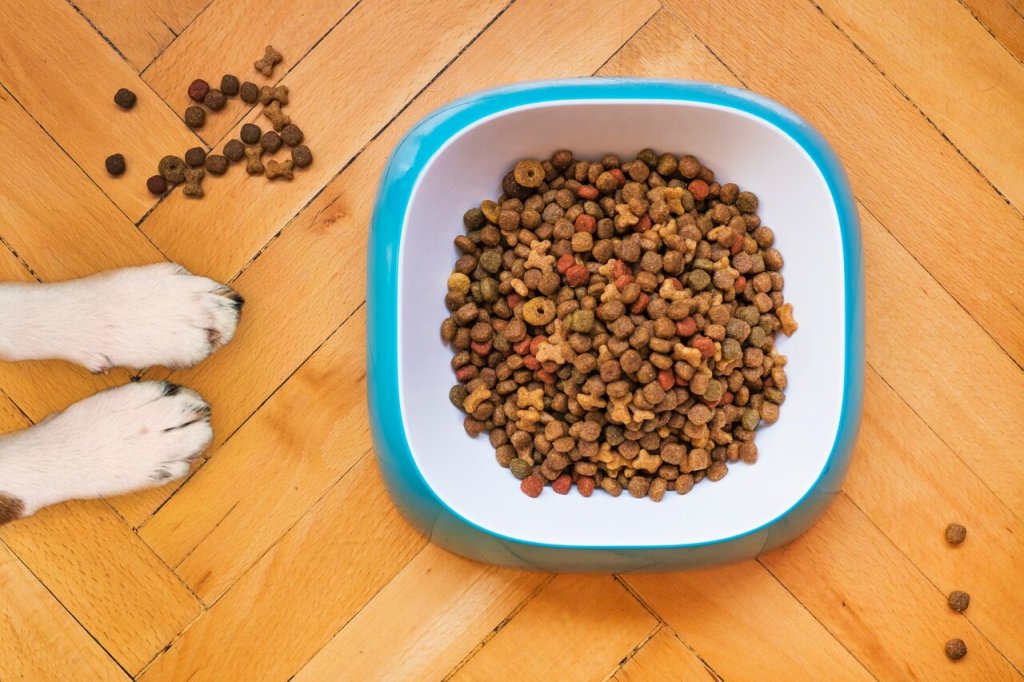 21%
Pet food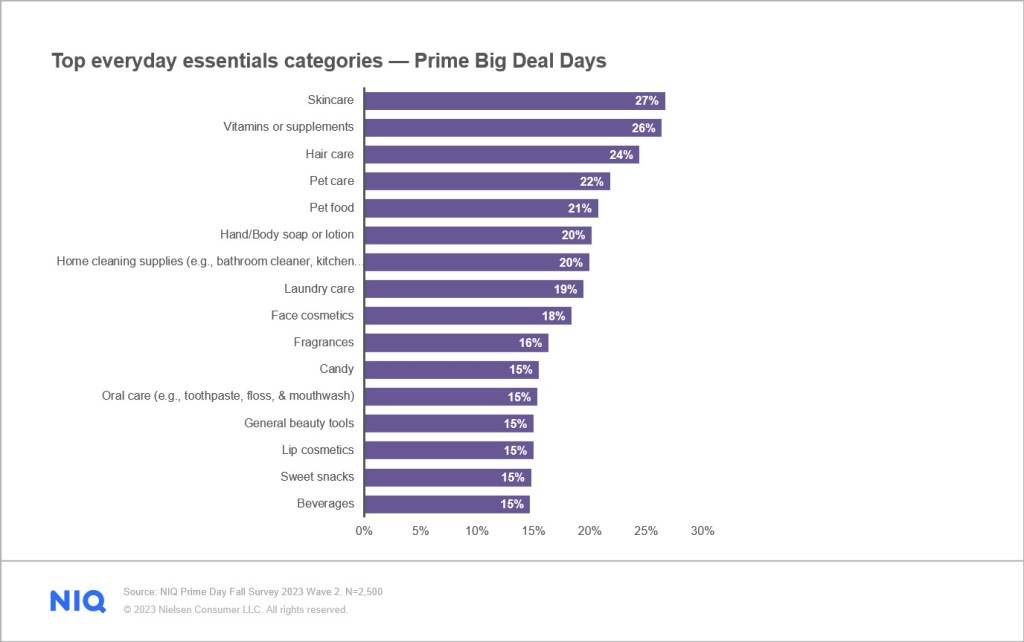 Drivers of beauty CPG sales during the Deal Days event
TikTok was the biggest influencer in social-driven sales for the beauty category, with 38% of beauty consumers surveyed stating this as the social media app that influenced them to buy a beauty product during the Deal Days event. Instagram was a close second at 37%, followed by Facebook at 35%.
The beauty consumer is deal-incentivized, with those shopping the Deal Days event being 15% more women and of the Gen-Z cohort (18%) compared to the total Deal Days shoppers that was comprised of only 11% of Gen-Z. The social influence of Gen-Z's preference for e-commerce led to the beauty and health and wellness categories dominating CPG sales for this event.