A never-seen-before landscape: 27 billion pounds of online sales
If 2020 was the year when U.K. consumers changed the way they shop to cope with the COVID-19 reality, is 2021 announcing a return to normal? After doubling their share, online channels have seen their weight declining this year, but are poised to stay stronger than in the pre- pandemic era as an integral part of consumers' shopping portfolio, despite shoppers going back to the brick & mortar stores.
"People are getting used to digital channels: They are not turning away from them despite the lockdowns being over and the physical stores being visited more often than during the restrictions period. Consumers experienced and appreciated the benefits of the digital landscape and there is no turning back," explains Mike Watkins, Head of Retail and Business Insights at NielsenIQ. "And the great news is that the size of the pie is now well-known!"
Thanks to its new read of e-commerce in the U.K., NielsenIQ is now able to provide a full view of online sales for FMCG products, and detail the 27 billion pounds of the whole e-commerce landscape.
---
Fresh now represents a third of the online basket
The first set of data reveals that the Fresh category has come a long way. Despite lagging its share of store sales by nearly 10 points, the category makes up 34.9% of total online grocery sales (when it represents 43% of in-store sales). "Fresh is now a third of the basket. Historically, shoppers had barriers to buying fresh online, but it's now clear the British shopper is more confident buying it online," says Watkins." "Above all, U.K. consumers are following a global movement and shifting their shopping habits towards an omnichannel experience. Seventy percent of grocery shoppers are now omnichannel shoppers".
The fresh category overall has grown by 44% to £9.7bn in the year ending mid-September, compared to the previous year. Other categories still over perform online with e-commerce baskets weighted more towards household, pet food, beauty, and frozen.

Household and pet food together make up 13.3% of total online value sales, compared with 7.8% of in-store sales; health, beauty, toiletries, and baby make up 11.5% versus 5%; frozen 6.2% versus 5.3%.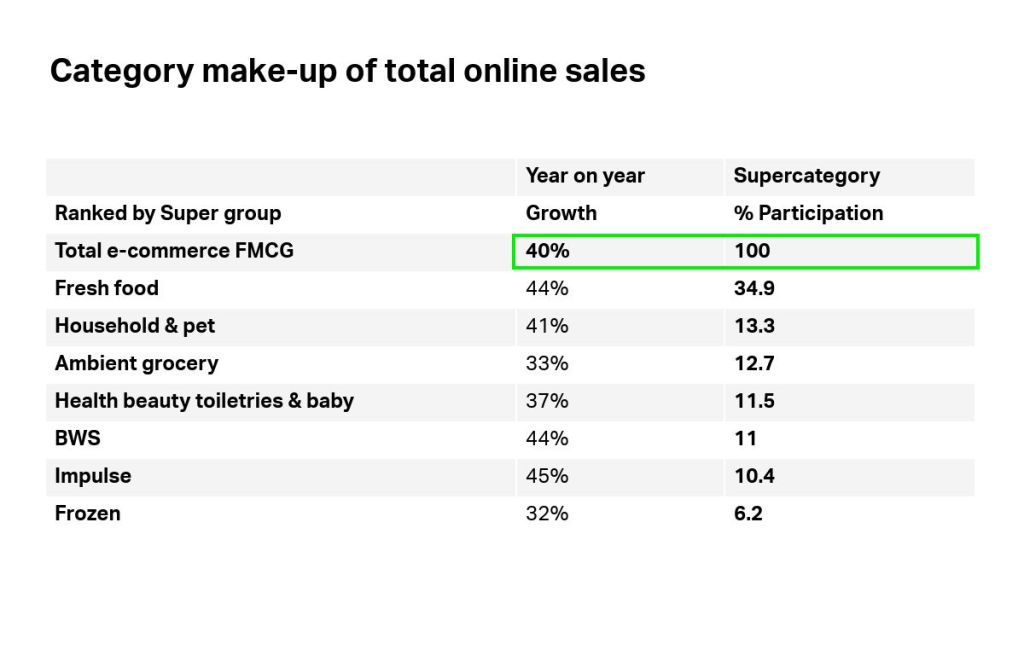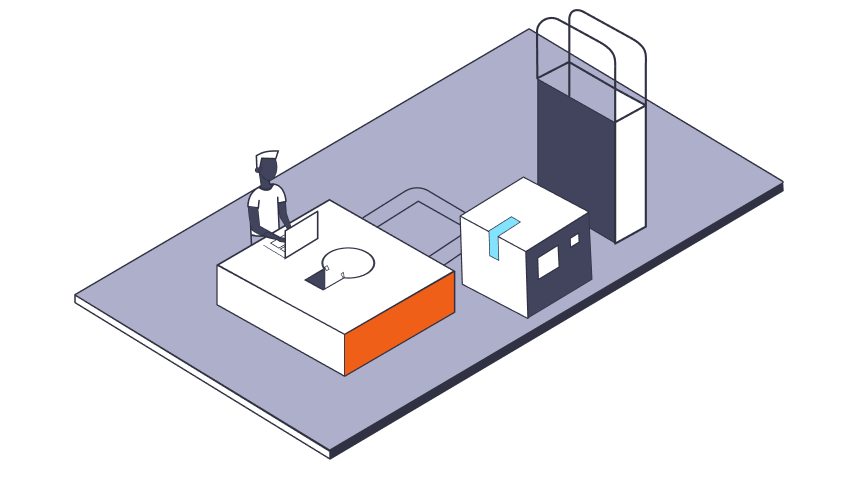 Let's discuss e-commerce
Would you like to get more insights about e-commerce? Know how to optimize your omni strategy?
---
Sushi and Stout! Online as a rescue option during lockdowns
The first top 10 subcategories online reveal interesting behaviours of U.K. shoppers during the last few months, impacted by the lockdowns. Fresh ready meals saw some of the biggest year-on-year growth in sales, with Rotisserie and Sushi at the top of the ranking.
Stout also appears on the ranking (+90% growth) as a very specific beverage heavily purchased online when the pubs closed earlier this year.
"Online came in as a new option for many households, bringing the out-of-home dining needs into home during lockdowns when restaurants were closed," says Watkins. "It would not be surprising to see a convergence of the monthly online grocery shop, the twice a month dining in at home 'treat' using food delivery and the weekly convenience store shopping trip."
Looking ahead, new behaviours may stay for the future, as some households have changed the way they shop and the way they consider e-commerce. NielsenIQ sees a world where food and drink spend will be more about occasion rather than location, with brick and mortar having an important but different role to play in shaping the digital experience, as well as meeting the lifestyle needs of Gen Z grocery.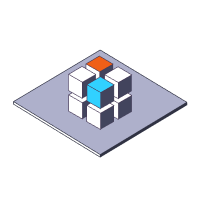 NielsenIQ acquires Foxintelligence
By adding billions of new consumer data points to our gold-standard retail measurement core services, our clients will get a unique omni-sales view across all major categories in Europe – all in one place.
---
Methodology
With its U.K. e-commerce benchmark, NielsenIQ's online universe contains the most data about online grocery sales, as well as pure players such as Ocado and Amazon, with 40% of the read driven by EPOS sales data and 60% by shopper panel data—all fused together to create the most comprehensive read of the U.K. FMCG ecommerce channel.