Singapore has a complex retail environment where competition is intense for both global and local brands to compete for the attention and wallets of consumers. Although a brand's origin may influence a shopper's purchase decision, sentiments differ by product categories. In recent years, local players have emerged rapidly and are familiar with our Singaporeans' needs and preferences.
The NielsenIQ Global Brand Origin survey polled more than 30,000 online respondents in 61 countries to understand consumer sentiment about product origin across 40 categories, from consumables to durables. The survey examined whether consumers prefer goods produced by global/multinational brands (defined as those that operate in many markets) or by local players (those operating only in a single market—the respondent's home country). It further explored the driving factors driving brand preference and the role of the Internet in purchasing decisions for local and global companies.
The why behind the buy
Why do Singaporeans choose local brands over global brands or vice versa? Based on the survey findings, locals deemed better price/value as the most important factor for choosing global (52%) and local (54%) brands. Second on the list was a sale or promotion (34% global versus 40% local), followed by safer ingredients and processing (27% global versus 29% local). Better product benefits (34% global versus 21% local), and a good previous experience with the product (27% global versus 24% local) were also among the top reasons.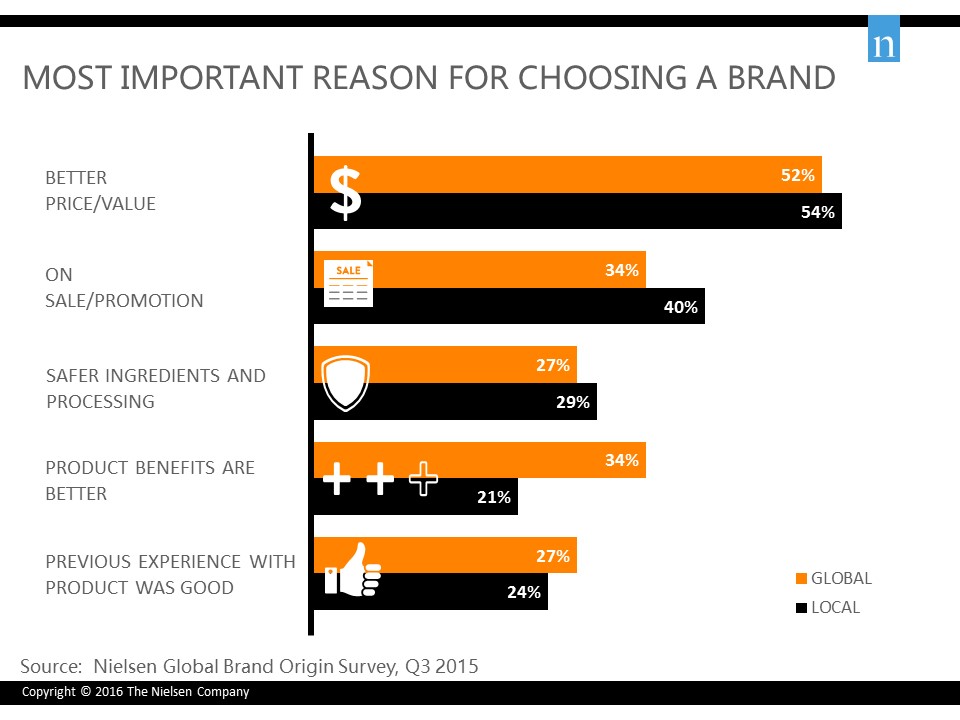 Spotlight on fresh foods, beauty and personal care, and electronics
For fresh foods, local brands were the preferred go-to for this category as perishability was a concern on the minds of the consumer. Singaporeans preferred local brands to global brands in vegetables (36% local versus 20% global), meat (33% local versus 24% global), seafood (32% local versus 22% global), and fruits (29% local versus 28% global).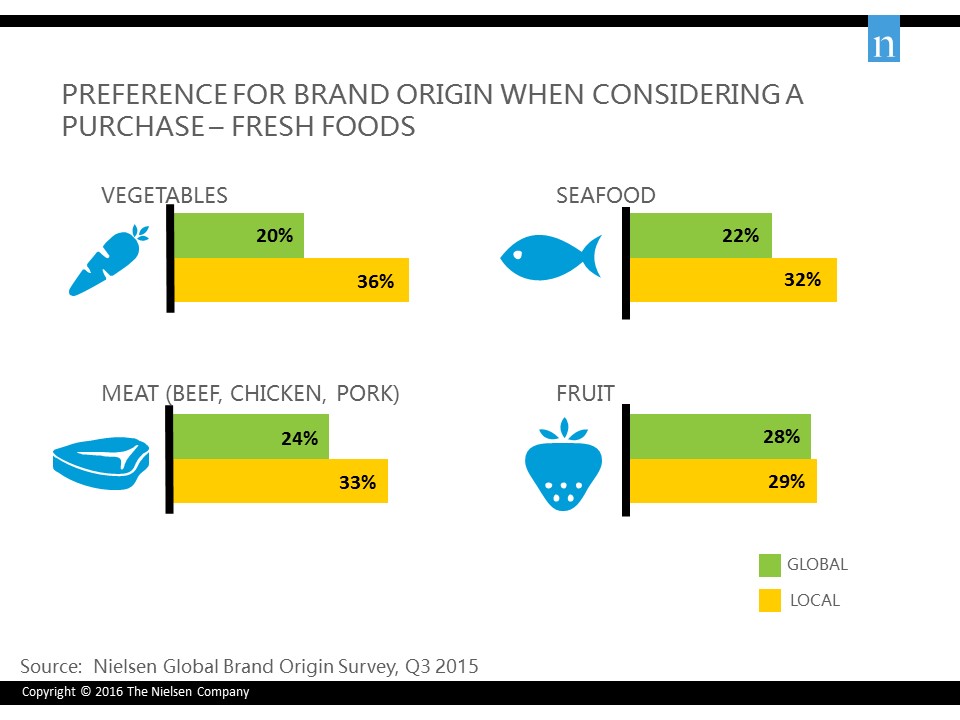 On the flip side, global brands of beauty and personal care products were mainly favored over local brands. 44% of Singaporeans cited a preference for global cosmetics brands (versus 10% local), shampoo/conditioner (43% global versus 19% local), toothpastes (39% global versus 24% local), and hand/body soap (37% global versus 22% local).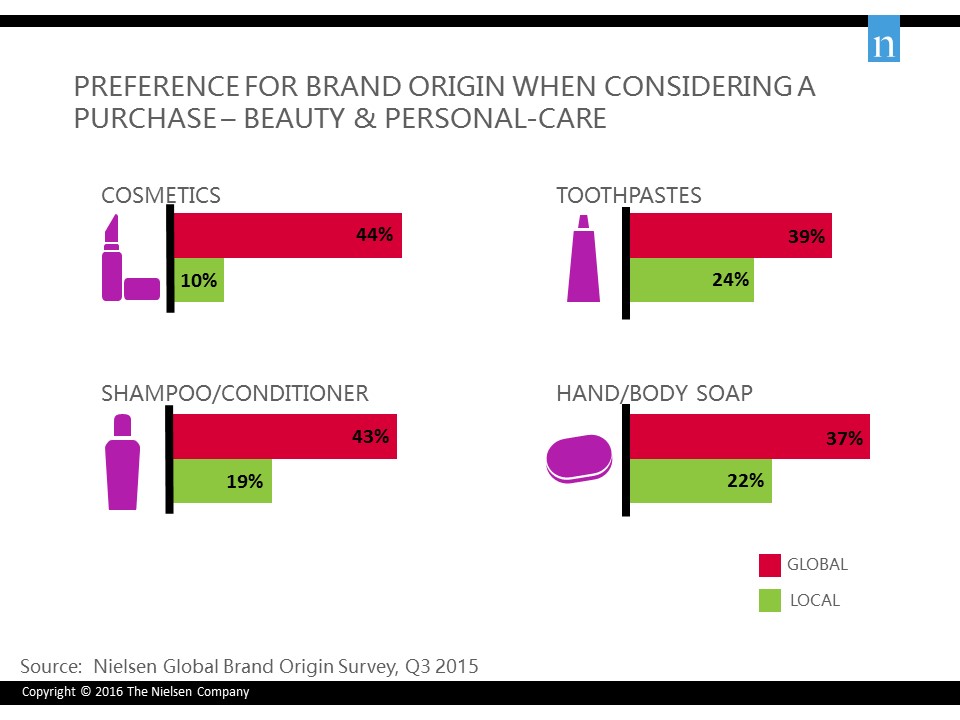 Similarly for electronics, close to seven in 10 (69%) Singaporeans preferred global brands to local names in computers/laptops (versus 9% local), mobile phones (67% global vs. 10% local), televisions (62% global vs. 10% local), and camera/video equipment (60% global vs. 6% local).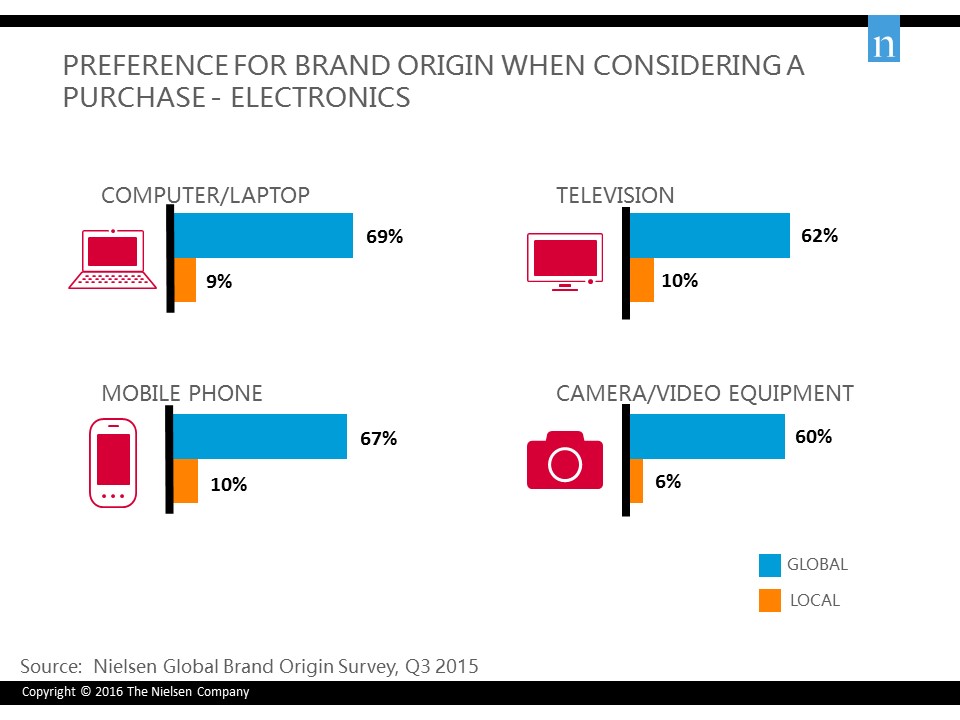 "Generally, consumers perceived that the quality and innovative products provided by global brands are the best-in-class." said Joan Koh, Managing Director, NielsenIQ Singapore and Malaysia. "Homegrown brands ought to accentuate on their relevance to the local consumers and establish the right relationships early. With their understanding of local preferences, Singapore brands can innovate in areas of unmet and emerging needs, maximize efficiency and be agile to respond ahead of the competition."
Eventually, a defined brand identity and clear market positioning that are synonymous to consumers' needs are pivotal to a brand's ability to capture the hearts of their Singapore consumers.
To find out on how to win the Singapore consumer, please speak to your NielsenIQ representative now.
Download the report to see insights from other countries.