Sustainability is a buzz word that's been gaining traction in the business world over the past few years. Companies are increasingly focusing on operating ethically, treating employees fairly, and caring for the broader environment and communities in which they operate.
Over the years, our approach to managing Global Responsibility & Sustainability at Nielsen—including our environmental, social and governance (ESG) strategy—has always focused on long-term solutions in areas that drive continuous improvement and value for our business and our stakeholders. And as a data measurement company, that means providing value for our clients with the data and insights they need to make sustainable business decisions of their own.
We have been measuring global consumers' shifting sentiment towards sustainability since 2011. At that time, just 20% of S&P 500 companies disclosed their ESG information and few products included sustainable benefits. Since then, U.S. sales of sustainable fast-moving consumer goods (FMCG) have grown by $20 billion to become a $128 billion industry.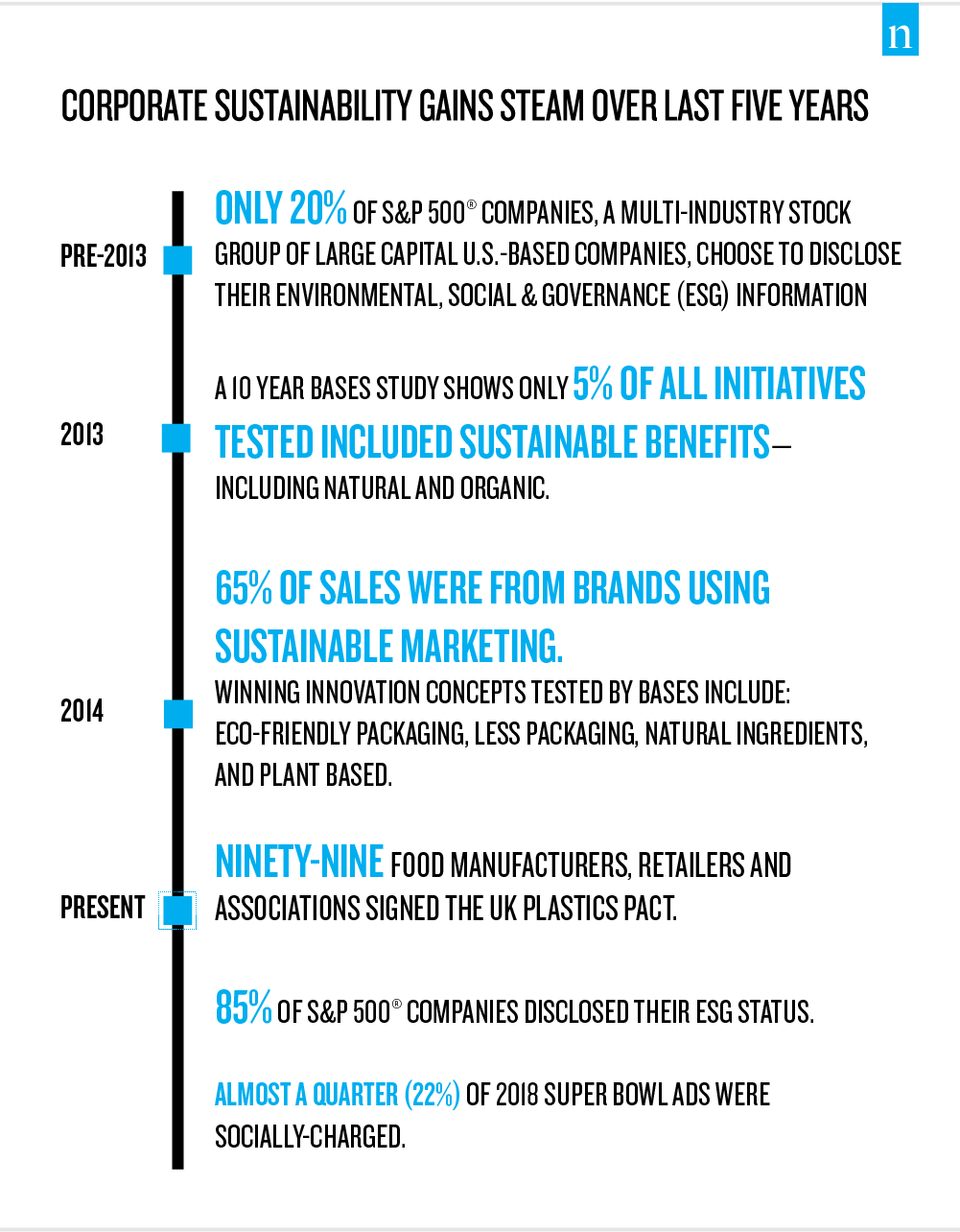 To understand how consumer sentiment toward sustainability has changed over the past few years, we recently conducted a global survey to determine what consumers care about when it comes to sustainability, as well as the environmental factors that are influencing consumers to evaluate sustainability and its impact globally. We've published the results of this survey in our latest sustainability report, Sustainable Shoppers Buy the Change They Wish to See in the World, which highlights how sustainability mindsets, product landscapes, and success strategies are changing across the globe.
Diving into the data, the survey showed that 81% of global respondents feel strongly that companies should help improve the environment and 73% of respondents say they would definitely or probably change their consumption habits to reduce their impact on the environment. The rising pollution crisis, government regulations, and corporate impact are some of the mega trends that drive sustainability. And consumers are willing to pay a premium for products that are organic (41%), made with sustainable materials (38%), or deliver on socially responsible claims (30%) aside of meeting safety and high-quality standards (49%).
"Sustainability is a way to show consumers that you listen to them, care for their needs and are thoughtful about how you produce their products," notes Crystal Barnes, SVP, Global Responsibility & Sustainability, Nielsen. "With the right messaging, sustainability can represent premium indicators—such as quality, superior function and uniqueness—and are often tied to the 'go-local' movement. Sustainability is personal for consumers, which is why 'healthy for me and healthy for the world' claims do so well."
Our report identifies some of the biggest growth opportunities in sustainability for manufacturers, as well as the differences across markets. With a view into the current sustainability product landscape in various markets, companies will gain the insights they need to formulate their messaging to consumers and establish themselves as sustainability champions for future opportunities.
One key highlight from the report is that consumers in emerging markets are demanding a strong corporate response and have the economic means to purchase sustainable products. The top five emerging markets where consumers are looking to companies to implement programs around improving the environment are India, Colombia, Mexico, Indonesia, and the Philippines. In India, consumers are demonstrating a personal commitment to sustainability through their preference toward natural products category, which is growing twice as fast as the non-natural market.
In developed markets such as the U.S., consumers are becoming increasingly sensitive to product claims and ingredients. Nuance is critically important to reaching these consumers as they search for more clarity around sustainability messaging, such as products claimed as natural or organic. Sales of products with broad claims such as Recyclable or Farm Raised have stayed flat or decreased (0% and -19%, respectively), while those with more specific claims such as Terracycle Certified (4%) or Grass Fed (24%) have found growth.
"Sustainability remains a growth opportunity for all types of brands, but a more nuanced view of the landscape is needed in order to maximize success," said Sarah Schmansky, VP, Fresh/H&W Growth & Strategy, Nielsen. "That's why Nielsen has invested in sustainability measurement partnerships and solutions to examine products beyond marketing claims and explore ingredient-level insights, as well as create detailed consumer segmentations and advanced analytics."
In the U.S. alone, sales of products with sustainable attributes make up 22% of the total store with organic, sustainable and clean attributes driving the majority of the sustainable category's growth. By 2021, we expect that sustainable goods will make up 25% of store sales and sustainably minded shoppers will spend up to $150 billion on sustainable FMCG goods—an increase of $14 billion-$22 billion.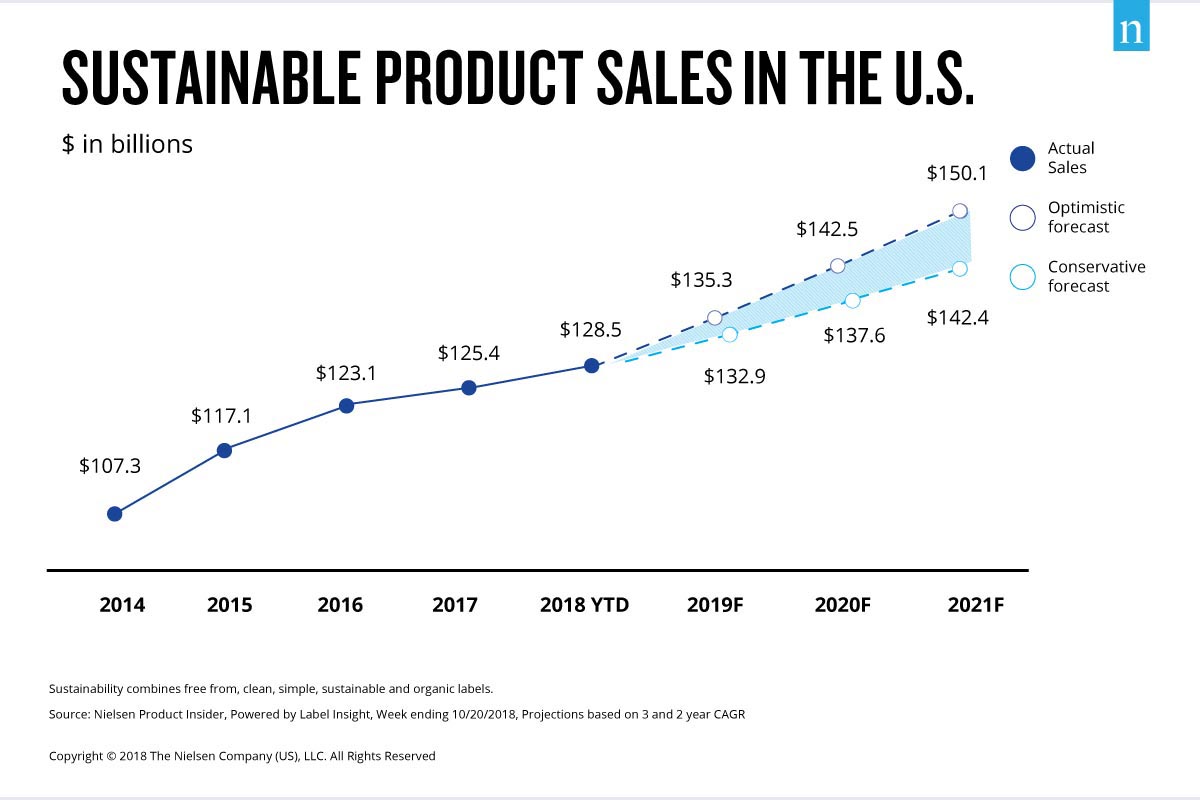 For more insights, read Sustainable Shoppers Buy the Change They Wish to See in the World.