Aussie consumers are still bananas for bananas. It is the nation's most popular fruit. Nine-in-10 Australian households purchased bananas in the year ending 24 February 2017 and total volume sales grew by 7.5% during this period.
Research from NielsenIQ's Homescan Consumer Panel reveals that bananas sell more volume than any other fruit and has the highest number of households purchasing (94%); more than apples (89%), citrus fruit (89%), berries (87%), and stone fruit (79%).
Falling banana prices have, however, contributed to a -7.7% decline in total dollar sales, causing bananas to drop to second place in value and pushing berries into top place.
On average, Australian households bought 19.1 kilograms of bananas in the past 12 months. Lower prices has encouraged consumers to buy bananas more frequently, at a rate of 24 times in the last 12 months, up 1.4 occasions versus a year ago.
The sharp decline (-14.2%) in the annual price per volume means households received much more banana for their buck. They now spend $54.47, down by $5.82 in the last year, but they also got an extra kilo in the fruit bowl.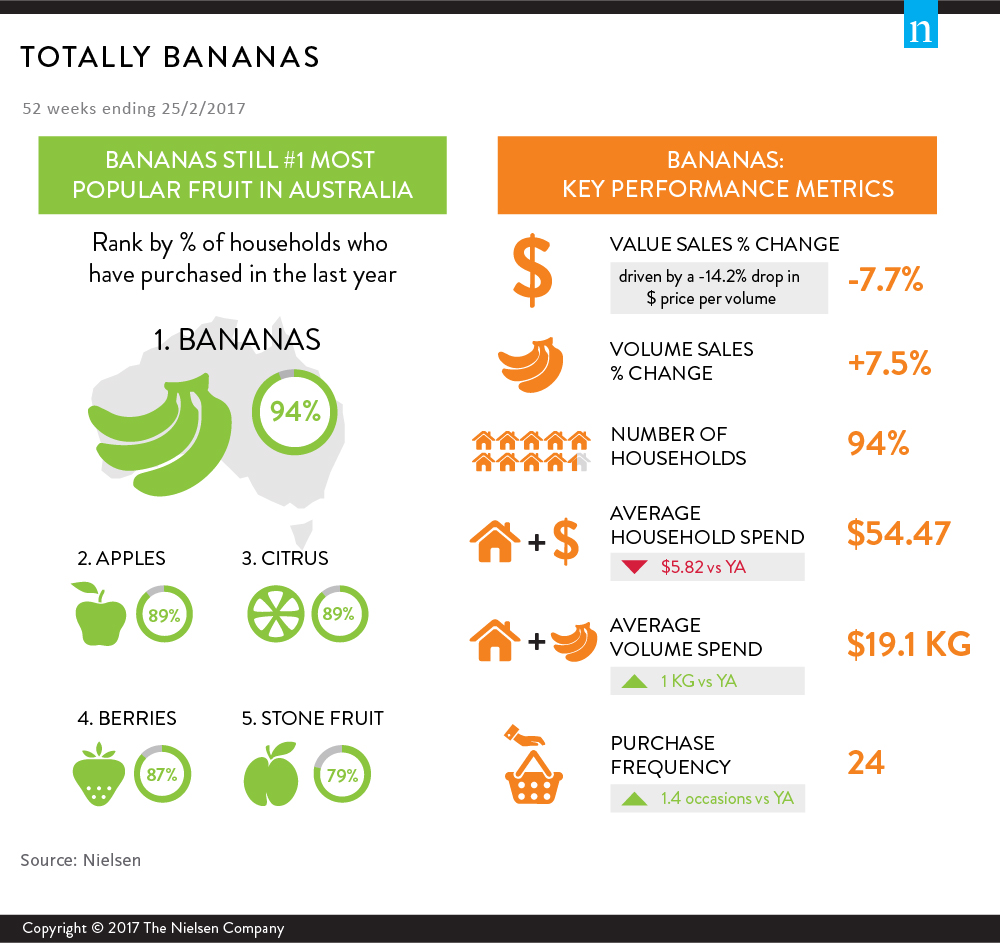 To drive growth further for bananas, a big dollar opportunity exists by focusing marketing efforts to reach and engage the younger demographics. Young Transitionals (under 35s with no children) added an impressive 2 kilograms of bananas to their volume spend and increased their purchase frequency by two trips in the past year. Young Families (families with children under 11) increased their average volume by 1.2 kilograms and increased their purchase frequency by +1.1 occasions.
By encouraging these households to increase the amount of bananas they buy in a year by 1 kilogram at the current price – be it through buying more bananas per occasion and/or increasing how often they purchase – a $6.6 million growth prize could be up for grabs.

Measuring what consumers buy is at the core of NielsenIQ's 90 year history. Our Homescan Shopper Panel was established in 1986 and is robust, trusted, credible, and one of the biggest shopper panels per capita in the world. It monitors shopper behavior across a panel of 10,000 households which is projected to accurately represent the Australian population and retailing landscape.
When integrated with retail sales data, the powerful insights drawn from our Shopper Panel enables you to identify the 'why' as well as the 'what' behind your brand sales allowing you to fine-tune your marketing strategies.