Across the U.S., NielsenIQ estimates that a new product hits the shelves approximately every two minutes. That's an impressive amount of bait being cast, but the bottom line across the consumer packaged goods (CPG) landscape has little to show in return. Product consumption is at a standstill in our industry, and unit volume sales in the U.S. are flat year-over-year. So something isn't adding up.
In the need for speed, some manufacturers and retailers have lost touch with the fundamentals of successful new product development. Drawing examples from the booming beverages category (up 6% in sales across U.S. outlets this year), here are three reasons why innovation performance has fallen short in CPG:
Put simply, the CPG industry is choosing agility over accuracy when it comes to new products, and it's hurting the bottom line. Pre-market testing has fallen to the wayside, and too many manufacturers and retailers are flying blind, opting to simply guess which new product launches will have staying power. Companies are relying on the mantra of failing fast and rushing to production in order to keep up with the pace of competitive innovation. In many cases, they take this approach because they believe it will limit losses if the products fail. They should stop thinking this way. Instead, they should invest in the learnings that follow any launch. And this testing and learning process doesn't need to impede speed to action. Recent developments in pre-market testing capabilities (NielsenIQ's Quick Screen, Quick Predict, or Quick Use), as well as continuous innovation performance management, have increased innovation speed to help CPG companies make the right decisions before, during, and after a launch. NielsenIQ's application-based innovation tools show that in the beverage space, there are signs of clear neglect in proactively managing portfolios to optimize innovation returns:
Beverages have amassed $6.4 billion in sales from innovations this year, and overall category sales are up over $3.1 billion year-over-year. From the perspective of innovation, sales of new beverages are flat from last year. Many top manufacturers have played a hand in the rapid pace of beverage innovation activity, but less than one-third have been able to reap above-average returns on these new products. It doesn't appear the industry is investing any less in beverage innovation, but consumers are less responsive to new products that have emerged. Agility has hurt, not helped, 70% of the top beverage manufacturers that haven't seen expected sales growth on their innovations this year.
Large and small players alike hold the potential to turn the market by moving consumer decisions, yet too many companies operate with just a fraction of all the competitive intelligence that's reasonably available. Part of that is understandable. Innovation is an area where mining data can be a particularly painstaking—and resource consuming—task. Without the proper infrastructure, maintaining a comprehensive read of what's new in consumer goods becomes an expensive and manual endeavor. A newly launched item represents a company's belief in where the market is headed and what consumers want. To that end, having visibility into all competitive launches in your category provides the perfect vantage point to the industry's understanding of consumers and a guide to innovating effectively.
Relating back to the beverages category, some of the brands seeing the greatest return on their innovations are smaller and perhaps more unrecognizable than you'd expect. In fact, there are currently 24 small beverage brands driving outsized growth from their new products this year.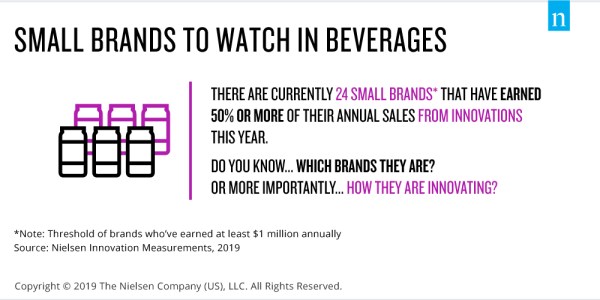 This year, we've seen one small brand in the energy drink segment take on the entire category. Beyond success in the segment of energy drinks, that one emerging small brand is now the ninth leader in sales from innovations across all beverages, outpacing competitors 10x its size.
3. Know what you need to succeed
Proactively managing the innovation pipeline using the most complete data possible as a central navigation beacon sounds like a no-brainer, yet it's rarely how things happen in reality.
On one hand, brands delay. Far too many new products remain on shelves for longer than they're worth. In fact, only the top 10% of new beverage items were able to generate over $15 million in annual sales and hit over 40% distribution in their first year on the market. Don't delay assortment changes when more consumers demand more relevant innovations.
On the other hand, brands guess. Don't leave it to the demands of the market to sort out new successes from new failures. Do you know what to expect from new brands in your categories of interest? How are you managing your resources to drive success post-launch? Validate your assumptions before you develop or respond to innovation opportunities. NielsenIQ innovation studies have determined that, globally, 27% of new launches in CPG were not viable with consumers in pre-market testing. Backed by billions in marketing spend, almost all of these "non-viable" new products failed because consumers didn't want them. Meanwhile, another 27% of new products that were viable with consumers eventually failed due to lack of marketing support. Don't hedge your bets on guesswork; use agile measures to validate your innovation actions. Your sunk costs grow exponentially when you under-support new launches that have long-term potential.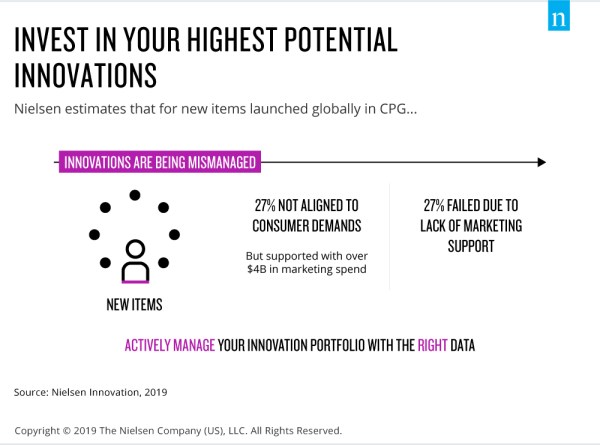 You can avoid these three innovation management roadblocks. You can achieve speed-to-market without sacrificing on quality intelligence and context about your product. You can have exhaustive and real-time coverage of the market so no new item catches your brand by surprise. And when it comes to entering the market, you can protect your new product development cycle from the follies of unvalidated opportunities.
Read more in our latest Total Consumer Report.