Consumer optimism divided among European shoppers
Europeans are split over just how long the novel coronavirus (COVID-19) will continue to have an impact on Europe. Consumers in Greece, Russia, France, and Spain are more optimistic that things will rebalance in less than three months, while consumers in Germany, the Netherlands, U.K., Turkey, and Ireland aren't so sure. These findings come from a survey of consumers from 29 countries across Europe who were asked how long they think it will last. The majority of Europeans believe the impact of COVID-19 is here to stay for the next 12 months, signaling that some of the major changes we've seen in the consumer and retail environment will stick around as well.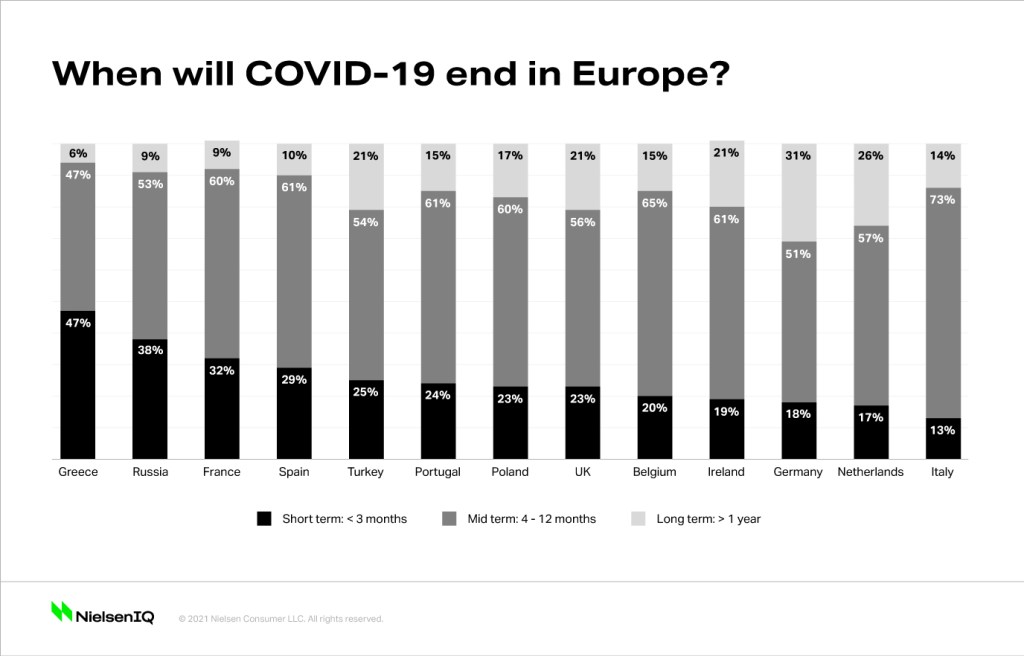 COVID-19 is changing the way people go about their day-to-day lives, but how many of these changed behaviors are here to stay? For instance, the majority of consumers in Poland, Italy, France, and Ireland are reconsidering the necessity and frequency of visiting supermarkets and are considering more online alternatives where available. This changing sentiment, peaked by COVID-19, means that retailers and manufacturers may need to consider making significant adjustments to their business priorities that impact everything from pricing and promotion to store format.
Consumers may become habitual online grocery shoppers
As they heed the warnings to minimize public exposures, consumers across Europe are visiting supermarkets less frequently than before the pandemic. Shoppers in Poland, Italy, and France are reconsidering the necessity and frequency of visiting supermarkets and will consider adopting more online alternatives where available. It is a significant shift in the online trajectory seen before the arrival of COVID-19.
Before the arrival of COVID-19, a number of European countries were among the least receptive to online shopping. Online shopping penetration for grocery items was not high, with less than one in five Western European consumers and less than one in 10 Eastern European consumers ever having used these services. But new behaviors adopted amid the COVID-19 outbreak, accelerated by quarantine/social distancing, represent a change to shopping habits, with compelling growth in online sales given there are different levels on e-commerce platforms across Europe.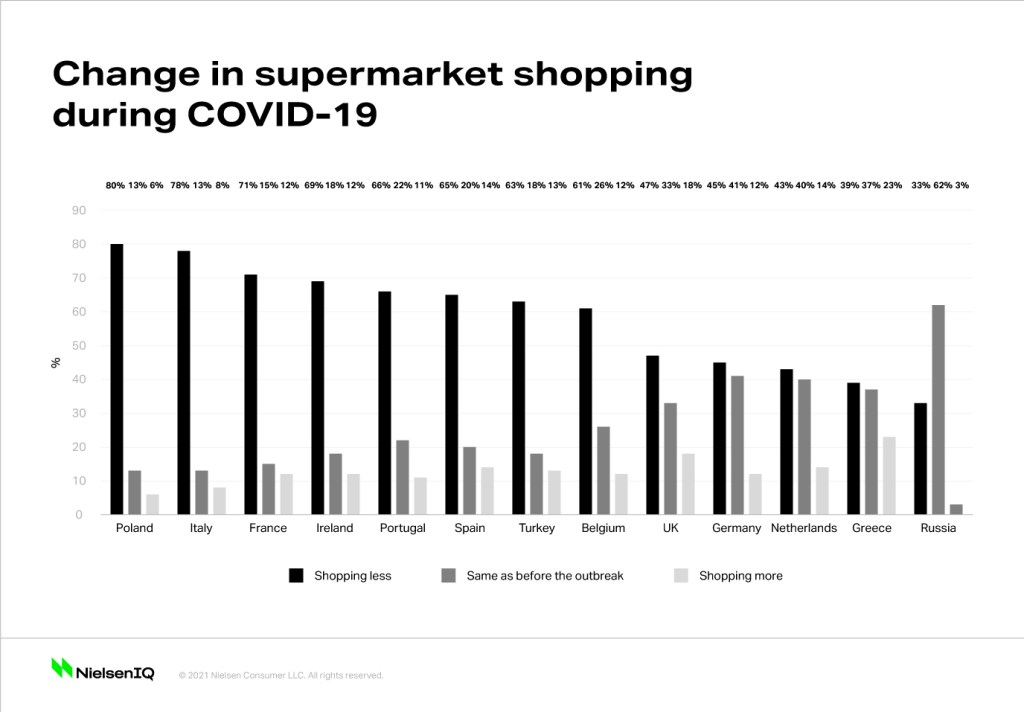 Shoppers and retailers pivoted quickly to e-commerce
Online grocery shopping in Italy and France has spiked massively during the COVID-19 period, with consumers in both markets confirming that they are shopping considerably less in supermarkets. Contrary to these markets, shoppers in Germany, a country dominated by hard discounters who offer little to no online shopping options, have mostly managed to maintain their usual in-store shopping behavior.
Despite the challenges of unprecedented consumer demand outstripping the e-commerce delivery capabilities of many retailers, the e-commerce shift highlights just how readily consumers are adapting their shopping behavior when the needs and benefits align.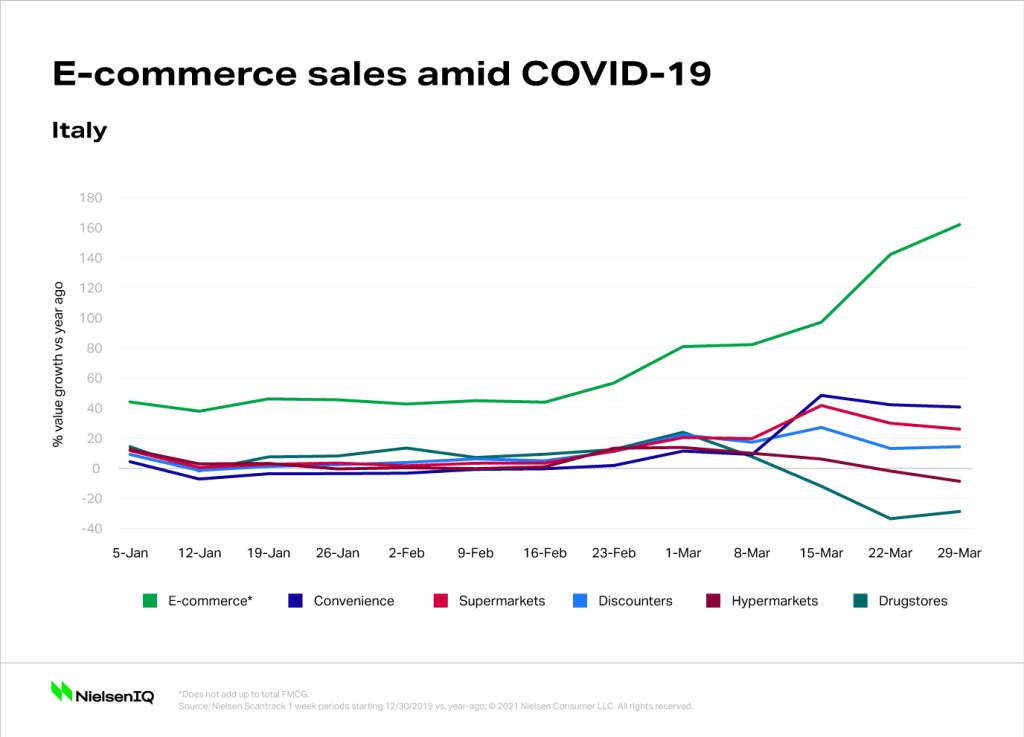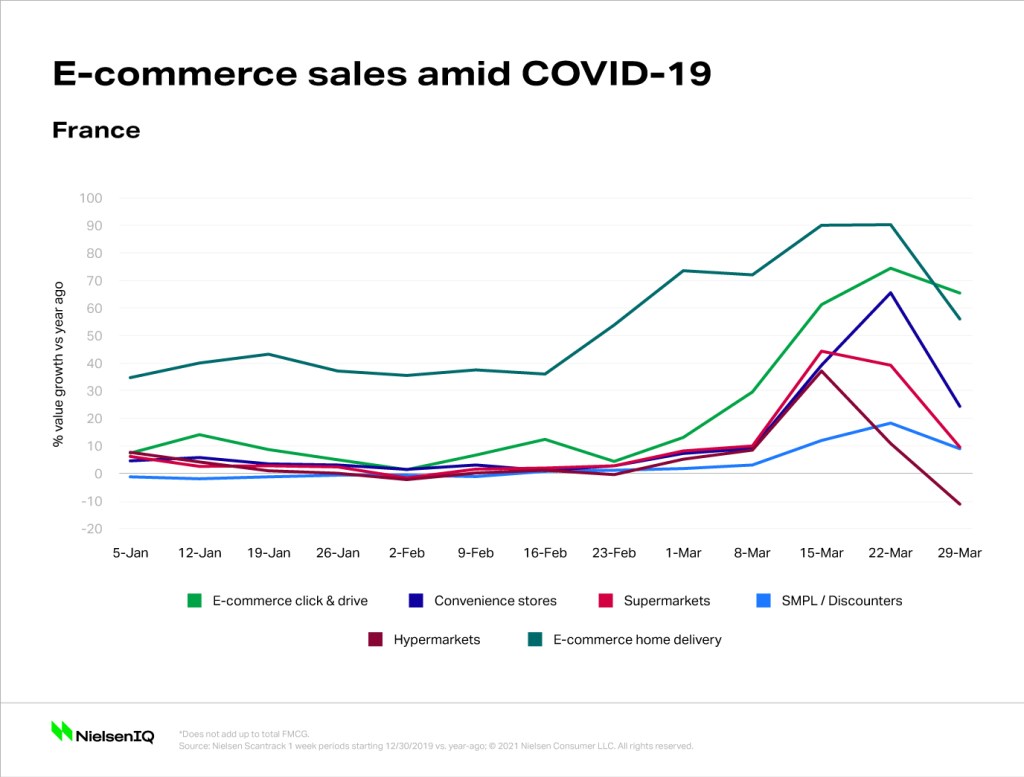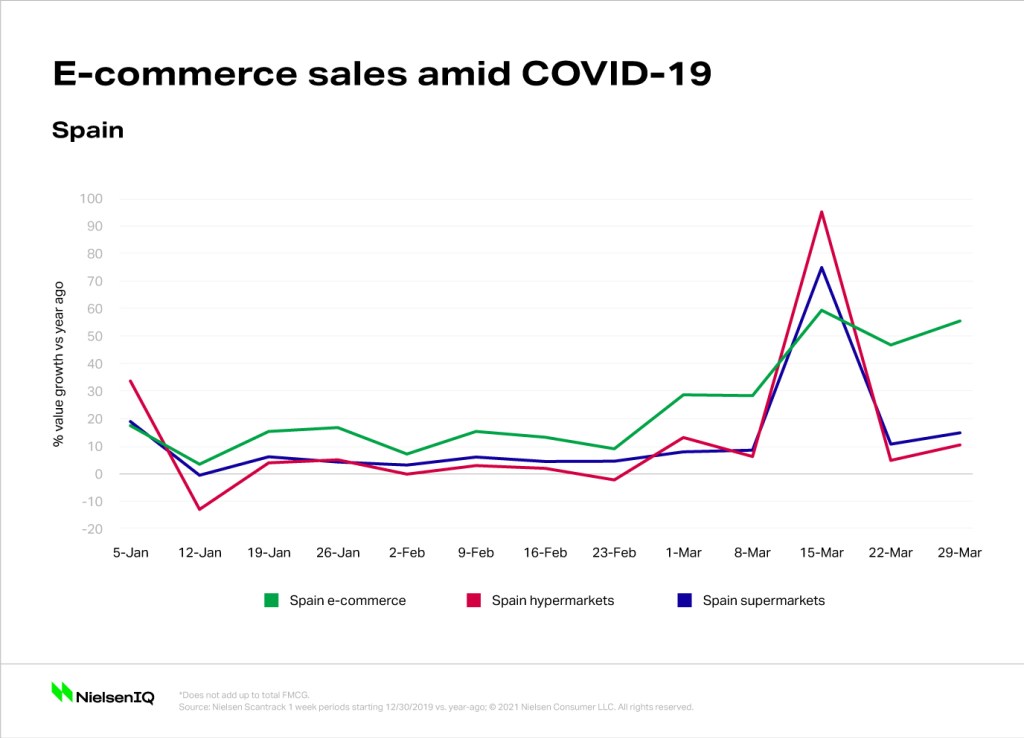 Many Europeans sharpened their in-home cooking skills
With limited options to dine out, more consumers are also rolling up their sleeves in the kitchen. For almost half of consumers in Greece, Germany, U.K., and the Netherlands, eating meals at home was the norm, with fewer consumers having to substantially change their dining regimes. But for consumers in countries such as Turkey, Italy, Portugal, and Spain, having to adapt to cooking and eating at home more has meant notable shifts in dining routines—and shopping habits.
In Asia, where many consumers lead highly urbanized, on-the-go lifestyles, a large proportion of consumers have replaced out-of-home consumption with home takeaway and food delivery options as quarantine restrictions have been imposed and restaurants shut down. Europe, though, shows a very different pattern. Very few European consumers have replaced in-home dining with home-delivered, convenience, or fast food meals; instead, they have resorted to sharpening their own cooking skills.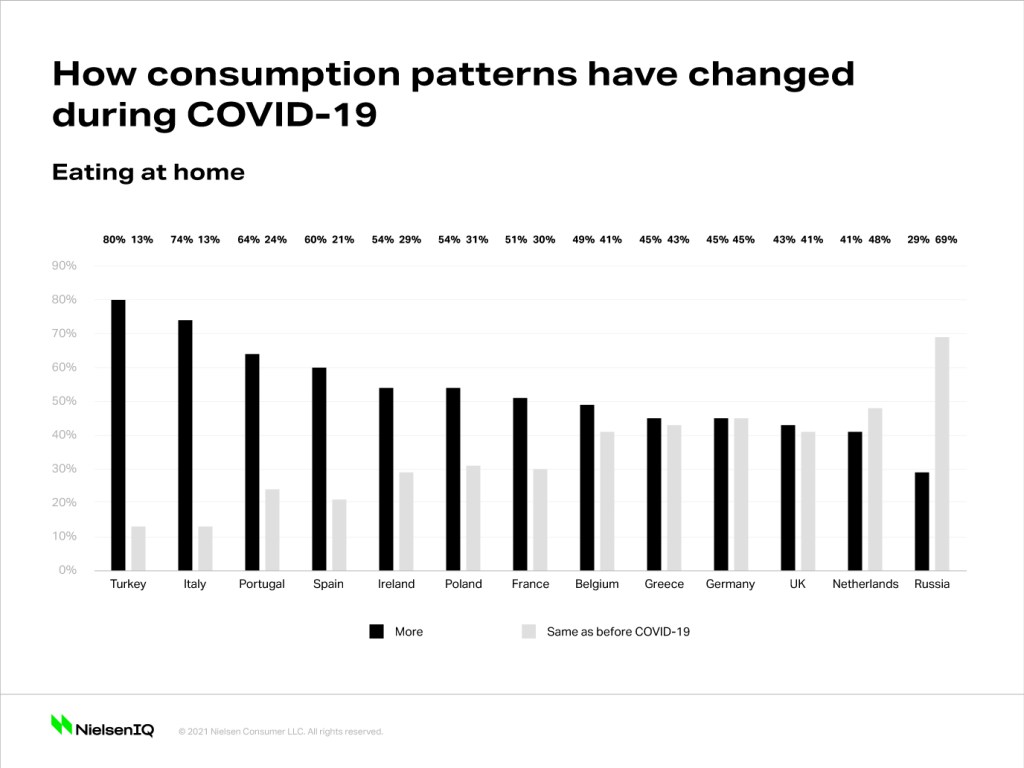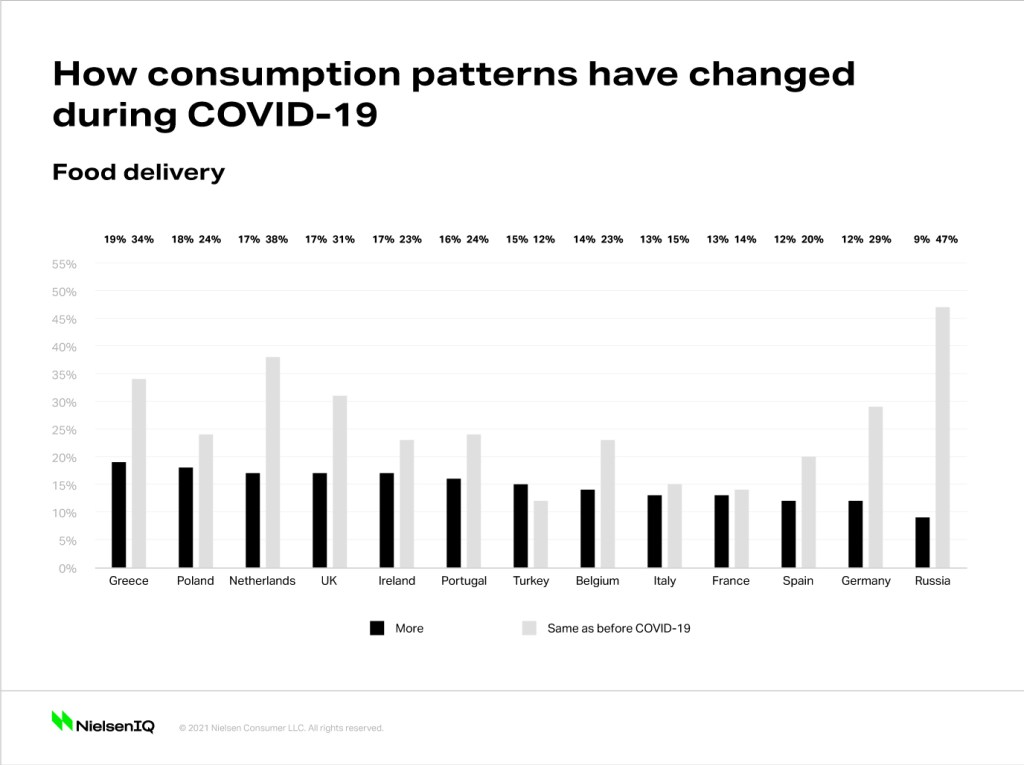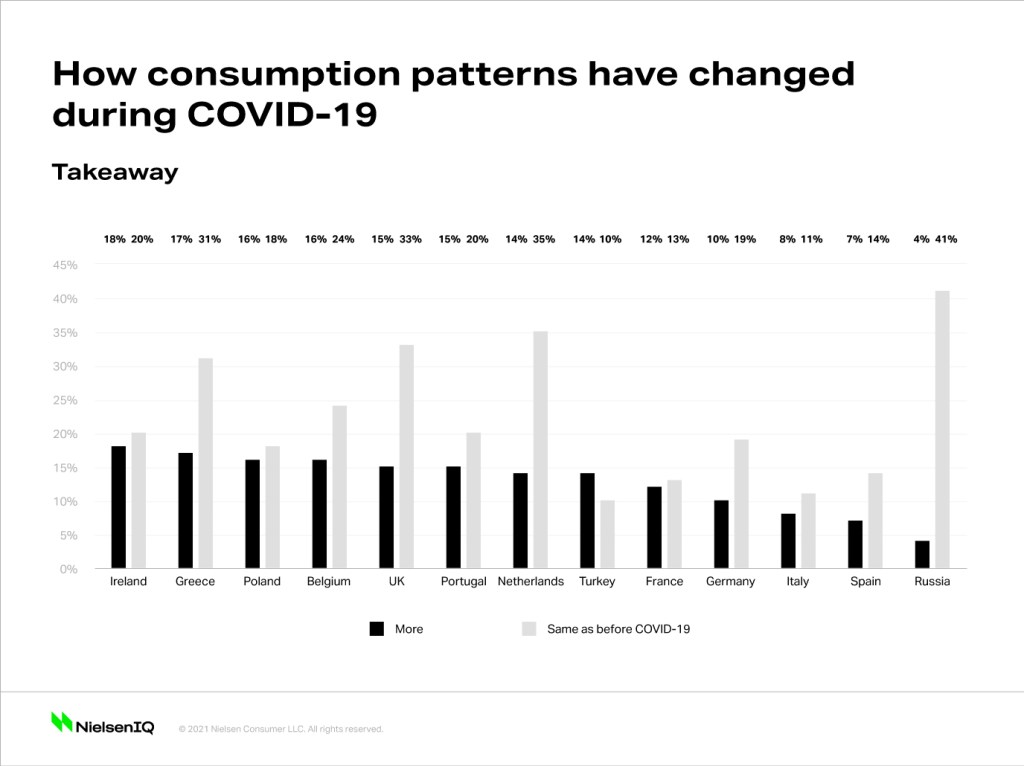 The 'homebody economy' offers opportunity for innovation
With full pantries and consumers staying at home, there are some opportunities for manufacturers and retailers to immediately tap into the new "homebody economy." Recipe suggestions and meal kits can help encourage consumers to spend at home and develop new habits. And it's highly possible that many of these new homebound routines could take root as ingrained future habits. Many consumers in the new study say they intend to continue their current at-home meal preparation. Based on the substantial increase in consumers cooking at home that is emerging across the majority of European markets, it reinforces the fact that home cooking is going to be a pivotal part of people's lives for months to come.
Where European consumers get their ingredients from after COVID-19 may be a nuance best understood at a local level. There are noticeable disparities across markets, especially in the U.K., Germany, Netherlands, Poland, and Russia, where less than half of shoppers believe they will resume their same shopping habits as before.
People will ultimately return to some semblance of their pre-COVID-19 lives, but with new elements. Working from home, for example, may become a more realistic option for some, and we may see a rebased normal.
"Industry players will need to define more seamless online to offline experiences, incorporating things such as auto-subscriptions to entice consumers to stay online—easing replenishment with routine delivery, says Johan Sjostrand, President, West, Central Europe, and Pacific Zone, NielsenIQ. "Manufacturers will need to simplify home care and cooking regimes to create extended, enjoyable in-home experiences. The longer the COVID-19 environment extends, the more embedded new habits will become, and that creates a lot of new opportunities for players that move quickly."