Think beyond traditional brick-and-mortar sales events
Sparked by COVID-19 safety concerns, consumers have been shown a new way to get a holiday bargain beyond the previously popular and overcrowded doorbusters and line-up sales events of the past. Given the world of opportunities afforded in an omnichannel marketplace, today's consumers expect pre-releases, online exclusives, and the promise of a continuous track to the best promotional opportunities.
For many, the fun of holiday shopping is found in those experiential moments and the allure of the "treasure hunt" for the perfect gift. Engage consumers throughout the lead-up to the holidays, enticing them to remain informed and willing to spend, as opposed to hedging efforts into siloed make-or-break moments.
How companies adapt the shopping experiences in the holiday season can vary greatly depending on the particular path to purchase in an omnichannel universe. An analysis of the shopper experience of Chinese consumers found vast discrepancies in what was effective, even between pure e-commerce shopping and online-to-offline commerce – which identifies potential consumers via online channels, and funnels their purchase interest to traditional brick-and-mortar stores.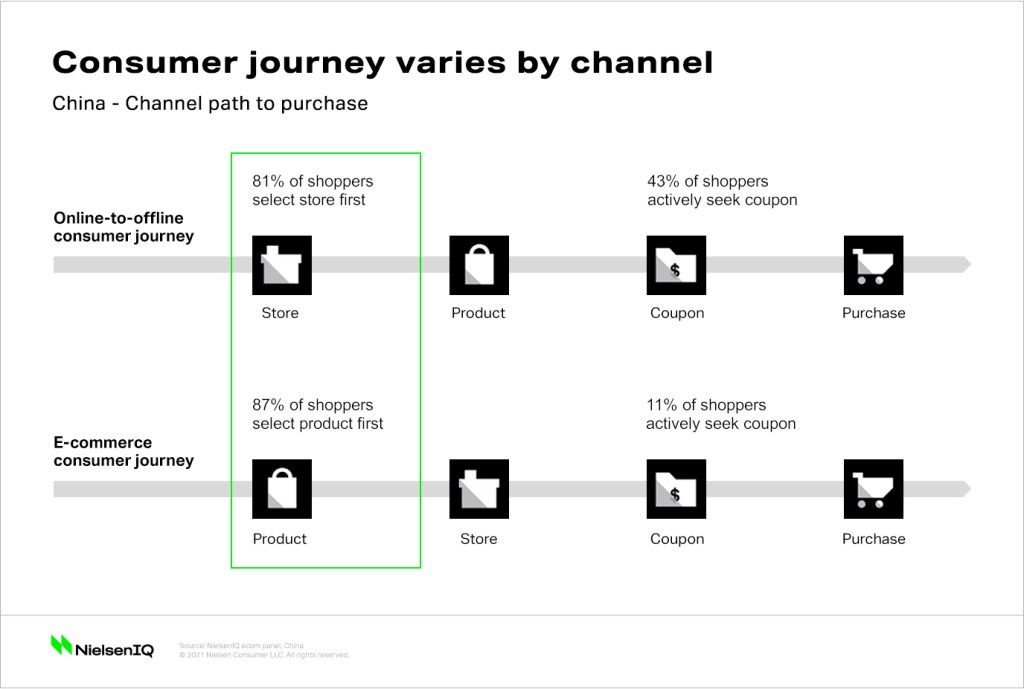 Though similar in nature, there is a clear distinction between what these consumers prioritize first, consider along the path, and what leads to eventual purchase. Choice of store plays a primary role in the journey of online-to-offline shoppers, whereas e-commerce alone is a much more product-centric journey at the onset.
When holiday shoppers are engaged, they are more likely to explore new information, consider new products, and complete purchases. The past two years have shown that driving massive traffic doesn't necessarily translate to higher conversion any longer. The relevance of standalone sales events is dwindling in favor of developing platforms and communities centered around exclusive shopping experiences, across both e-commerce and brick and mortar storefronts.
---
You're only as good as your last bad shopping experience
Keep fulfillment breaks top of mind. Third-party partners play a substantial role in a brand's perception and shopper experience. Ultimately, a perfectly curated path to purchase can be tarnished when a trusted partner drops the ball. What investments or considerations could be made to show customers that a brand is trustworthy, even though the brand may not be the one at fault? As consumers raise their expectations for the upcoming holiday season and specific holiday shopping events, a brand is considered accountable at every point of the shopping experience, especially as e-commerce growth continues to flourish.
Globally, shoppers say they are less satisfied with their in-person shopping experiences. In fact, a NielsenIQ survey found that 42% of surveyed global consumers felt negatively about their experiences in brick-and-mortar stores since the onset of COVID-19, compared to 9% of e-commerce store experiences.
As holidays approach, it's anticipated that there will be extra scrutiny added to the e-commerce shopping experience as shoppers grow increasingly familiar and dependent upon their online purchase routines. Shopping experiences need to balance how brick-and-mortar stores can recover from missteps in product availability, navigable store layouts, and available price entry points to categories. Companies that can demonstrate the availability of needed items and win on "ease of retrieval" will resonate with busy holiday shoppers.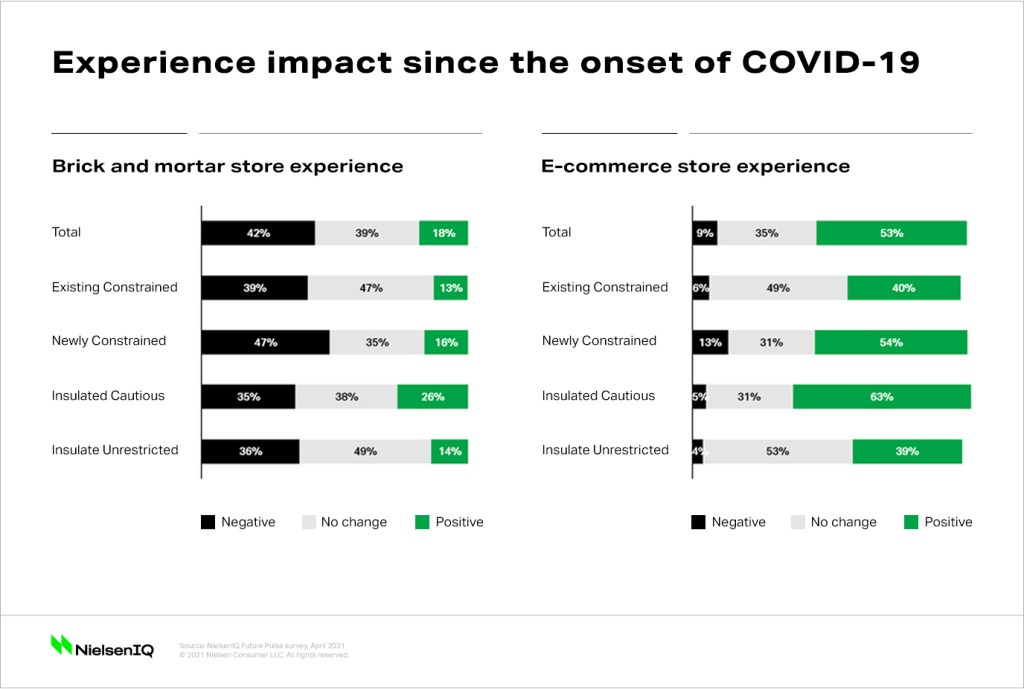 ---
Anticipate behavioral outliers to the pandemic-fueled savings mentality
While there is a renewed consumer focus on financial security and budget scrutiny, there's reason to believe that holiday periods and key shopping days will be the exception to the rule of conservative spending. Shoppers who have been more financially stringent are likely to crave and explore ways to splurge on a variety of holiday-inspired needs this year. Given the relatively lower cost compared to the broad spectrum of consumer spending, the realm of consumer packaged goods is particularly positioned to entice indulgent and impulsive spending.
Shoppers aren't limiting their browsing time and brands should take full advantage of the opportunity to inspire new or added buying occasions to supplement holiday meals or celebrations. Despite the considerable disruption to shopping norms, recent measures indicate that many shoppers' attitudes toward in-store engagement and impulse buying haven't changed. In fact, more than half of surveyed shoppers feel equally likely to take their time browsing the store and are just as likely to be swayed to buy more in-store, despite planning their purchases ahead of time.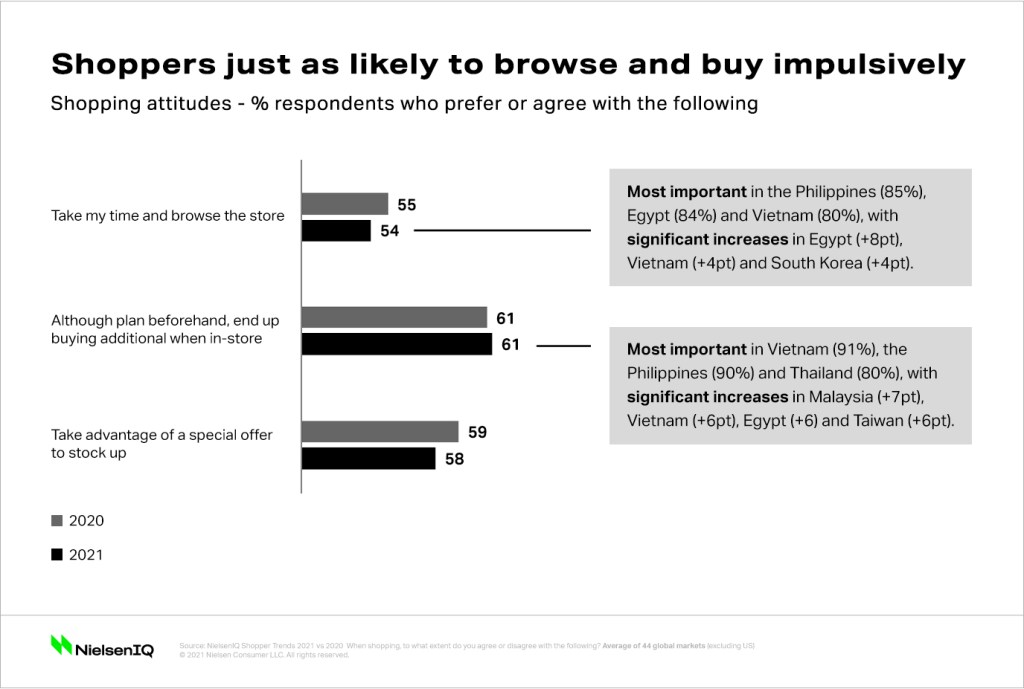 This shows that in-person shopping experiences can still be a breeding ground for impulsive upselling. Surprisingly, for companies seeking to optimize the aspect of immediacy in the modern shopper journey, COVID-19 hasn't altered that possibility. This will be especially relevant during holiday periods, when time-constrained shoppers will need reminders of accessories like batteries, ideas for how to elevate at-home holiday meal occasions, and other logical add-ons.
---
Plan ahead with accuracy
While manufacturers and retailers are rightfully intrigued by the massive gains seen in online shopping in the last year, unless they acquire a true understanding of the full brick and mortar and e-commerce landscape, they may be reacting too quickly.
For example, the sales figures of holiday mainstays like chocolate and wine each showed tremendous growth in click-and-collect purchasing in the past year. However, since sales for pick-up orders are often duplicated when reported across brick and mortar and e-commerce outlets, total category performance may lack visibility to the realities of omnichannel sales measurement.
NielsenIQ's proprietary methodology for deduplicating omnichannel sales identifies just how large the gap to understanding true category performance can be. Across the U.S. market, as much as $80M in wine sales and $35M in chocolate sales could be misunderstood by analysis that doesn't account for this duplication. Retailers and manufacturers that don't have a view into this layer of detail are likely to make costly strategic missteps this holiday season.
The age of omnishopping is now and here to stay. How companies measure and—most importantly—de-duplicate the impact of brick and mortar and e-commerce sales, will play a significant role in executing their experiential strategies for this holiday season and next. The path to succeeding in key holiday periods and shopping days lies in meeting the new expectations of shopping experiences and anticipating the consumer behavior outliers to post-pandemic shopping norms.