What if you could harness localized execution strategies at scale?
What if you could visually review your company's or brand's performance across Canada. while highlighting areas of opportunity at local levels? What if you could reduce your marketing expenses with a more targeted campaign radius? What if you could implement localized distribution tactics to minimize the risk of out-of-stocks, or direct your sales teams to specific neighborhoods within their territory where you have distribution opportunities?
Imagine being able to arm your category management or insights teams with modeled recommendations for adjustments to pricing, promotion, distribution, or in-store activities to not only diagnose opportunities—but to prescribe solutions.
---
Introducing NielsenIQ Precision Areas
A first of its kind, NielsenIQ Precision Areas offer the sweet spot for local execution that drives local growth. Built on patented methodology, this solution links retail sales, demographic, and geospatial data to create 364 neighborhood-level areas across the country so manufacturers can finally assess market performance on a local level that can be scaled across the organization.
With sleek dashboards and intuitive navigation, users across functions can quickly extract the relevant insights to drive impactful decisions. Through the use of overlay growth indicators like sales change metrics, users can further pinpoint local risks and opportunities.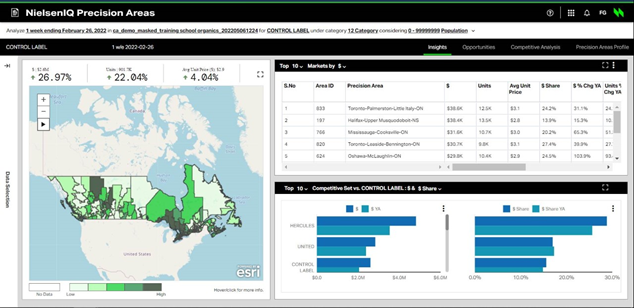 Local execution for local growth
Sophisticated retailers and manufacturers recognize the next frontier of growth demands strategies that cater to local market dynamics, but even past solutions like store clusters were hard to maintain and lacked scalable activation.
Consider Toronto, which officially recognizes 158 neighborhoods across the city. The demographics are radically different across these neighborhoods with some more affluent areas than others, some French-speaking, Punjabi-speaking, or Mandarin-speaking communities, and some so densely populated there's a never -ending checkout queue because of the sheer volume each store accommodates.
To expect a "Toronto" strategy to work is inconceivable. The same price increases in one neighborhood could lead to a brand exodus in another neighborhood. English advertisements could fall flat in predominantly Mandarin-speaking neighborhoods.
Now, extrapolate this beyond Toronto to the entire country and it can be an overwhelming task to execute localized strategies at scale.
Identifying local opportunities is just the first step. Implementing strategic actions closes the revenue opportunity. With modeled analytics underpinning NielsenIQ Precision Areas; dashboards, teams can zoom into areas of opportunity and identify which lever to pull among pricing, distribution, assortment, or in-store execution for maximum effect. Double-clicking into a precision area's demographic composites can add another useful layer of context for strategy execution.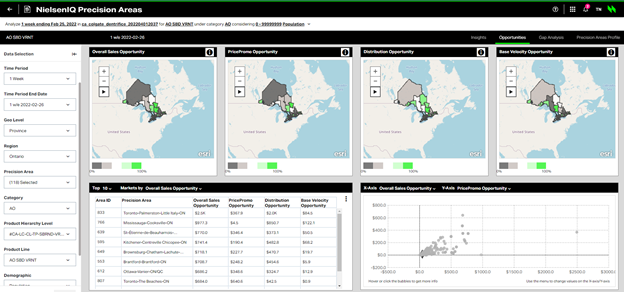 Using modeled data, each opportunity is quantified for a quick assessment of which tactics will offer the biggest payoff to deliver a complete picture of what to do and where to do it.
Whether you're spinning your wheels trying to prioritize opportunities, looking to streamline tedious processes for tracking local opportunities or evaluating investments to give your company a competitive advantage, NielsenIQ Precision Areas offers the industry's only solution for local execution at scale.