The 5 consumer groups reshaping retail in the U.S.
In the wake of economic disruptions over the past two years, consumers have dramatically different financial circumstances that affect their spending intentions and ability. Challenges ahead stemming from coronavirus variants, geopolitical events, and supply chain failures will only continue to exacerbate the divisions between them.
We recently reviewed the global snapshot of the economic divide affecting the retail landscape and found that these divisions can vary significantly by region and by country. NielsenIQ research identified five distinct consumer groups based on how the pandemic impacted their financial security and associated spending patterns. In the U.S., these groups have a unique makeup:
25% are Strugglers – Experienced financial insecurity during COVID-19, which continues today
16% are Rebounders – Experienced financial insecurity during COVID-19 but are back on track today.
33% are Cautious – No impact on financial security but remain cautious with spending.
18% are Unchanged – No impact on security and continued to spend normally.
8% are Thrivers – Saved money during COVID-19 and feel more financially secure than prior to the onset of the pandemic.
The consumers whose financial circumstances have changed the most, whether for better or for worse, have seen the biggest shift in priorities compared to two years ago. Strugglers led the pack, with 57% reporting having completely different priorities than in 2019, which they believe will impact their spending decisions. Close behind were Rebounders (37%) and Thrivers (36%), followed by Cautious consumers (18%).
---
Affordability is a key motivator for 92% of shoppers
Substantial shifts in priorities are changing how consumers shop and the product attributes each cohort seeks out. Although they tend to vary by country and region, in the U.S., most cohorts have similar priorities:
Strugglers: Affordability
Rebounders: Affordability and fresh produce
Cautious: Affordability and fresh produce
Unchanged: Affordability and fresh product
Thrivers: Fresh produce and socially responsible
Affordability is key to unlocking the spending power of four out of the five consumer groups. This is vital for companies to understand, as pre-pandemic premiumization was considered a massive growth opportunity for many portfolios. But with the uncertainty in this period of the pandemic, affordability will be a top priority for 92% of shoppers.
In the past, shoppers may have been more prepared to pay a premium for products that offered important benefits—for example, sustainability or health and wellness attributes. But as the new landscape unfolds with a prevailing sense of cost -consciousness, winning brands will address niche needs of cohorts at a price that fits their budget.
---
Rising gas prices fuel trade-offs in grocery spending
New economic disruptors will continue to create more polarization between the five consumer groups. Rising gas prices are competing for consumers' share of wallet, driving many segments to choose between food and fuel. The average U.S. household of two or more cars is spending an estimated $182 more on gas per month—money not being spent on groceries and other pressing needs.
NIQ analysts project that grocery shopping will be more influenced by geography as consumers try to use their cars less often and shop closer to home. This will also impact basket sizes—consumers will look to get all their grocery shopping done in fewer trips, so they don't have to drive to the store again.
The five consumer groups will change their spending patterns depending on their unique circumstances and spending priorities. Strugglers will focus their future spend on essentials—groceries, utilities, rent, and transportation. Rebounders, who report feeling more financially secure, will continue to focus on at-home essentials but plan to spend more on them. Cautious consumers will follow a similar spending trajectory to Rebounders, but with a slightly larger budget for in-home entertainment and paying off debt.
Unchanged consumers and Thrivers are more strongly inclined toward continuing out-of-home activities such as dining out and traveling.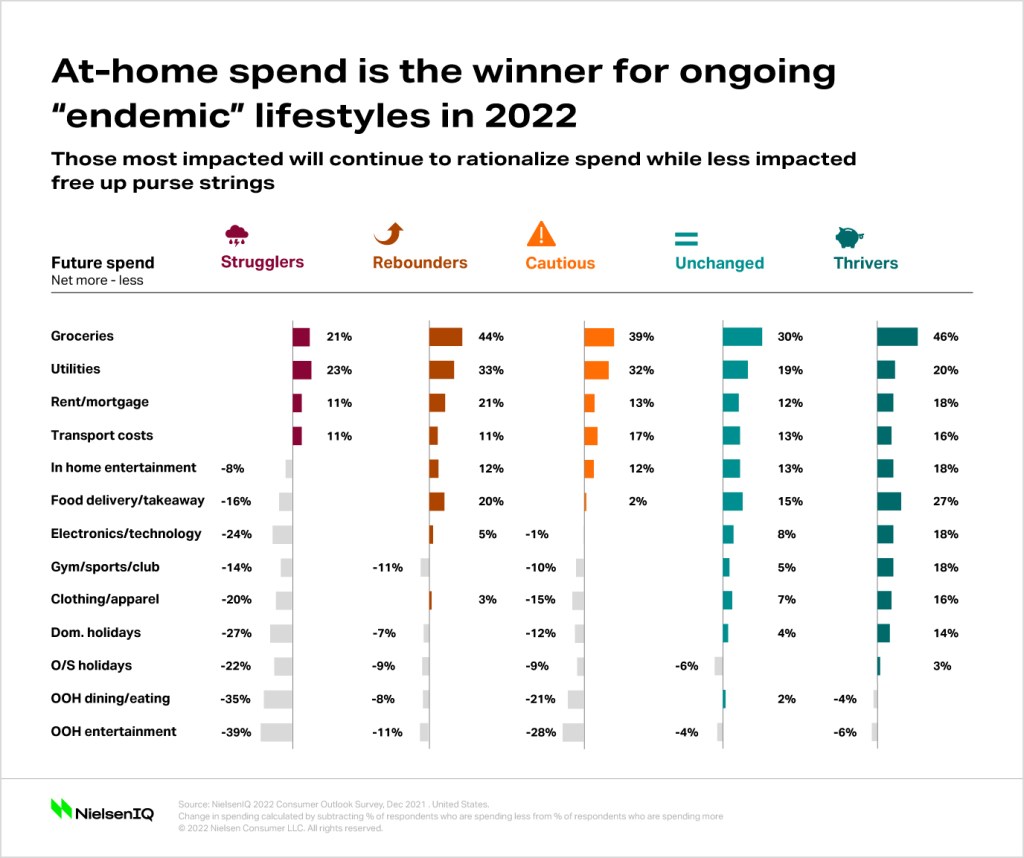 ---
Some categories are more insulated against changes in spending
In addition to rising fuel costs, shoppers in the U.S. and Canada are facing higher prices across almost every aisle. However, inflationary pressures have not been consistent across all departments. In some categories, we are already seeing a decline as some consumers trade down or stop buying altogether.
At the same time, other categories—for example, non-alcoholic beverages— are resistant to pricing pressure, with sales holding steady or even increasing despite higher prices.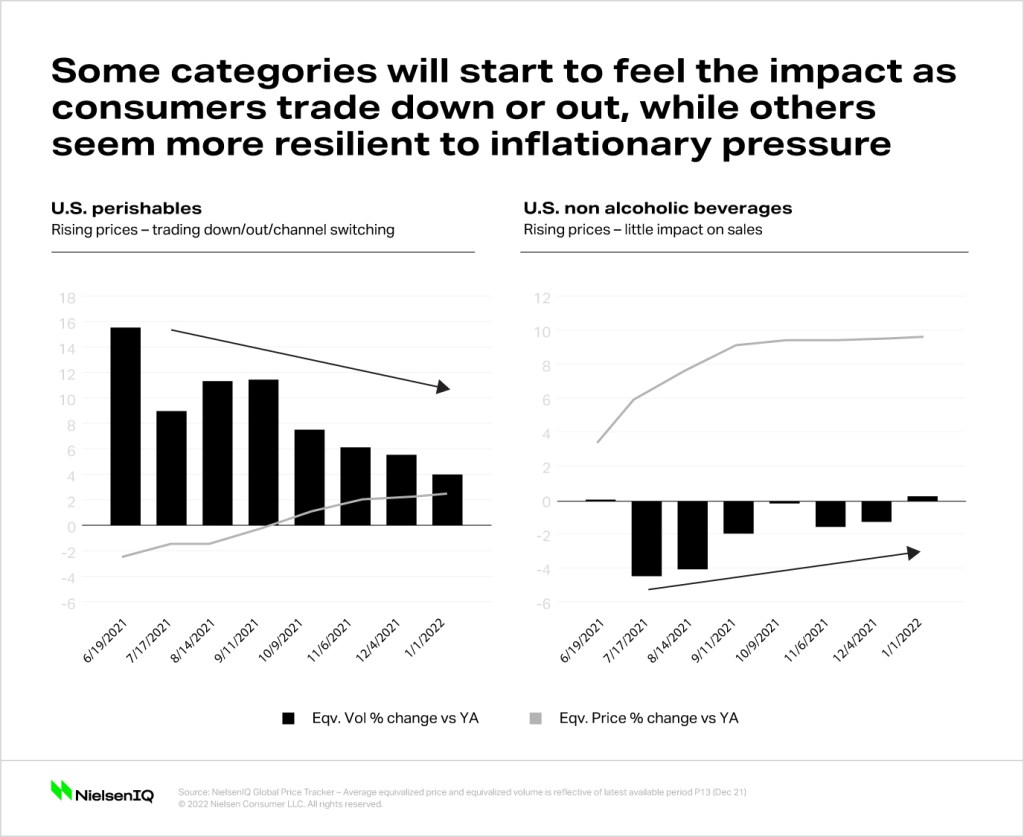 Knowing the price sensitivity of your brands, which cohorts are your core consumer base, and the tactics they are most receptive to will protect against sales vulnerabilities.
The conflict in Eastern Europe has led to an 37% YTD increase in wheat prices, snowballing into higher prices for staples such as pasta (+14%), cookies and crackers (+13%), bread (+10%), and cereal and granola (+9%). Many of these products are the lower-cost substitutes that consumers switch to when meat (+12%) and produce (+11%) become more expensive. But with typical go-to substitutes experiencing inflation as well, Strugglers, Rebounders, and Cautious consumers will be pressed to weigh the value of purchases more heavily than ever. Strugglers and Rebounders are particularly likely to trade down or exit categories completely.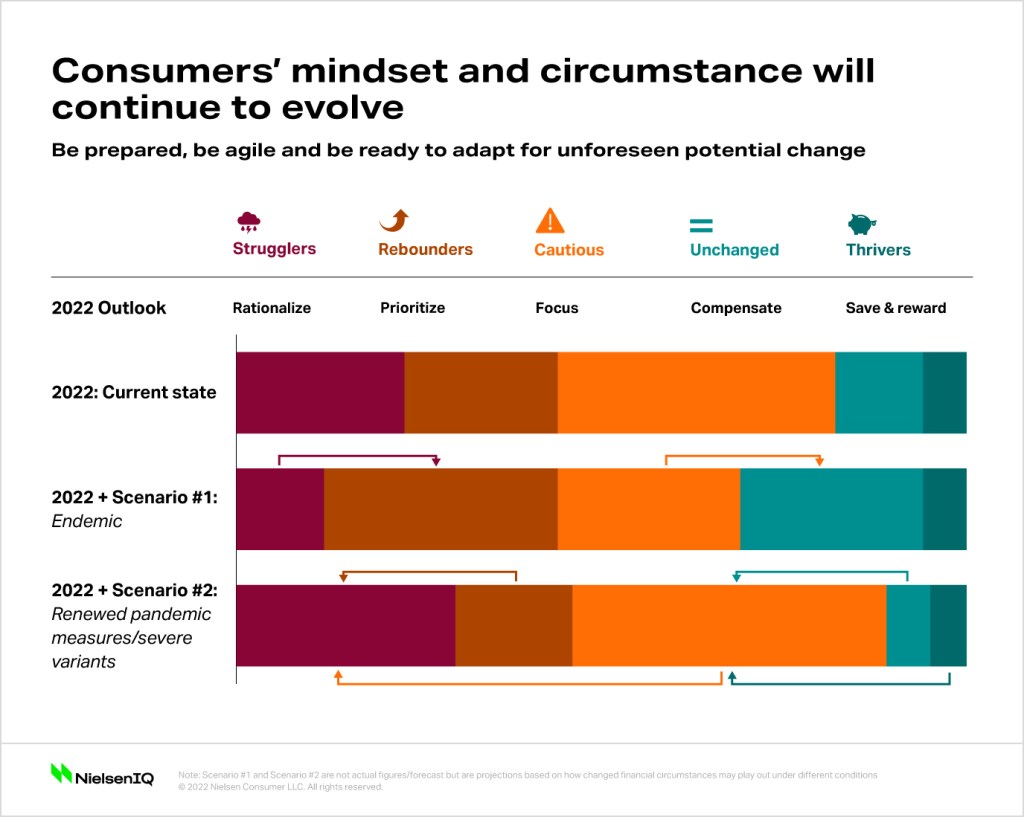 ---
Consumer priorities and growth opportunities will continue to evolve
At this point, it is anyone's guess whether these consumer groups will remain post-pandemic. Whatever lies ahead, it is vital to know which cohorts your products align with, their price sensitivity, and their current spending priorities. Understanding their changing habits and needs will be key to consumer goods success in 2022.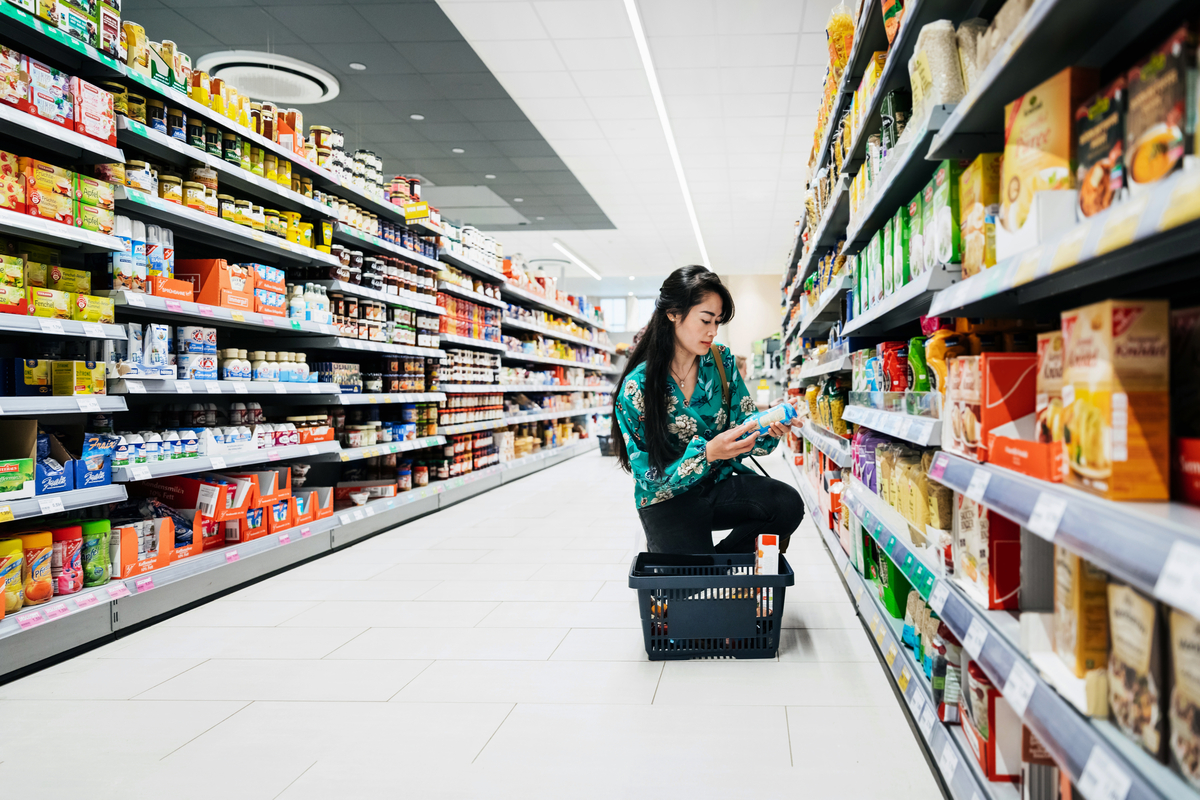 Global inflation hub
Review our monthly updates on the latest pricing trends, consumer behavior changes, and more.