Power in their digital voices
Around 22 million people who identify as AAPI live in the U.S, making up nearly 7% of the total population. They are the fastest-growing ethnic group, outpacing that of Non-Hispanic Whites. In fact, the PEW Research Center estimates that the U.S. AAPI population will reach 46 million by 2060.1
This is a digitally engaged community—70% report being online daily which is higher in comparison to other racial and ethnic groups. When making purchases, they are also more likely to share their opinions and reviews, which is useful for beauty brands, considering that peer reviews and word of mouth are powerful purchase drivers.
With this accelerated growth, trillion-dollar spending power, and online presence, AAPI consumers are an important segment for beauty brands and retailers to consider and engage with.
---
Big beauty spenders
Despite making up 7% of consumers, AAPI beauty buyers represent 11.2% of spend, making them the highest spending group of consumers. At a "dollars per buyer" view, they spend $375, which is 7% more than the total U.S. buyer. They also make around three less trips than the average beauty shopper, so they spend more on each trip.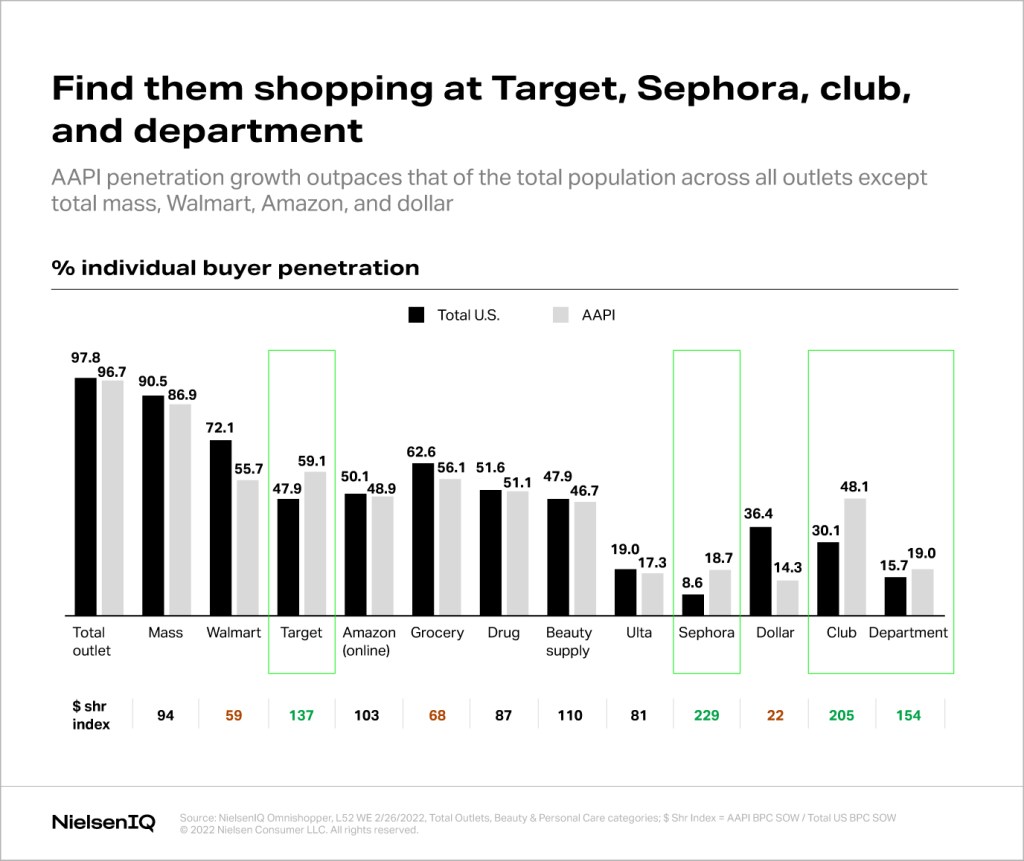 AAPI consumers most often shop at Target, Sephora, Club, and Department Stores. Here, there is higher penetration among AAPI consumers versus the average beauty shopper and their spend at these outlets is high. On top of this, their less frequent shopping trips make interactions all the more valuable.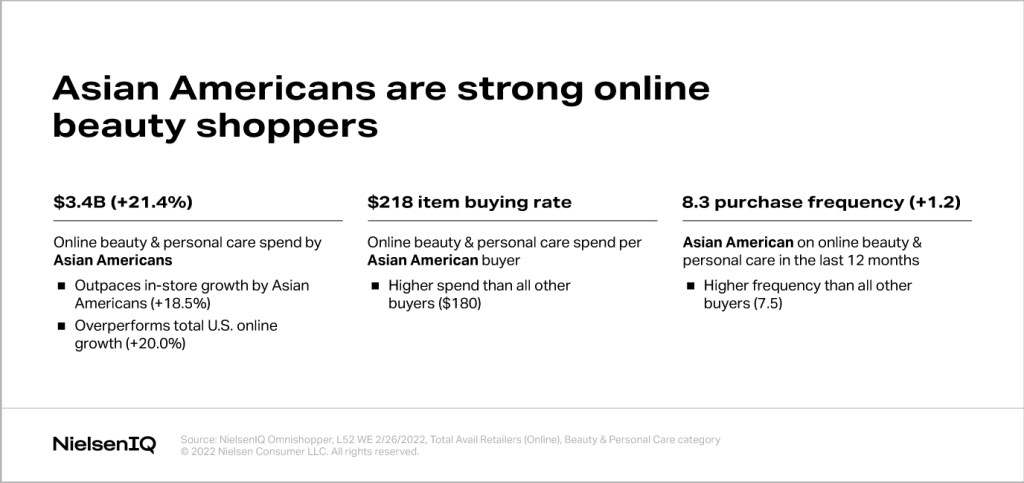 Cosmetics, Nail, and Facial Skin Care gains drive overall beauty growth. AAPI consumers are highly engaged with both, but skin health-related categories deserve special attention, as they spend at higher levels vs the total population. Plus, they have a higher buy rate.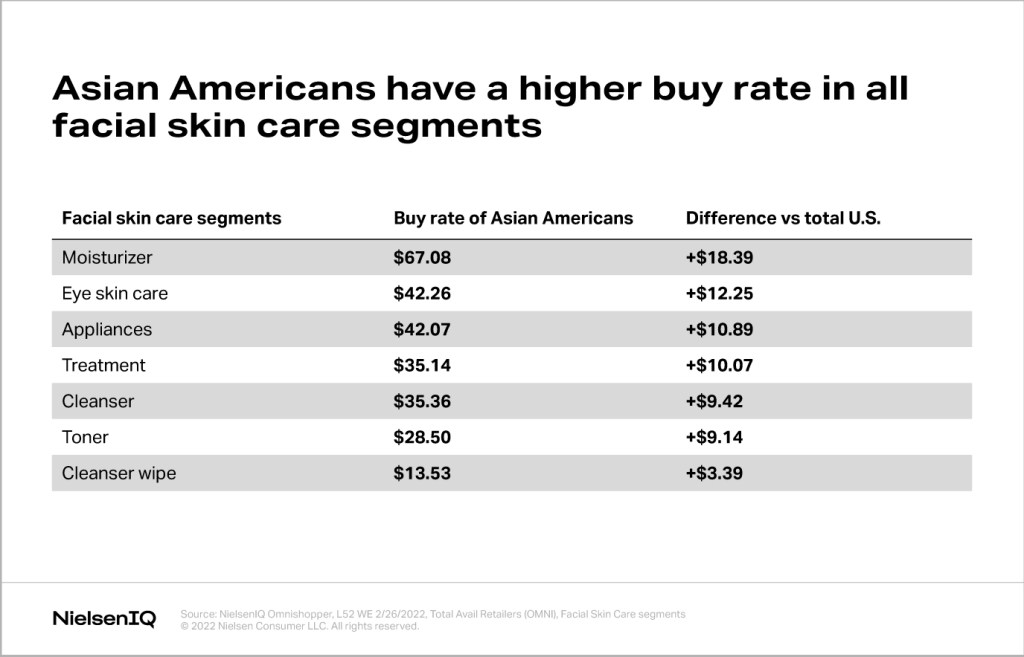 Skin health is important to these consumers and they are often very knowledgeable about it. In fact, they are influencing mainstream brands.

In terms of the top-selling, mainstream Facial Skin Care brands in the U.S., Olay, CeraVe, and Cetaphil have all gained penetration among AAPI buyers. Cetaphil has been over-indexing spend from this consumer group, both in store and online.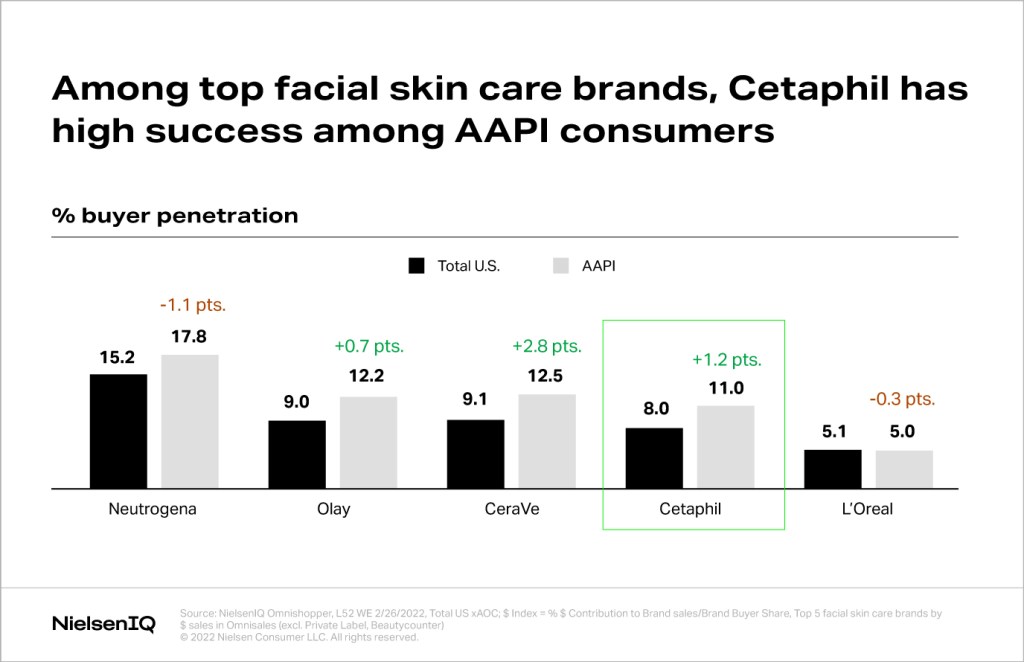 ---
Facial Skin Care: 3 AAPI buyer trends
AAPI-owned Facial Skin Care brands have seen more success in the general Beauty and Personal Care market over the past year, and those with a larger in-store presence have more of a mainstream appeal.
Facial Skin Care brands that have a large AAPI consumer fanbase are noticeably more available online, which proves that dominant e-commerce retail is not an obstacle for this group.
Overall, even though AAPI consumers are a smaller group, they drive sales with their high buy rate. This is still true for larger brands like Shiseido and Tatcha, where AAPI consumers make up more than half of all sales.
---
It's all about social
PCSSO, our connected partner, uses its Riviter Social dashboard to forecast trends. This is done by using images and text from social media posts to help brands better understand consumers. This reveals that K-Beauty is still a huge social media trend, which grew by 38% in the last year. It has 10% more likes than the average post and about 6% of influencers activating.
Around 22% of Glow Recipe's sales come from Gen Z AAPI consumers, who buy $46 worth of the brand's items annually. The brand saw rapid growth (128% growth vs last year and 55+ more likes than the average post) driven by TikTok influencers raving about its hero product Dewey Drops. Founders Sarah Lee and Christine Chang were inspired by their Korean grandmothers, who would rub watermelon rind onto their skin to sooth and cool irritation.
---
"Skinfluencers" you need to know
Since this consumer group is so active on social, brands should get familiar with key influencers. Here are three AAPI "skinfluencers" who also founded beauty brands based on their personal experiences: ​
Deepica Mutyala became famous with her videos about covering her dark under-eye circles, something many Indian Americans like her deal with. She found that most concealers left an orange or red undertone on her skin, so she created Live Tinted to fill this gap.
Sarah Cheung, founder of Sacheu, is a key facial tool influencer with a strong YouTube following. Her famous Gua Sha tool was inspired by the long history of skin tool use in her native Hong Kong.​
Patrick Ta is a makeup artist with a self-titled beauty brand that is sold exclusively at Sephora. As a gay Asian man, he struggled with self-confidence and wanted to create makeup that would help women feel confident in their own skin.
There is a huge opportunity to appeal to high-spending AAPI consumers who are often already very engaged with the beauty industry and have a strong online presence. It's critical that these diverse voices and their needs are heard by brands and retailers.