Hispanic American households are a young and growing population
Hispanic Americans make up 19% of the U.S. population—that's over 62 million people—and growing. The Hispanic American population is projected to increase to 111 million by 2060, increasing from 19% of the U.S. population to 28%.
Taking a closer look at the demographics of the group, 47% of Hispanic Americans are considered millennials, with the average age of the Hispanic consumer being 42 and the average household income being $55,000.
Additionally:
39% of Hispanic Americans have a college degree or higher, compared to the 33% of the U.S. as a whole
49% of Hispanic American households have children under the age of 18
Hispanic Americans are 1.5 times more likely to be taking care of their grandparents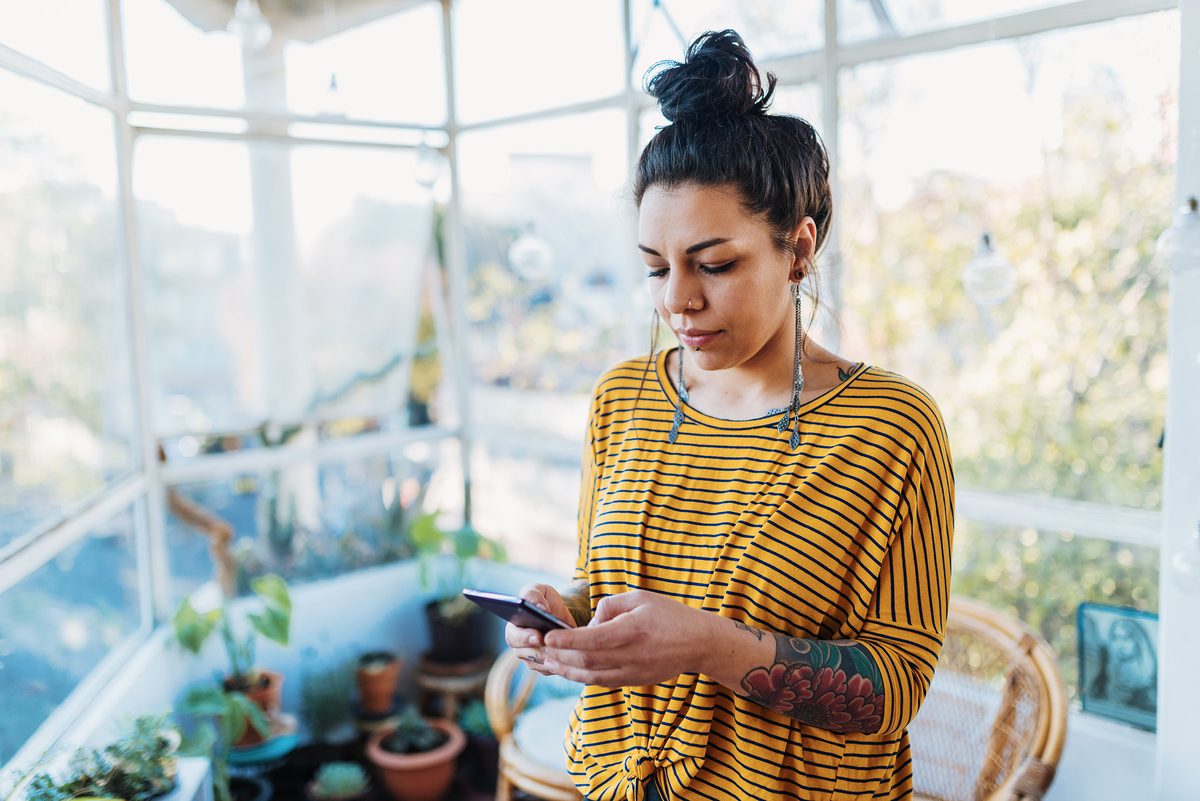 Diverse Voices: Exploring Hispanic consumers
A comprehensive report of the buying habits and behaviors of Hispanic consumers.
---
Over half of Hispanic consumers surveyed identify as Mexican, but many cultures reflect diversity within the group
The diversity of the U.S. is undeniable, and it's evident in its shifting population. Yet, for too long, Hispanic consumers have been viewed as a single segment. However, Hispanic consumers are a large, diverse group with different backgrounds and experiences—according to NielsenIQ data, more than half (51%) of surveyed shoppers identified as Mexican, but many other nationalities and cultures were recognized such as Puerto Rican, South American, Cuban, Central American, Dominican, and Spaniard.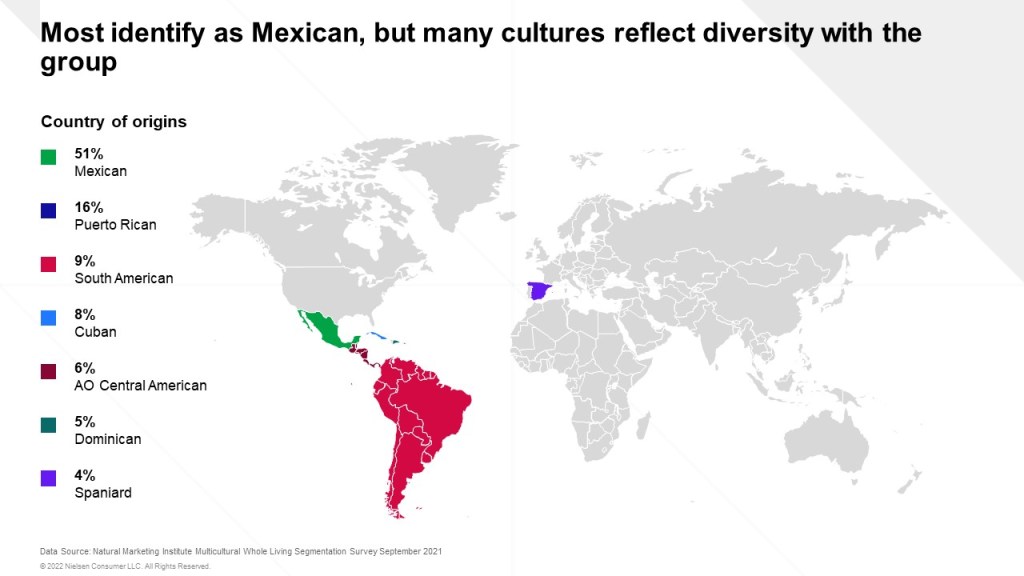 Their buying power is strong
Hispanic Americans are a not-so-hidden-secret to growth in the U.S. Companies that understand the differences and similarities between the growing Hispanic American population and the total U.S. population will be able to better support customers with the products they want. Hispanic shoppers alone contributed over $1.9 trillion in 2020. Hispanic American consumers were also the largest minority market with buying power in 2020, with a growth of 87% over the past 10 years.
---
What do Hispanic American consumers buy?
The Hispanic American market spend outpaced total U.S. market growth last year, with the Hispanic American market sales increasing by 10%, and total market increasing by 8.5%. Hispanic American spending is a driver of multiple categories across the store, notably outpacing the non-Hispanic market in categories including laundry detergent, fruit, and fresh meat.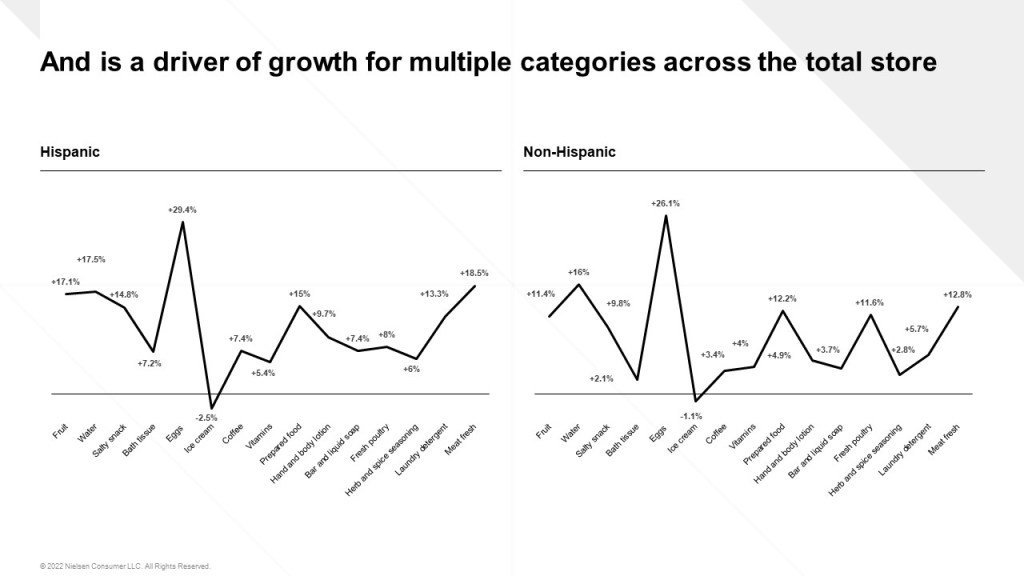 ---
Where do Hispanic American consumers shop?
Overall, 76% of Hispanic consumers say they prefer to shop in-store versus online. However, these preferences are category specific. General merchandise, pet care, health and beauty care, and baby care are more popular options for online shopping. Hispanic American consumers prefer to buy alcohol, food, and floral products in stores.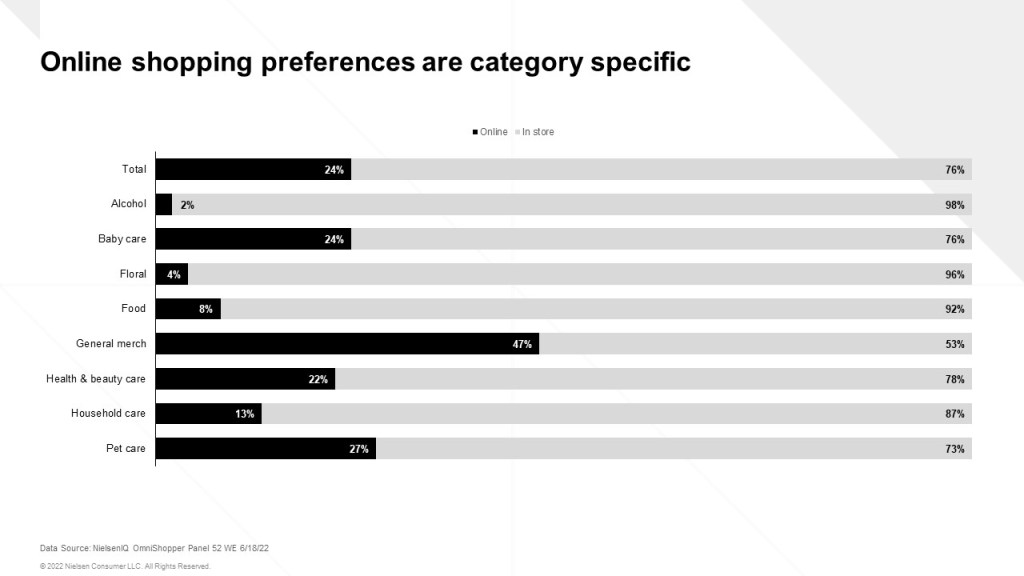 Mass merchandisers (43%) and grocery (31%) are the most popular channels for Hispanic American shoppers. While grocery and mass merchandisers remain reliable options, there's also promising growth in beauty supply and department store channels. Hispanic Americans' average purchase size for department store channels increased 8% over the last year. Beauty channel purchase size increased by 6%.
---
How can companies reach Hispanic American consumers?
Hispanic American consumers not only look for products that meet their wants and needs; they look for products that align with their culture. Over 71% of Hispanic Americans feel a strong connection to their country origin, and cultural identity is central to how they make purchase decisions.

Therefore, brands and manufacturers would be wise to consider both purchase patterns and cultural aspects when developing products and campaigns to market to Hispanic American consumers.