CPG inflation drops for the first time in four months
The November Consumer Price Index (CPI) report shows slowing price increases, with prices up 7.1% in the year ending in November, down from 7.7% in October.
While prices are still painfully high, the rate of CPG inflation decreased .3 percentage points to 11.7% in November, the first drop since July.
Though these slowing numbers don't offer significant relief for cash-strapped holiday shoppers concerned about a recession, it's the first positive signals of slowing inflation.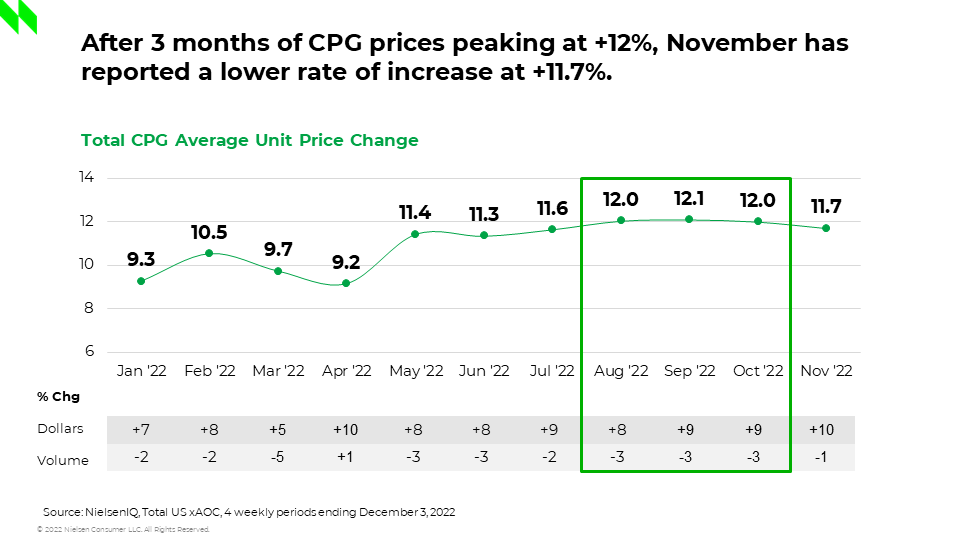 ---
CPG growth fueled by higher prices, but consumption holds steady
CPG sales growth is still being driven by rising prices. In November, consumers spent more (CPG dollar sales increased 10%) but they bought -1% fewer items.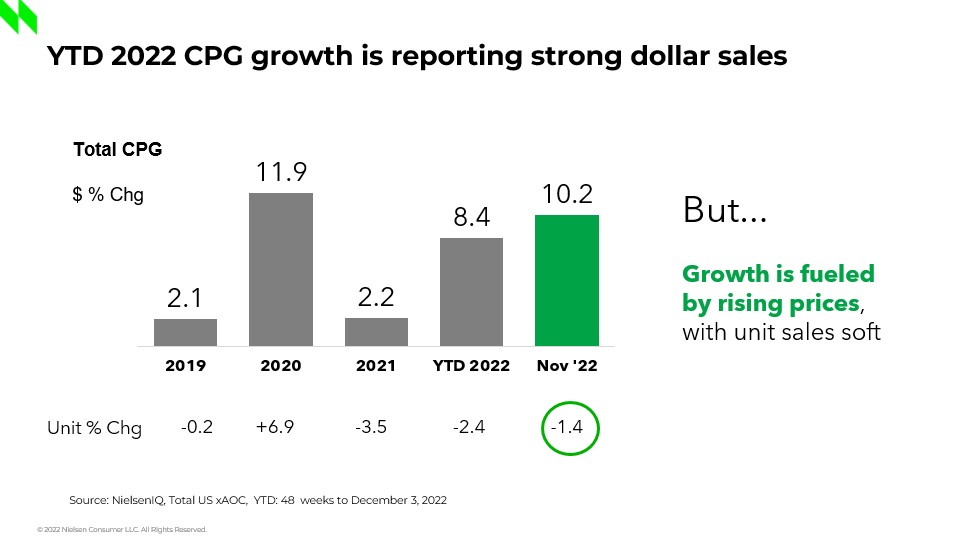 Food inflation remains high at 14%, with consumption holding at 0% after previous monthly declines. For comparison, non-food prices increased 10% causing a 6% decline in non-food unit sales.
Declining consumption is a top concern in the CPG industry, but we expect the pattern of faster food growth recovery and slower non-food growth recovery to continue as consumers cut back on discretionary spending and shift meal occasions back into the home to save.
---
The impact of inflation across the store fuels private label growth, channel switching
There's little relief from inflation across the grocery store, with food departments driving higher prices. With holiday entertaining on the menu, the cost of celebrating will be substantially more than in previous years.
So, shoppers are on the hunt for value—private label products, which provide savings of 14% on average compared to national brands, captured 19.6% of the consumer wallet for CPG sales. In November, private label sales increased 15%, outpacing the 10% total market growth.
With more consumers shifting their spending, national brands will need to monitor price gaps, find ways to differentiate their product, and continue to innovate to win back consumers purchases.
Consumers have also shifted where they are spending their dollars as a direct result of inflation. Value-based retailer sales jumped 11%, capturing 41.2% of CPG sales. Varying assortment across retail channels is more important than ever to break the decision tie—if items are the same, lowest price will continue to win.
---
Promotional sales trending upwards
Despite the consumers' need for deals, promotional sales are starting to trend slightly higher than total market growth (+12% vs +10%). November is a key month for promotional sales, and sales of household essentials gained momentum during Black Friday and Cyber Monday. Even though many were shopping for gifts, they also took advantage of promotions to save for their general household needs.