Fall online shopping events growing in popularity
With online shopping now a settled part of our daily routine, NielsenIQ and Foxintelligence focus today on online shopping events with a global footprint.
Despite differences in internet speed and evolution globally, due to rising online adoption rates across regions and generations e-commerce is only primed to accelerate in popularity. This shift will continue as global consumers remain cautious of what they are spending their money on and how much, especially with inflationary pressures and rising costs of living.
"It has become increasingly more interesting to analyze and understand the success of those shopping festivals", said Roberto Van Taunay, Commercial Leader E-commerce at NielsenIQ. "On one hand, sustainability concerns may slowdown purchases across borders for some consumers, but on the other hand, the current inflationary landscape may increase the interest in such events, with consumers looking for the best deals online more than ever."
---
Amazon Prime Day: A first round in July…
Interestingly, despite inflationary concerns, Amazon organized a second edition of their Prime Day during the same year—for the very first time. Prime Day took place July 12-13 in more than 20 countries—with "Early Access Prime Day" taking place on October 11-12 in 15 markets (exclusive to its Prime members).
Prime Day is a good example to understand what a single event can represent. During Amazon's 48-hour Prime Day last year, total online sales in the United States were reported to surpass USD $11 billion.
While Amazon Prime Day is only available in certain markets now, its impact has been growing in terms of categories, brands, and markets covered. According to NielsenIQ research conducted last year in Australia, Germany, Italy, Japan, Mexico, the United Kingdom, and the United States, 60% of Amazon members stated that they had shopped on Amazon Prime Day—of which 76% were already Amazon members and 20% purchased full-time memberships for this event.
It entails a significant uplift for the retailer's share on the market; across Western Europe, the July 2022 edition meant 9 to 20 additional points of market share, even better than in 2021.
---
… before a second Prime Day in October
What about this October Prime Day? Early figures in the U.S. tell that 60% of consumers who shopped during day one of Amazon's Prime Early Access Day were returning consumers who also shopped Amazon Prime Day in July. If deal-hungry consumers showed up and shopped, it seems that this day one was less of a blockbuster holiday shopping moment and more of a subdued Black Friday Prequel.
In Western Europe, first data from Foxintelligence confirms that the exclusive flash sales of October 2022 did not exceed July's Prime Day. Last week, across the five major European markets (UK, DE, FR, IT, ES), Amazon gained indeed an average of six points in market shares*. While this is one of the best performances of Amazon this year, this remains lower than the Prime Day held in July 2022 (+14 points).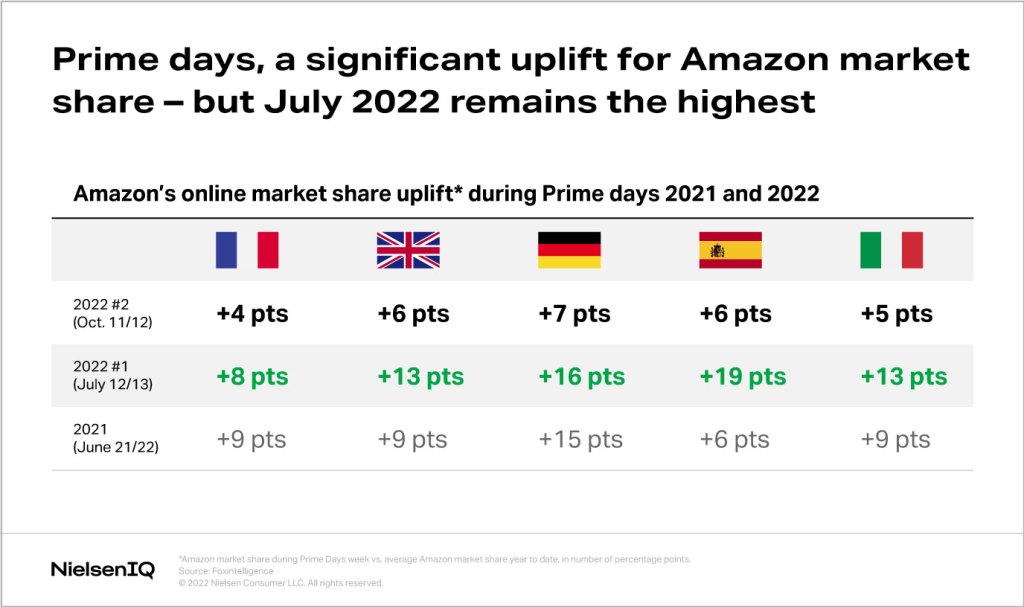 In its report based on the online purchases of more than 1M panelists in Europe, Foxintellingence has also spotted the main products purchased during those two days. Shoppers from each country mainly purchased laptops, TVs, vacuum cleaners, and smartphones.
The most popular items (in descending order) include:
France
Laptops
Smartphones
Laptops
U.K.
Smartphones
Games & toys
Laptops
Germany
Game consoles
TV
Vacuum cleaners
Spain
Smartphones
TV
Smart watches
---
Coming next: Double 11, Black Friday, and Cyber Monday
Other major shopping events are coming soon, including Double 11, Black Friday, and Cyber Monday in November. Double 11 (or Singles Day) on November 11, and Double Days (1/1, 2/2, etc.) are by far the most successful online events in Asia.
In fact, according to Alibaba and JD.com, these Chinese e-commerce giants reported mass sales of USD 139 billion during Double 11 in 2021. Although their impact remains within Asia, it has started to pick up in the Middle East and especially in Turkey where online sales spiked by 255% during Double 11.
Moreover, considering Asia is the home of the world's e-commerce trendsetter markets such as China and South Korea—and accounts for 50% of global e-commerce sales—more and more brands and shoppers from Western markets pay attention to these events.
Black Friday, which began in the U.S., is now the world's most highly anticipated shopping event. According to NielsenIQ Foxintelligence, European countries including France, Germany, Spain, and the United Kingdom all saw a peak in online sales during Black Friday. France recorded 87% growth in online shopping in the week of Black Friday compared to the country's weekly average in 2021. The impact was even bigger in Germany and Spain where online purchases during Black Friday were four times higher than an average day (versus three times higher in France and the United Kingdom) and the number of shoppers who purchased online during Black Friday week grew by 5% in 2021 versus 2020. In Turkey, e-commerce sales surged by 269% during Black Friday.
"Those events are now spreading across continents, boosting online sales for many categories," said Taunay. "This means brands (giant or small) risk missing out if not tapping into those shopping festivals."