Food and nutrition: Beyond eating
As policymakers discuss how to make America healthier, Americans themselves can sometimes be left out of the conversation. NielsenIQ (NIQ) research reveals for American consumers, food and nutrition encompasses far more than eating to satisfy hunger and ingesting a few vitamins and minerals in the process. It has evolved into a hierarchy of five health and wellness needs, from protecting themselves and family members from immediate health threats to the concern for the health of the environment and other human beings.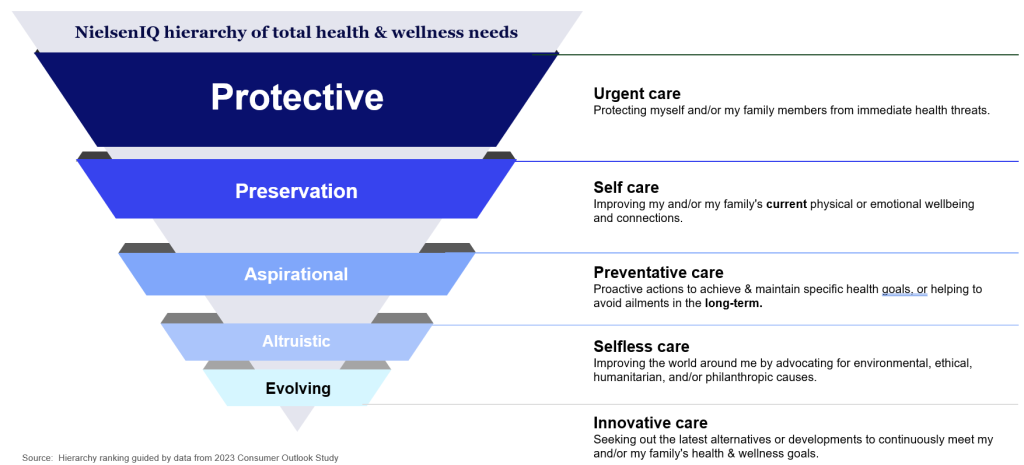 All in the family
The hierarchy begins with protective, which is consumers' desire to protect themselves and their families from immediate health threats. This makes sense, given the physical and mental health ailments consumers report: 31% of households report high blood pressure, 25% report depression, 24% report obesity, 22% report cholesterol problems, and 13% report Type II diabetes, according to NIQ's 2022 Shopper Health Study.
For many consumers, the pandemic highlighted vulnerabilities due to these comorbidities and served as a sort of 'wake-up call' to refocus on their health. In this space, we see many consumers focusing on the basics of healthy eating related to their specific ailments: carbs, calories, fat and sugar.
We find about 50% of consumers are proactive about their health, 30% are passive (generally don't think or make daily decisions for their health) and 23% are reactive – focusing on their health when required, most often when triggered by an ailment. The reactive and passive consumers are most in need of government and industry support in helping make affordable healthy choices every day. This can be a challenge as, just for sodium alone, NIQ analysis shows around 26% of the food and beverage dollars have more than 300 mg of sodium per serving.
Keeping what they've got
Next comes preservation, which is all about consumers caring for and improving their own and their family's current physical and mental health. We've seen an expansion of how consumers are looking at health…with topics like digestive health and mental health increasingly becoming consumer priorities.
One way preservation manifests itself is in the way consumers prioritize healthy food claims when they're deciding what to feed their families. For instance, the top priority for two-thirds of (67%) is to avoid negatives and gravitate toward low- or no added sugars, low or no sodium, no added hormones, low-carb, low-calorie, gluten-free and similar labels.
Proactive use of supplements and food as medicine to preserve physical and mental health figures heavily in preservation. Over the last three years, sales of food and beverage as medicine have jumped 19%, and sales of vitamins and supplements have leaped 29%. Two examples: Sales of supplements related to enhanced performance in physical activity are up 82%, and sales of sleep aids are up 88% over the last three years, according to NIQ data.
Wanting to do better
Third in the hierarchy is aspirational, which encompasses the steps consumers take to prevent future ailments or meet fitness and health goals. The news here? Consumers want to eat as they always have, but with a healthier twist. The headline? The rapid rise of foods labeled plant-based, with 12% of consumers polled saying they're trying the plant-based eating approach, ranking it second only to heart-healthy (14%). We're seeing increases across the store in "clean label" products, with no artificial colors, flavors, preservatives, etc.
Health continues to be increasingly important to all consumers. For those consumers who are more proactive with their health, the top reasons are to live a longer, healthier life, to avoid preventable diseases, and protection against ailments.
Anticipating health changes as they age is another aspect of this aspirational approach. Let's put it this way: Menopause is no longer a taboo topic. The global menopause market; sales of estrogen and menopause support products, for instance, is expected to reach$22.7 billion by 2028, a compound annual growth rate of 5.7% since 2021.
Marketers are keeping a close eye on this trend, as the 50-plus crowd will account for 40% of the U.S. population by 2060. Aging healthfully and maintaining vitality and mental acuity are key drivers for older consumers and is driving many trends across the food, beverage and vitamin/supplement space.
Evolving towards the new
Two priorities, evolving and altruistic, complete the pyramid of hierarchies. Evolving means that consumers are looking for the latest innovations and developments to meet their own and their families' health needs.
There's a high level of interest from consumers in personalized health information. Here's where ginseng, licorice, monk fruit, algae, and other buzzy foods/ingredients are seeing high growth and fast category expansion at the same time; it's where foodstuffs such as yuzu, an Asian citrus fruit, are getting top consumer attention due to their touted benefits. Consumers are more aware of the functionality of ingredients, with knowledge of elderberry for immunity and ashwagandha to help the body manage stress and restore balance.
Caring for the community
Altruistic means just that: Care and concern for the health of others and the environment, as well as concern about all the ethical, humanitarian, and philanthropic concerns around food.
Sustainability is a key driver here, with 92% of consumers saying sustainability is important when choosing a brand today. In the grocery store, claims like "organic" and "recyclable" are well-penetrated across categories, while new and emerging claims around regenerative agriculture, carbon footprint, water footprint and responsibly sourced are emerging and growing rapidly.
Our research has found 69% of consumers want retail regulation for fresh, healthy food available and affordable for all citizens in all locations and 67% believe companies have an obligation to ensure healthy products are less expensive than processed/unhealthy ones.
We're also seeing 64% of consumers who are willing to pay more for products that support communities and vulnerable groups and almost 30% increase in socially responsible product sales. As we have explored the future of health and wellness in the context of altruism, consumers are telling us healthy eating for all will be key. Their focus is on the nutritional diet and better eating for the health of the entire community.
Knowledge is power
How can knowledge of these attitudes inform and shape food policy? To start, easily digestible information and guidelines could help Americans choose more healthful and nutritious fare and perhaps avoid some of the co-morbidities (co-existing medical conditions) listed above, for instance, diabetes and obesity.
Many retailers have in-store education programs and registered dietitians on staff to educate consumers. The FDA is exploring a concept to get more information into the hands of consumers with its proposal to revise its criteria for a "healthy" label on food for the first time in nearly three decades. The new guidelines include a limit of 2.5 grams of sugar, 230 milligrams of sodium, and 1 gram of saturated fat per 3/4 ounce serving of grains and dairy, and zero added sugars, 23- milligrams of sodium, and 1 gram of saturated fat for a half-cup of vegetables and fruit products.
From our NIQ Spotlight on Diabetes , we identified that sales of foods and beverages with zero grams of sugar per serving have leapt 46% over the last three years; sales of foods with zero fat have jumped 29%, and foods with zero sodium per serving have jumped 28%. Americans, it seems, are reading labels, and more information can help them make wiser choices and be even better protectors of their and their family's health.
As SNAP support is being explored in the Farm Bill, the opportunity to better understand the impact of food policies is key. Here's some food for thought: When SNAP benefits were raised in April of 2020 in response to pandemic-induced layoffs, participants purchased more fresh and frozen fruit, and dairy-milk alternatives. While there were healthier choices made, we also found growth in indulgent and sweeter categories as well.
And: They bought more foods with immune system-, sleep- and diabetes-support claims, as well as more plant-based and natural products. We also saw an upward trend in purchases of meal combos (ready-to-go snacks and meals), pointing to the importance of convenience in food options especially among SNAP participants.
America is what it eats. Any organization participating in this much-needed plan to improve health and wellness should be aware of the American public's health priorities. It's already center of the plate for the many organizations that have launched as public benefit corporations to underline their commitment to health and wellness. Thoughtful and intentional food policy can help Americans eat better, live better, and feel better.
For more information, please visit NIQ.com/govt.