Rising prices heighten CPG sales but hurt wallets 
After a 2-month period of disinflation, the average unit price for CPG products increased to 11.0% in January, up 0.3 points from December. The rise in CPG prices continues to surpass (and nearly double) the CPI, causing ongoing concern over the price of necessities and an impending consumer recession.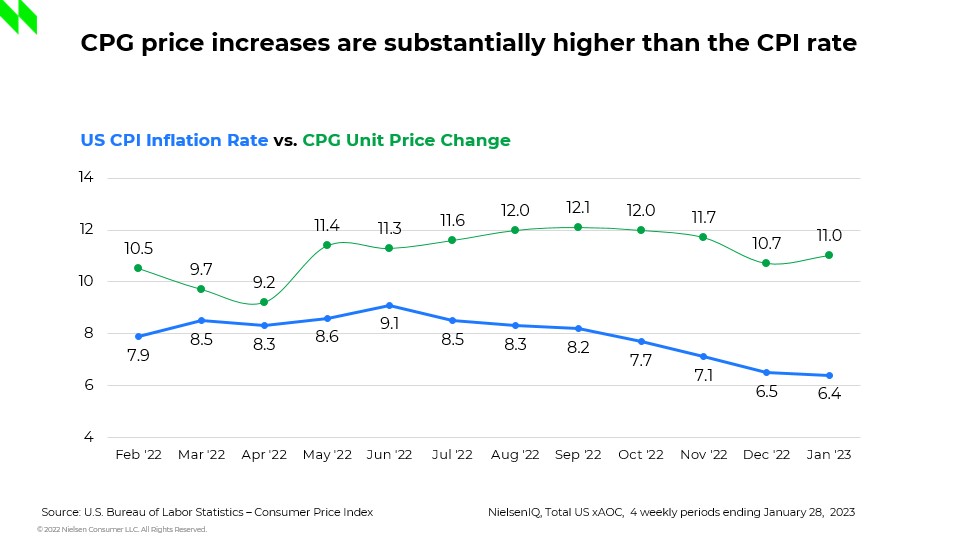 CPG sales growth is being fueled by rising prices, driving consumption down significantly compared to the previous year. In January, total CPG dollar sales increased 6% as consumers spent more while purchasing less — unit consumption fell 5%, marking the largest drop in growth since March 2022. Consumers are focusing on the essentials after holiday splurges: 32% report that they are buying only the basics.
The prices of these necessities continue to strain consumer wallets. In January food inflation came in at 13%, with a consumption decrease of 4% after being static in December. Non-food prices increased 8%, and consumers pulled back non-food purchases even more, causing a 7% decline in unit sales.
---
Why grocery bills are higher 
Very few CPG departments are immune to rising prices, as it continues to affect all areas of the store, especially food departments. The Dairy, Dry Grocery, Bakery, and Frozen departments reported the largest increases for food at +22%, +16%, +16%, and +14%, respectively. For non-food, the top 3 increases were Pet Care (+23%), Household (+13%), and Baby Care (+11%).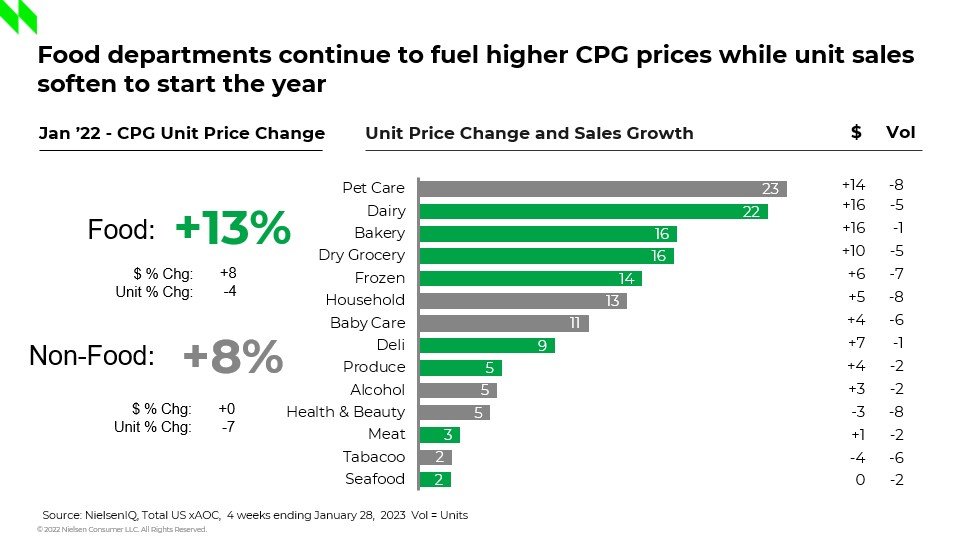 Here's a breakdown of which major products have the highest price increases across different areas of the home: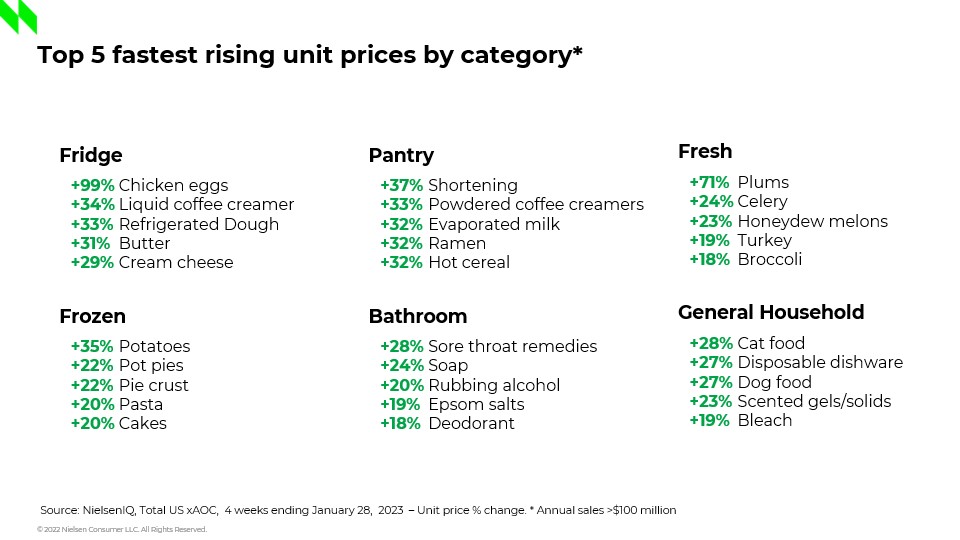 ---
Shopper savings strategy spotlight  
Value for money is a growing trend for consumers, and private label brands, which on average provide a 10% savings compared to national brands, captured a record 19.7% of CPG sales in January. As prices rise, so does the growth of private label. These brands are reporting an increase of 12%, outpacing the total market growth by 2:1 (+6%). With 38% of Americans opting for private label products as a savings strategy, we can expect continued share growth.
Nearly 40% of shoppers are also changing where they're shopping to get lower prices. Value-based retailers' sales jumped 11%, capturing 41.4% of CPG sales. Varying assortment across retail channels is more important than ever to break the decision tie — if items are the same, the lowest price will continue to win. 
Feeding consumers' need for deals, promotional sales continue to trend higher than total market growth (+10% vs. +6%). With 50% of shoppers willing to stock up when what they need is on sale, promoted prices will be a key basket driver for retailers. For some shoppers (29%), promotions are the deciding factor: they only buy what is on sale.
The CPG industry is facing a challenging start to the year. To stay competitive, attract and retain shoppers, retailers must maintain focus on providing value and differentiating their promotions.