CPG sales growth fueled by rising prices, but consumption levels continue to decline
The CPG inflation rate continues to slow in the US, with April dropping to its lowest level since November '21. The rate of CPG unit price increases came in at 7.6%. While this is a decrease of 1.2 points from March, it remains well above the normal 2-3% range.
Despite overall inflation relief for Americans, CPG increases are trending well above Consumer Price Index (CPI). In April, the CPI rang in at 4.9%, a modest change from March's 5.0%. The high rate of CPG unit price increases remains a cause of concern for many consumers.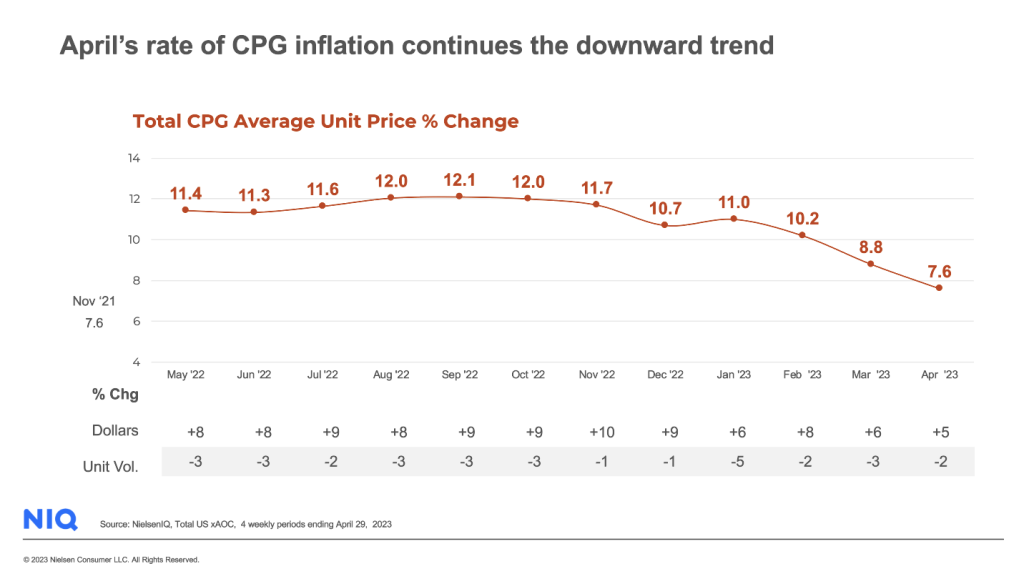 The declining consumption of CPG products compared to the same period last year is a worry for the industry as 35% of shoppers are focused on only buying the essentials.  The rate of food inflation is slowing but still high at 8% with consumption down 2%. Similarly, non-food prices increased 8% and consumers responded by buying even less, resulting in a 6% decline in unit sales.  
---
Rising prices hit all areas of the store
Very few CPG departments are immune to rising prices as it continues to hit all areas of the store, primarily driven by food departments – Dry Grocery +13%, Bakery +11%, Dairy +10%, and Frozen +10 reported the top four increases for food. For non-food, the top four increases were Pet Care +16%, Household +10%, Baby Care +10%, and Health & Beauty +9%. Food will continue to fuel sales as consumers are scrutinizing their purchases with 35% of shoppers focused on the buying the essentials. (+3 pts since Oct. '22).​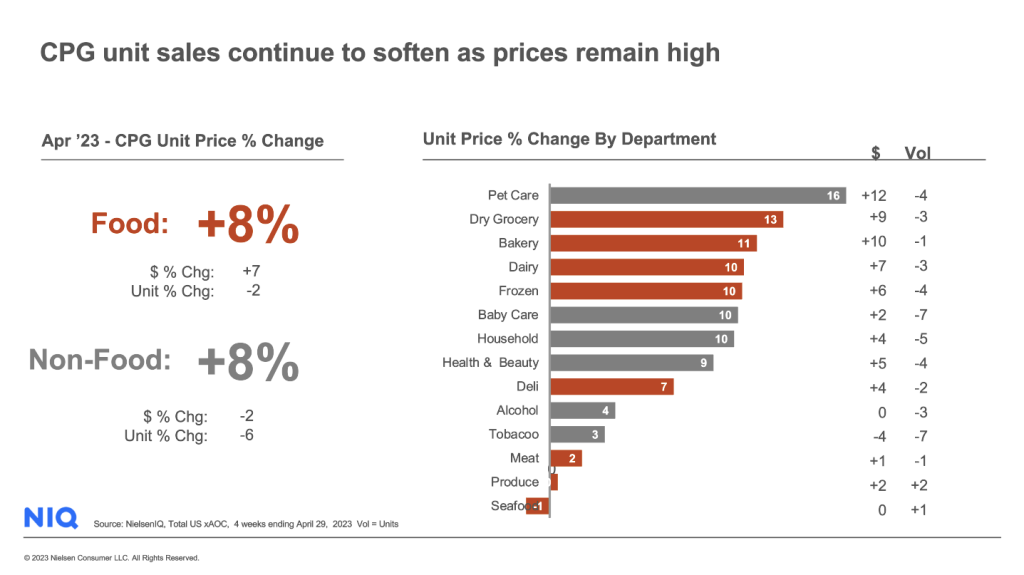 However, the rate of inflation declined for most food departments in April when compared to March rates: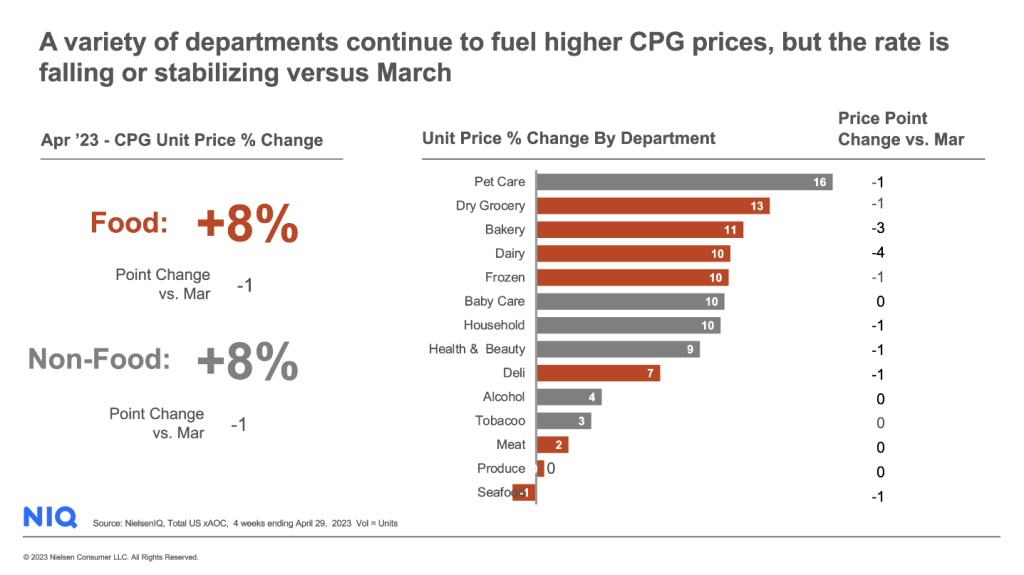 By tracking grocery prices as the category level, we see that the cost of many essentials (notably eggs, meats, deodorant, body wash, and dog food) continues to climb: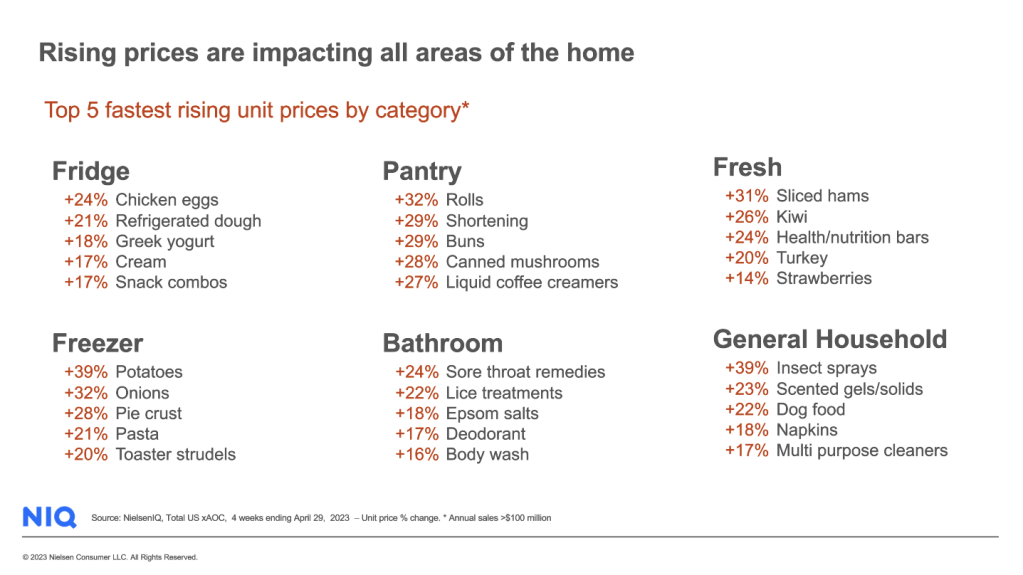 As prices level off, retailers and manufacturers need to find new ways to grow their businesses. This involves being innovative, running promotions, and catering to diverse consumer groups such as the elderly and multicultural communities.
---
Consumer behavior update: Private label sales, value retailer switching, and promotions
In April, private label sales continued to grow as consumers sought better value for their money, with an 8% increase compared to the previous year. On average, private label products offer a 10% cost savings compared to national brands. During this month, private label captured 19.1% of the consumer spending in the CPG market. Retailers that offer a wide range of private label options are well-positioned to benefit from this shift in consumer preference.
The significance of value-based retailers remains strong as shoppers gravitate towards stores offering lower prices. In April, value retailers experienced a remarkable 7% surge in sales, constituting 42.5% of CPG sales. The food category played a key role in driving their market share gains, with an impressive 16% increase in sales over the past year.
Promotional sales also played a crucial role in driving growth, accounting for 13% of sales in April. However, it is essential for retailers to strike a balance and avoid excessive promotion aimed solely at reclaiming market share, as this is not a sustainable profit strategy. Instead, promotions should be used purposefully to strengthen brand loyalty and build long-term customer relationships.