Navigate the shifts within retail
In addition to the complexity within the retail landscape, Covid-19 brought significant changes to consumers' shopping habits, from what they buy to where they shop. There's little doubt that business plans built on past consumer behaviours aren't going to drive the right outcomes today, when the behaviour itself has undergone irreversible changes.
Here are five steps to planning an efficient business strategy for your brand:
1. Understand your product category: See how your product category is performing across the sector. Identify your competitive landscape and any new trends that impact your product category.
2. Quantify your retail market size and potential distribution opportunities: Understand your product footprint within a geography. Evaluate regions where your product is performing well and where there is untapped opportunity for growth.
3. Develop your price and promotion plan: Identify the price points that work for your category and brand. Understand if you are competitively priced and drive promotions keeping in mind the category nuances, so you are not wasting valuable resources.
4. Build your channel strategy: Identify the channels that are driving sales for your product category and understand if you are present in the right channels. Are there any emerging channels that are important for your product?
5. Store execution: Finally, identify the right stores within the market and the channels that are important for your product and make your product available to your customers. See how you compare against your competition when it comes to availability of products.
---
Deep dive into the district dynamics of India
Granularity of data reveals insights that can help make better decisions. District Dynamics Reporting (DDR) from NielsenIQ provides you with a deeper, more granular look into "district clusters" across States, to help you with your distribution strategy and planning and marketing activation.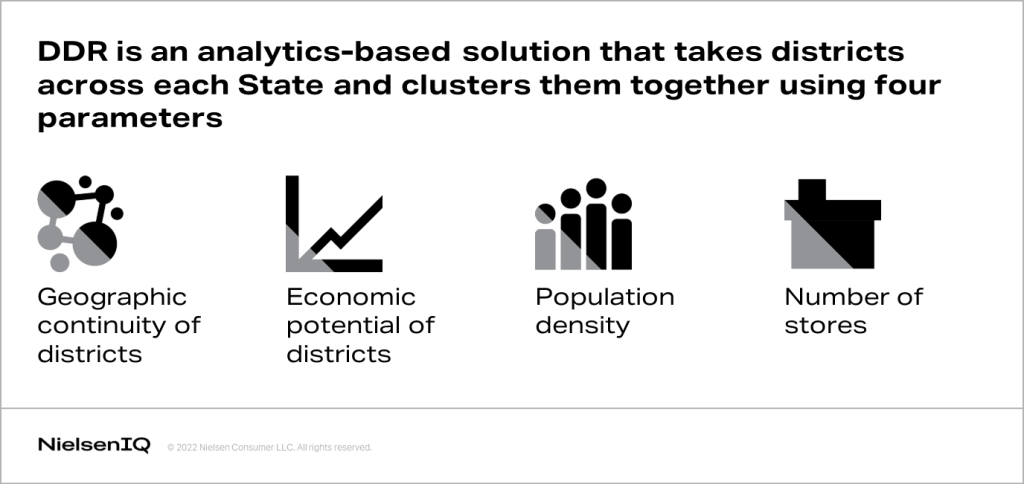 With DDR, we have identified 82 district clusters across Indian States, which help provide an understanding of key FMCG categories up to a sub-brand level and across key reporting dimensions of value, volume, and distribution.
Combined with Retail Measurement Services and Advanced Analytics solutions from NielsenIQ, you can get a complete understanding of the retail landscape, to make data-backed decisions for your business.
---