Shifting shopping behavior and experience 
Online shopper behavior is very different in nature compared to in-store behaviors. Consumers read product reviews, compare prices, and become distracted by the internet while e-shopping. Marketers face new, online-specific challenges like building loyalty and making the consumers complete their purchases.
On the positive side, e-commerce is now seen as an "upgraded" experience to consumers. NielsenIQ found that 53% of consumers have a positive impression of the online store experience, while 18% said the same about the physical store experience. An examination of consumer behavior yields that a wide selection of products, time savviness, and convenience of delivery are the most appealing factors in shopping online. The in-store experience is still a key online barrier factor in Europe and South Africa, but easy browsability, compelling shopping experiences, and social proof are essential tools that can enhance brand loyalty and compel consumers to return to certain online platforms. 
---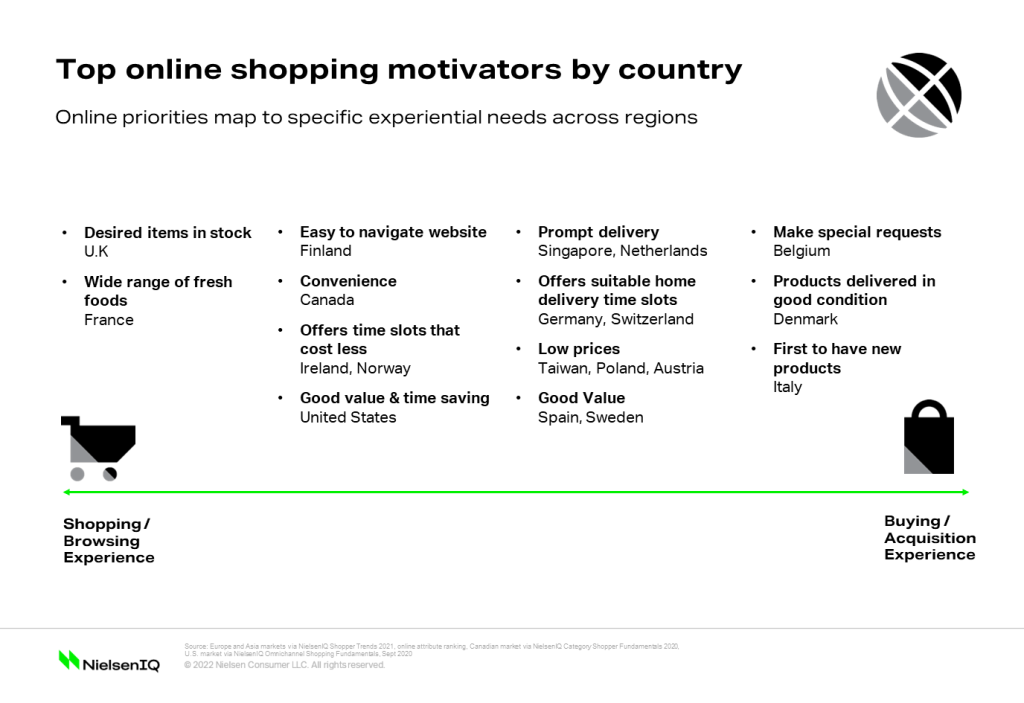 ---
The rising value of omnishoppers
Understanding online shopping experiences requires more than a stand-alone approach. Customer journeys are more complex thanks to a wider array of opportunities. There are benefits to both online and offline shopping, such as browsing product selections online while examining products in-store. 
Focusing on both physical and virtual stores, as well as managing to streamline both, requires significant effort, but the investment promises remarkable reward in growth.  
In the U.S., consumer goods omnishoppers spend 23% more than those who shop exclusively in physical stores. In India, considering average monthly spend for grocery, omnishoppers spent 1.5 times more in 2021 than 2020, while only physical store shoppers' spending stagnated. A similar trend has occurred in Thailand, where among omni-channel consumers, online spending is twice as high when compared to offline spending. 
Omnishopping can bring not just multiple sales but also a more valuable opportunity to engage and enhance trust among consumers when utilizing both online and offline platforms and capabilities.  
In China, online-to-offline (O2O) commerce relies on identifying and drawing potential consumers via online channels and funneling their purchase interest to traditional brick-and-mortar stores.  The O2O channel saw significant sales growth, in addition to nearly doubling purchase frequency among shoppers in 2020. Hence, converted omnishoppers have great potential to drive long-term wallet share growth for companies.  
 As e-commerce takes another step towards the next stage of evolution, the quality of the online experience will play a key role as a differentiator between online players. Frictionless online purchases, as well as integration between online and offline channels, are fundamental for winning online. Therefore, monitoring online shopper needs and providing compelling shopping experiences have the benefit of holding customers' attention in the crowded e-commerce market.