Inflation driving FMCG growth
The rising cost of goods is making Australian consumers cautious about spending. According to a NielsenIQ survey, 80% of Australian consumers stated that their normal weekly shop costs more than it did six months ago. NielsenIQ Homescan data also shows that the average unit price of groceries rose by 6.1% in Q1 2022 year over year with categories such as frozen foods recording a 7.7% increase, bakery a 6.1% increase, and dairy a 4.9% unit price increase.
However, it's not all doom and gloom. Despite the higher prices, consumers are making trade-offs and reducing their discretionary spending to pay for basics such as transportation, groceries and utilities. In fact, FMCG is showing steady growth for the past three quarters in Australia, recording a 3.7% uplift in Q1 2022 compared to last year.
---
Discounters and promotions to cope with rising costs of goods
The majority of Australian consumers are trying to manage their grocery spend through various strategies. While 44% Australians show brand loyalty and will wait for their preferred brand to be on promotion, 29% will buy whatever brand is on promotion, indicating that brand switching is also prevalent.
According to our survey, even the most financially hit shopper segment is becoming more resilient to price increases and is managing their grocery budget by shopping at discounters, buying on promotions, and purchasing private labels.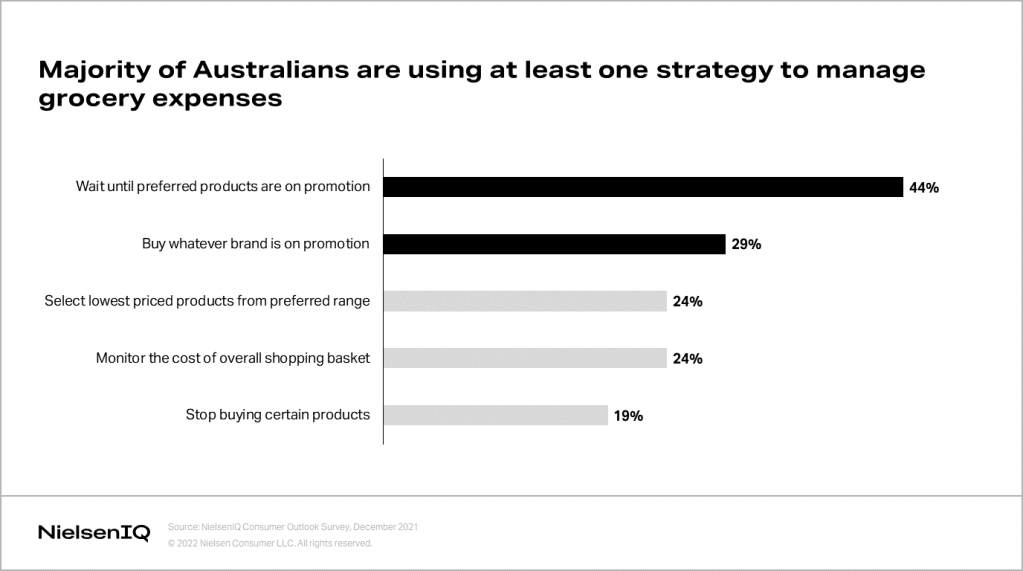 ---
Key strategies to win in 2022
Despite the outlook on continued FMCG growth, there are various factors suppressing the Australian retail landscape in 2022 including constrained wallets caused by inflationary pressures, shifting consumer priorities, and constant demand for more promotions making it unsustainable in the long run. To mitigate the risks rising from these pressures while retaining consumers and protecting profit margins, retailers and manufacturers need to take holistic approaches across price, product, communication, operational innovation, and channel expansion.
---
Optimise prices
In the current inflationary environment with consumers always on the hunt for discounts and promotions, it is important that you understand the price sensitivity of your brand. Hasty price changes that you make to your brand may impact your sales.
According to NielsenIQ Everyday Analytics*, with every 1% increase in regular price, we see a drop in sales volume to various degrees. For instance, a 1% hike in price of laundry detergent caused a decline in volume by 2.6%. Similarly, pasta and biscuits saw a 2.5% decline in volume. Different products react differently to price changes; hence, it is necessary to take a portfolio approach to pricing to minimise the impact on sales while optimising promotions to increase sales volume and reduce cost pressures.
---
Redefine value for consumers
The top five values for Australian consumers nowadays are identified as:
Affordable
Australian
Environmental
Sustainable and local
Among these, affordability is the most important attribute for the majority of Australians considering the current price-sensitive environment.
To offset the negative sentiment from rising prices, retailers and manufacturers should be able to present value from the product, allowing consumers to feel that they're gaining more for the extra money they're spending.
---
Innovate operations
In terms of longer-term strategies, retailers and manufacturers need to understand the key transformations impacting business in the near future and the operational innovations needed to ensure business sustainability.
This includes tapping onto renewable energy to mitigate rising costs of energy, localising sourcing to prevent disrupted supply chain, catering to polarised consumer groups to unlock new areas of consumption, automating and investing in technology to reduce the cost of goods sold, and planning for alternative value chains such as regenerative agriculture, vertical farms, and lab-grown ingredients.
---
Expand across channels
Shopping is becoming more and more fragmented with multiple channels and methods for fulfillment—discount, convenience, supermarkets, pharmacy, online, food delivery, and more. The concurrent rise of omnishoppers creates an even more complex environment for retailers and manufacturers.
Therefore, an omni strategy is critical for long-term success—identifying areas of risks and opportunities, developing pricing strategies to maximise returns, and preparing for new innovations to improve consumers' shopping experience, including staff-less stores and faster delivery.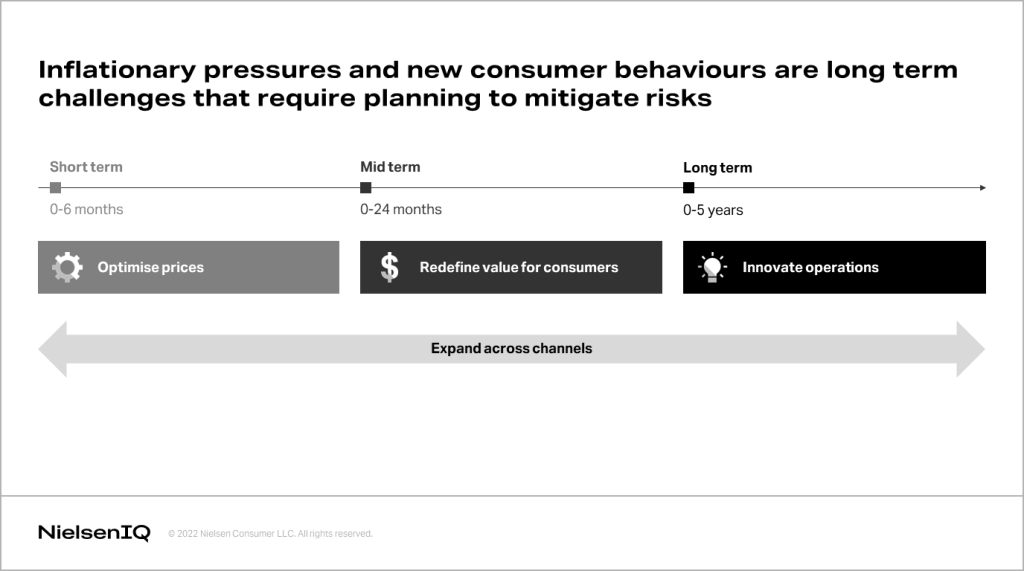 ---
Adaptability and agility is essential to win
In this dynamic environment, you need to make informed decisions rooted in data and insights about the retail and consumer landscape in Australia. You need to strategise to mitigate costs, cater to evolving consumer needs, and lead industry changes by embracing new technologies and methods. Retailers and manufacturers must prepare for the continued retail transformation understanding that "one size for all" is not a viable option anymore.