Proses Pengambilan keputusan
Kami membuat ribuan keputusan setiap hari, kebanyakan dari keputusan itu kecil dengan dampak terbatas—apakah saya ingin gula dalam kopi saya hari ini, misalnya. Tetapi beberapa cukup besar, dan keputusan yang salah dapat memiliki dampak serius bagi produsen FMCG kecil dan menengah.

Keputusan kami dipengaruhi oleh beberapa faktor. Ketika sampai pada keputusan bisnis strategis, kita sering terjebak dalam dilema keputusan. Menemukan dan memutuskan oportuniti pertumbuhan bisa menjadi salah satunya.

Mari kita lihat tiga area besar dimana oportuniti pertumbuhan dapat "ditemukan".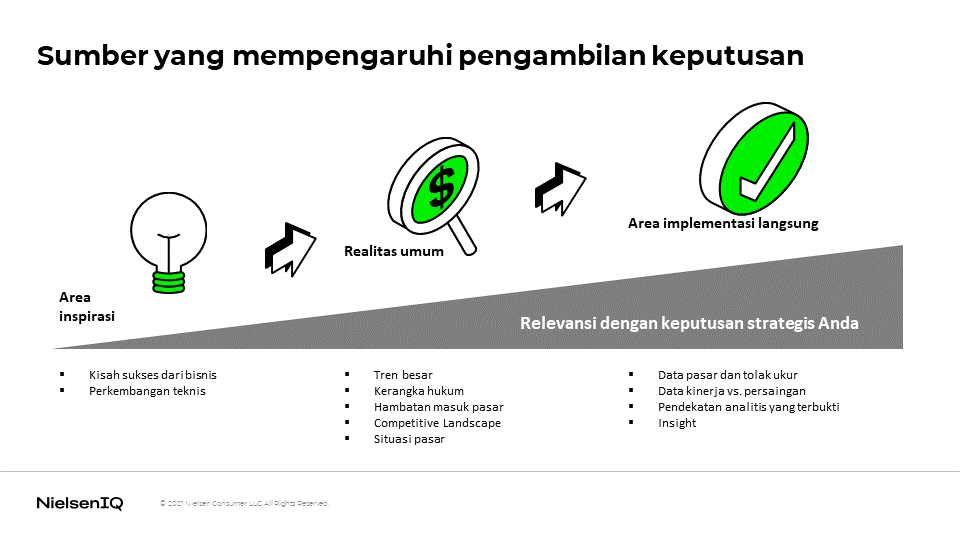 ---
1) Area inspirasi
Tidak diragukan lagi, inspirasi itu penting. Inspirasi adalah benih untuk potensi kesuksesan di masa depan, bahan bakar yang mendorong pemikiran "out-of-the-box" kita. Di luar aspek-aspek ini, inspirasi juga berdampak pada kesejahteraan kita.
Namun, kita tidak tahu kapan dan di mana inspirasi akan datang, dan kita tidak dapat memaksakan mereka untuk datang. Tetapi kita dapat mencoba membantu menciptakan lingkungan yang kondusif untuk mendatangkan inspirasi.
Mengekspos diri kita pada "masukan" baru, membaca, mendengarkan, menyaksikan bagaimana orang lain mencapai sesuatu—atau seberapa besar cara mereka gagal! Topik yang dekat dengan realitas kita tampaknya menjadi cara tercepat bagi inspirasi untuk datang, namun, inspirasi memiliki kekuatan untuk "cross-pollinate". Misalnya, tahukah Anda bahwa bubble wrap awalnya ditemukan sebagai wallpaper plastik 3D?
Jadi, bisakah Anda mengandalkan inspirasi? Tidak. Tetapi Anda harus memberi ruang untuk itu sehingga memiliki kesempatan untuk datang.
---
2) Realitas umum
Bagian ini mengacu pada realitas umum yang memiliki sedikit pengaruh langsung terhadap setiap individu. Ini mencakup aspek-aspek seperti mega tren atau kerangka hukum dan bahkan perkembangan politik dan ekonomi.
Kita beroperasi di bawah realitas umum ini. Kita memiliki aturan dan regulasi yang harus dipatuhi dan tentunya memiliki pengaruh terhadap strategi dan setiap pendekatan. Situasi pasar dan competitive landscape akan terbangun di lingkungan seperti ini.
Namun, satu kesamaan dari realitas ini adalah realitas ini jarang berubah dengan cepat dan jarang terjadi pergeseran yang besar, dan biasanya membutuhkan banyak waktu untuk berubah.
Ada oportuniti yang muncul dari situasi ini, tetapi waktunya tidak dapat kita prediksi. Misalnya, veganisme dan vegetarianisme muncul di awal 1000 SM, tetapi baru mulai menjadi topik utama dan menjadi salah satu kategori dengan pertumbuhan tercepat di FMCG sejak pertengahan 2010-an.
Bisakah Anda mengandalkan keadaan umum untuk pertumbuhan? Karena lambatnya perubahan, peluang baru tidak sering muncul. Waktu Anda harus tepat dan investasi harus seimbang.
---
3) Area implementasi langsung
Kami tahu bahwa bukan hal yang mudah untuk merealisasikan ide. Anda harus menyeimbangkan antara biaya yang dikeluarkan versus biaya peluang ketika memutuskan untuk berinvestasi dalam sebuah ide. Jika Anda menentang ide yang berpotensi bagus hanya untuk melihat pesaing melaksanakannya… itu akan sulit untuk diterima.
Untuk membuat keputusan yang tepat, pastikan proses review Anda berbasis data dan mengikuti analisis dan kesimpulan. Alur ini akan membantu Anda membuat keputusan secara langsung dan dengan percaya diri—kata kuncinya adalah kepercayaan diri.
Jadi, dapatkah Anda mengandalkan implementasi langsung? Itu tergantung pada tingkat kepercayaan yang Anda miliki kepada metode ini. Jika data dan analisis Anda solid, mereka dapat memberi Anda insight yang solid. Tetapi jika Anda mempertanyakan data atau metodologi, Anda akan terus merasa ragu tentang keputusan Anda, yang dapat menyebabkan waktu membuat keputusan menjadi lebih lama atau meningkatnya penggunaan keputusan berdasarkan intuisi. Sebuah dilema yang pernah diutarakan Arthur C. Nielsen sebagai, "The price of light is less than the cost of darkness".
Saat ide untuk pertumbuhan dapat berasal dari ketiga area tersebut, pada akhirnya penting untuk selalu membuat keputusan dengan percaya diri, apakah ide tersebut akan dilakukan atau tidak. Informasi mendasar yang mendasari keputusan Anda harus merepresentasikan apa yang sebenarnya terjadi di pasar, yang berarti Anda harus memiliki kepercayaan pada data yang digunakan. Tetapi tidak hanya data yang menjadi jawabannya.
Analisis yang dilakukan berdasarkan data harus benar, yang berarti Anda harus memiliki kepercayaan pada metodologi yang digunakan dalam analisis. Hanya dengan begitu Anda dapat memperoleh insight yang tepat. Di masa lalu mendapatkan data yang andal, konsep analitis, dan interpretasi ahli sangat mahal sehingga hampir secara eksklusif digunakan oleh perusahaan besar, atau ada keperluan trade-off. Anda mungkin telah menerima data berkualitas lebih rendah atau sumber daya yang kurang ahli untuk menginterpretasikannya.
Ini tidak lagi diperlukan—kami dapat membantu Anda dengan solusi yang mudah digunakan dan terjangkau secara eksklusif untuk perusahaan kecil dan menengah.