Don't cut your ad efforts, especially for new products
Digital has transformed the way we work, live, and buy.
Trends like hyper personalization, smart homes, cities, and the need for convenience are all affecting consumer behavior and have increased digital's importance.
This is also reflected in our Breakthrough Innovation winners globally, as we are seeing that having a strong social presence is now established as an essential part of a holistic approach to innovation activation.
The novel coronavirus (COVID-19) pandemic has also contributed to consumers' increased adoption of online shopping and their increased online media usage. While many companies are cutting their marketing budgets, digital marketing channels have been leading the way above all others in terms of spending. Many manufacturers are redirecting their in-store and below-the-line (BTL) budgets into digital and trying to find the best possible ways to reach their consumers without having any in-person touchpoints.
And it makes sense: Consumers are spending more time at home and buying more products online—products that they would normally buy in stores. Consequently, companies can expect better return on their investment (ROI) in online ads, banners, and other forms of digital advertising.
When considering new launches, the role that advertising plays is consistent: Advertising drives awareness, awareness drives trial, and trial drives volume. It makes sense, therefore, that when compared with existing products, new products are more reliant on advertising support to grow.
While global ad spending will decline by 4.9% worldwide this year, a significant drop from last year's 6.3% growth, worldwide digital ad spending will grow 2.4% this year.
According to NielsenIQ custom analysis, on average, brands realize 47% of their marketing efforts after one year. With global advertising spending estimated to be back to growth in 2021 (12.9% growth), you should not be cutting your advertising efforts, especially for new products.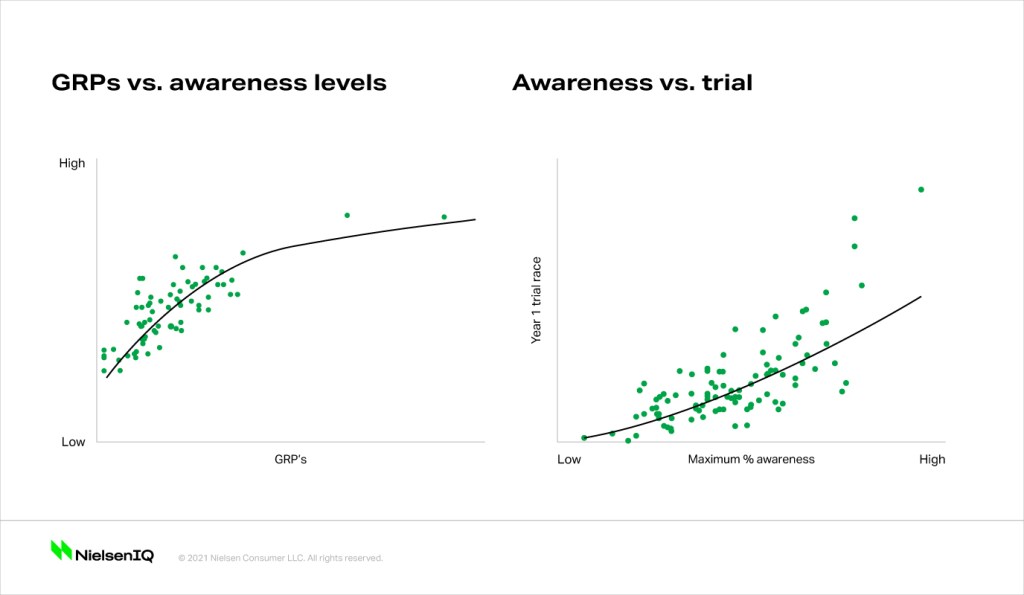 Know the limits of digital advertising
Over the past few years, digital media spending has risen at a rate that outpaces TV spending. While digital carries distinct advantages that benefit most marketing campaigns, such as driving incremental reach, more-precise targeting, or personalization of advertising messages, digital also has its limits, and it is important to know them
As markets become more sophisticated and media saturates, digital ROI looks similar to traditional TV ROI.
Over time, saturated and more-sophisticated digital markets (like China) see a similar ROI for digital and traditional media. This is due in part to a significant increase in prices for purchasing digital content to appropriately capture its value.
The most common digital vehicles are limited in how much information they can communicate, making them less effective for helping launch new products (which often need more education).
Let's take banners, for example. Banner ads operate similarly to a TV "tag": A reminder of a product's existence, but not much more. And while they perfectly serve the needs and purposes of established brands, they may not be a great fit for new products, which need to explain benefits and establish credibility.
Digital provides incremental reach, driving awareness
If you consider how consumers make their choices, the growing importance of e-commerce and social media, you have no choice but to pay close attention to online reviews and gauge how much of an asset they represent for your innovations. Not only do consumers claim they pay attention to reviews, but you can actually trust them, as posts closely correlate to long-term performance.
Poor consumer experiences can be immediately shared online and cause widespread impact to brands. We found that 22% of consumers claim they will not buy after reading a negative review, and that goes up to 59% when consumers see as few as three negative reviews.
This is particularly important for new products that start with no awareness. Digital media has less reach than TV and saturates much faster. If a marketing strategy is too targeted and digital heavy, it will miss many interested consumers. Those consumers are important: 40% of volume sales comes from the 80% of buyers who are infrequent purchasers.
Digital drives incremental reach, and has therefore become a critical advertising vehicle. Moreover, as digital media consumption and e-commerce increase, companies must consider both as a larger part of marketing plans and use them in combination with offline media to accomplish the main goal of advertising: driving awareness.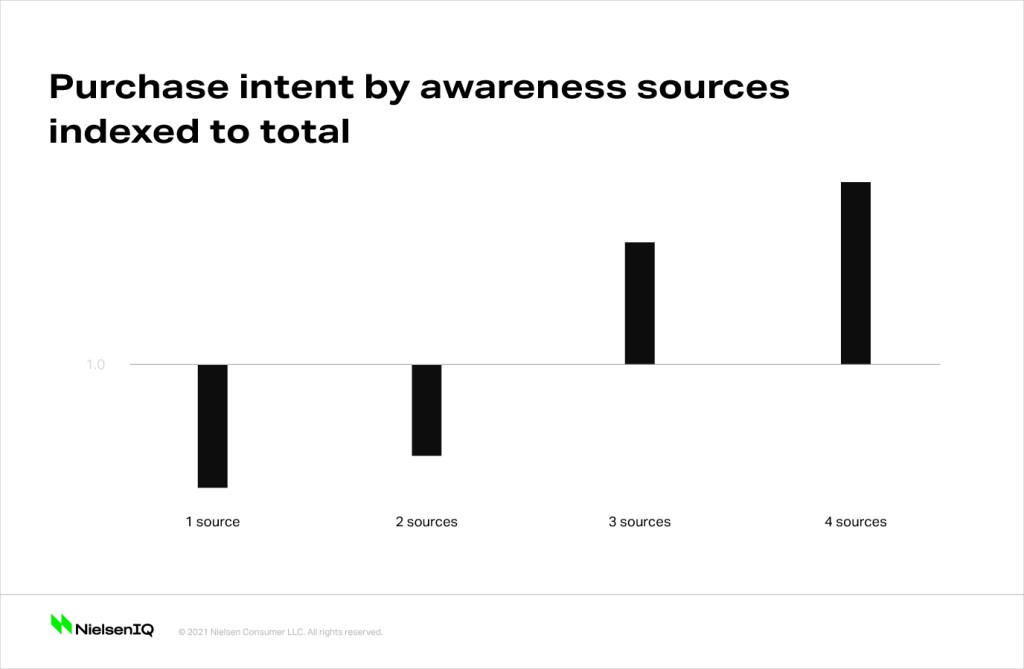 Balancing your digital media plan with traditional advertising
So how can one optimize their digital media plan?
Reach and creative remain the largest differentiators for advertising performance, which is why it's so important to have a compelling proposition.
In addition, marketing campaigns should aim to reach people across multiple channels to drive product trials. Cross-platform media plans outperform TV- and digital-only plans, and we consistently see an amplification effect where people are exposed in more than one environment. A campaign reaching more people fewer times will generate a stronger ROI than a campaign reaching fewer people many times. This further supports the role of digital media as part of a comprehensive plan to reach consumers.
Mixing media across vehicles not only builds awareness for your initiative, but it builds awareness for an entire brand. This halo effect will improve ROI across product launches.
With this in mind, there are several key considerations that should be made when leveraging digital for new product launches.
How complex is your message?
Can the benefits of your new product be communicated by the "flashbulb" of a banner ad, or do they require additional explanation?
How targeted is your audience?
Is your audience easily reached through mass channels, or are specific websites and highly targeted tactics necessary to reach the core buyer group?
What is your budget?
Will marketing budgets allow for a robust, broadly reaching campaign, or will resources only allow for a pared-back campaign?
What is the objective for your initiative?
Are you aiming for the next category superstar, or are you comfortable with routine innovation designed to defend against competition?
A healthy balance of traditional and digital is important, and digital should be part of a holistic approach to activation in order to drive optimal reach and efficiency. Digital media vehicles carry a wide range of benefits and potential returns, but you need to ensure that the digital vehicle matches the level of communication needed for your innovation.