Three recovery trajectory scenarios
At the end of 2021, NielsenIQ mapped three recovery trajectory scenarios based on how COVID-19 and its variants could impact how we live and the impact on the industry.
Variant lite is a scenario where there is a successful and swift rollout of vaccines that can significantly reduce the impact of COVID. In this scenario, we'd see markets reopen and travel resume. Returns to out-of-home lifestyles and subsequent slowdowns in in-home consumption would have major implications for the FMCG industry. In this scenario, we anticipate that consumption would go back to pre-COVID levels with consumers directing more spending back to travel, entertainment, and sports activities. E-commerce and omnichannel sales would remain strong amid a bounce back in brick-and-mortar retailing.
Variant mid is the second scenario in which we consider ongoing COVID cases and the complicating factors that may arise, including issues with vaccine production and distribution, and new variants that would make vaccines less effective. In this scenario we'd expect relative stability, with the possibility of new outbreaks that warrant renewed mobility restrictions in markets where the pandemic was previously under control. Take the Omicron variant, for example; some people are making personal choices to go out while others carry on with restricted social routines. We see these behaviors leading to continued increases in at-home consumption. As consumers redirect their spending to these in-home occasions, online shopping will continue to grow, along with the FMCG products that increased sales during restrictions.
Variant max is the third scenario that would see overall deterioration in social conditions. Insular market behaviors would increase along with rising COVID cases, resulting in polarization. In this scenario, in-home consumption would drive growth and offline sales would decline, however, the overall balance would be maintained for FMCG sales. There would be a need for recalibrations to cater to the needs of cautious and constrained consumers. Due to safety and mobility restrictions, e-commerce and omnichannel sales will flourish.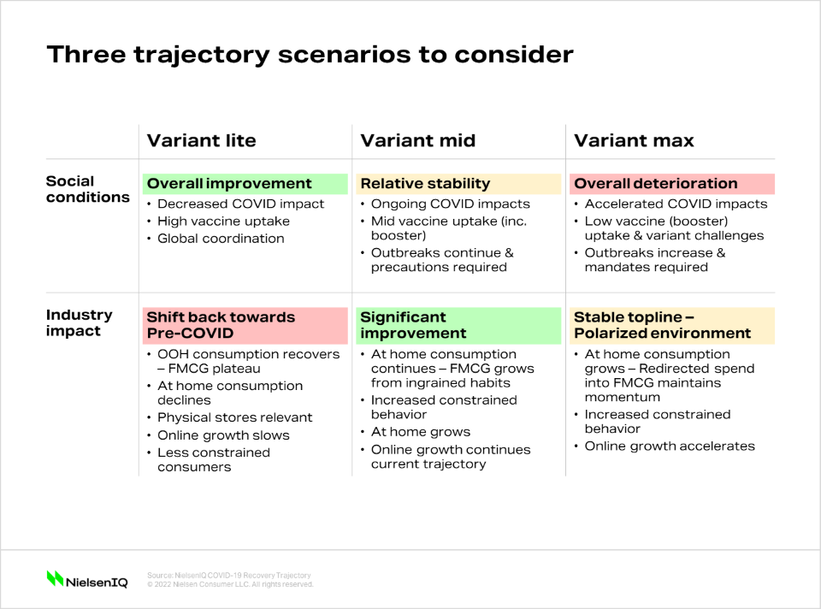 ---
Complete and timely data
While there is no way to predict which among the three trajectories will play out, NielsenIQ has observed a rebounding Asia Pacific region, with close to 6% overall growth in total FMCG sales compared to 2019 (pre-pandemic). Further, NielsenIQ's Retail Measurement Services (RMS) data revealed that among the 14 APAC markets, 9 are on the rebound (Australia, Chinese Mainland, India, Indonesia, Korea, Malaysia, New Zealand, Singapore, and Taiwan). Markets that are showing signs of recovery from the pandemic and are projected to move into what NielsenIQ classifies as a "revival" phase by the end of 2022 include the Philippines, Hong Kong, Myanmar, Thailand, and Vietnam.
With health and wellness occupying the minds of Asia Pacific consumers, retail audit data further shows sustainable growth in the over the counter (OTC) and health supplement categories. The increased demand, however, means increased competition and acquisitions, transcending to new categories as players try to win in the Consumer Health space.
While demand is increasing, so is the rising costs of goods. In this environment, the key to winning is more internal efficiencies to better manage inflationary pressures.
A NielsenIQ BASES survey shows that price is the foremost consideration in buying online for close to 60% of consumers in the Asia Pacific region. This reinforces the importance of succeeding in the e-commerce space. E-commerce retailing is becoming more complex due to increasing competitive intensity. Just like in the offline world, manufacturers and retailers who intend to play to win cannot navigate it without a guide. In e-commerce, one needs to track and execute strategies with daily data, online share of shelf information, and ratings.
Growth opportunities in Asia Pacific exist and outperforming pre-COVID sales is possible. FMCG manufacturers and retailers can better control their destinies by using accurate and timely data and insights to make smarter business decisions.