Back to growth
The FMCG industry in Asia Pacific reentered a period of growth in 2021 according to a deep dive analysis of the state of the FMCG industry. According to NielsenIQ's Retail Measurement Services (RMS) data, nine out of 14 markets in Asia Pacific are on the rebound after a pandemic-induced dip. A strong focus on health and wellness, the mitigation of inflationary pressures, and e-commerce bolstered growth last year.
---
Looking back at 2021
We examined the state of the markets across the Asia Pacific region by comparing 2021 growth against two periods: 2020 when the pandemic first hit, and 2019 pre-pandemic. In doing so, markets were identified across three phases of recovery:
Reinvent – Markets experiencing declines in FMCG value sales across both 2019 and 2020
Reboot – Markets are growing in comparison to 2020 but declining versus 2019
Rebound – Markets showing growth versus 2019 and 2020 in FMCG value sales
NielsenIQ's RMS data reveals that Asia Pacific is on a continued path to recovery with almost 6% growth in 2021 compared to 2019 and 4.3% growth versus 2020.
---
Markets on the rebound
Out of the 14 markets, nine markets comprising Australia, Chinese Mainland, India, Indonesia, Malaysia, New Zealand, Singapore, South Korea, and Taiwan have led the growth for the region to gain this rebound status. Among these markets, Singapore, Australia, India, and New Zealand are showing double digit growth versus 2019.
---
The Philippines reboots to grow
The Philippines is the only market classified under reboot, meaning it will take more time for the market to rebound. Although the Philippines FMCG has started to recover against a difficult 2020 with 4.5% growth, it was not enough to go back to its level in 2019 or counter the 5% decline from 2019.
---
Markets need to reinvent to recover
Four markets exhibiting sustained declines across both 2019 and 2020 are classified under the reinvent bucket: Vietnam, Thailand, Hong Kong, and Myanmar.
The impact of the pandemic coupled with political unrest has contributed to the steep declines in the FMCG industries in Hong Kong and Myanmar. In Thailand, where 20% of its economy is driven by tourism, which was heavily impacted by Covid restrictions, it did not come as a surprise that 88% of consumers that were surveyed in the NielsenIQ Unlocking Consumption global survey are feeling financially constricted.
In the case of Vietnam, the challenges of the four waves of COVID and lockdowns on the Ho Chi Minh region, which accounts for about 22% of the total market GDP, has seen a dip in GDP for the first time in over 20 years with services, construction, and manufacturing all being impacted.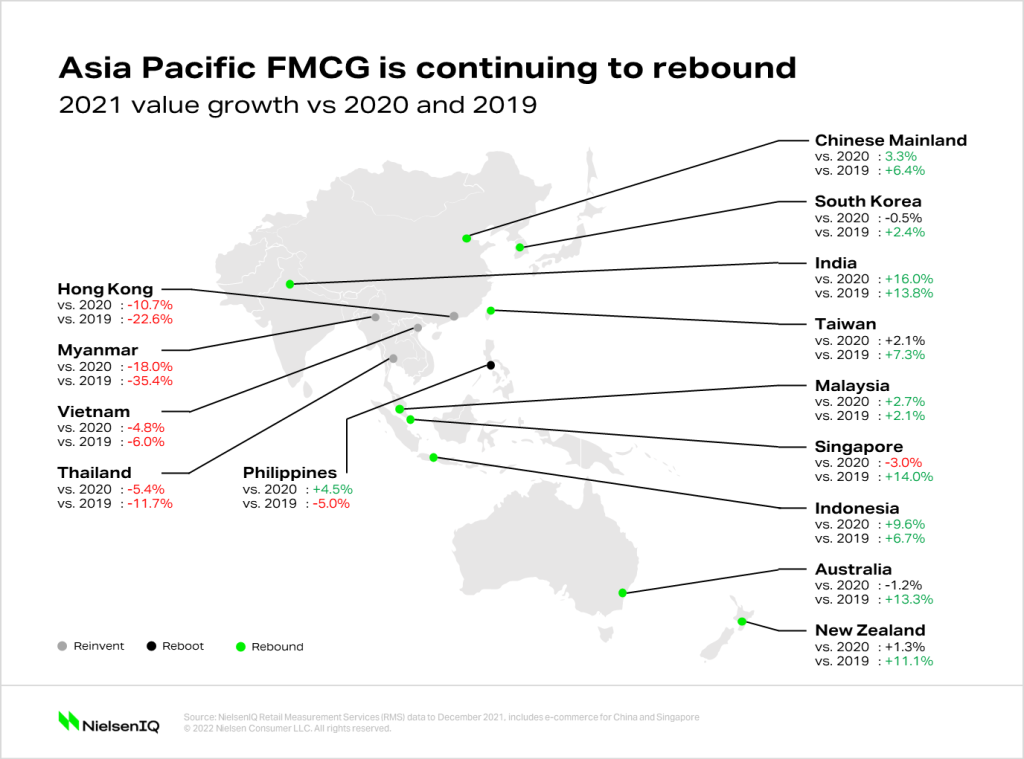 Cause for optimism in 2022
Yet by the end of 2021, the four markets under the reinvent phase began showing signs of recovery. The reopening of the Vietnamese and Thai economies is paving the way for a more positive outlook in 2022. In fact, FDI (foreign direct investments) in Vietnam was up for the first two months of this year, and with the continuing resumption of market activities, the government has projected a GDP increase of about 5-6% growth this year. As Thai tourism resumes, NielsenIQ anticipates its FMCG industry to recover.
The Philippines is expected to join countries in the rebound bucket by the end of 2022. Among the nine markets that are on the rebound, Singapore and Australia saw record growths in 2020 and were able to maintain the higher base against 2019. Health and wellness, the continuing surge in at-home consumption, and the stable ascent of e-commerce are the trends that will further push the growth for these markets.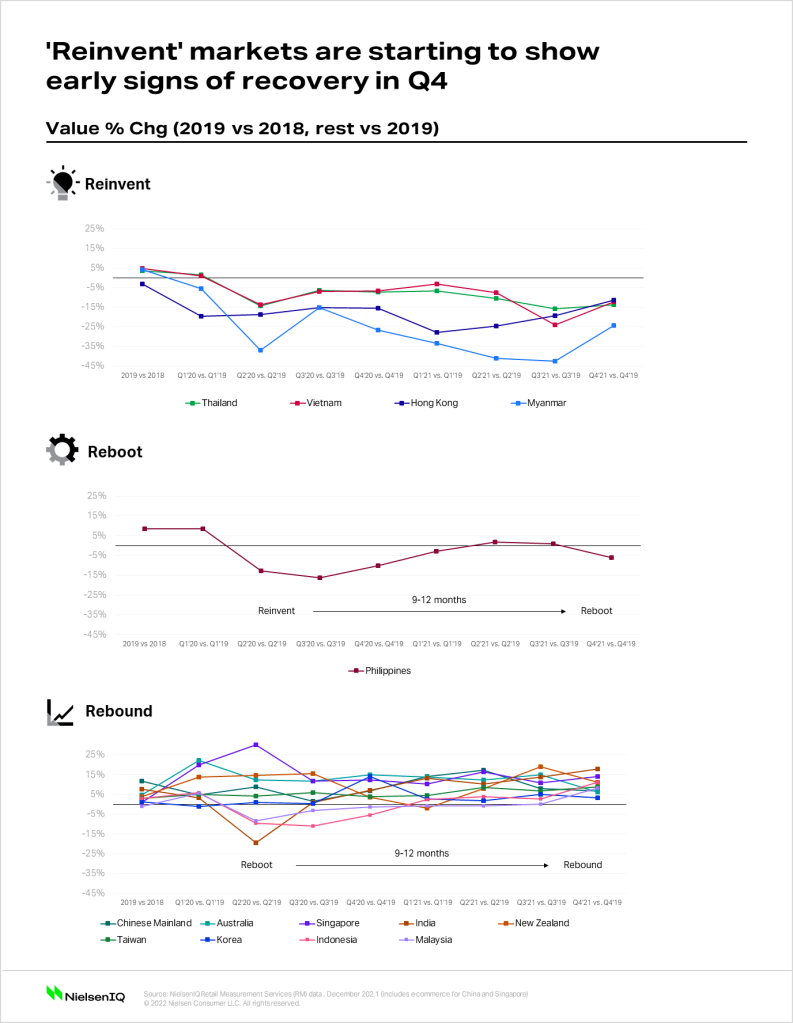 Three keys to success in 2022
As in 2021, to continue the path of recovery this year, FMCG companies in the region must reallocate resources to tap into health and wellness and e-commerce and focus on improving efficiencies to reduce the effects of inflation.
Health and wellness
Health will remain a focus for consumers and continue to be a winner for the FMCG industry going forward. In fact, in a recent NielsenIQ global health and wellness survey, more than half (54%) of consumers in Asia Pacific said that they are proactive about health and wellness. Further, retail measurement data shows the OTC (over the counter), and health supplements category is consistent in its substantial growth with 18.5% increase in 2021 versus 2019, and 16.1% growth in 2021 compared to 2020.
Increasing efficiencies to mitigate inflationary pressures
The rise in the cost of goods is inevitable. It is critical for FMCG manufacturers to improve efficiencies in distribution by identifying the 'Golden Stores' (20% stores that contribute to 80% of sales), optimizing assortment to ensure the right product is in store and in retail channels, and optimizing price & promotions to maintain profitability.
Make the most of acceleration in ecommerce
As a retail channel, e-commerce now accounts for nearly 20% of FMCG sales and is the second biggest retail channel after traditional trade in Asia. Our RMS and Consumer Panel data further show that e-commerce has increased its importance by 50% from 2019. To benefit from the growing relevance of e-commerce in the region, FMCG brands and retailers must understand how the success measures of the online world differ from that of offline.