The cost-of-living crisis impacts consumers across the economic divide
According to a recent NielsenIQ analysis of the current global consumer outlook, 1 in 2 consumers feel less secure about their country's economic stability returning before the end of 2022. In addition, approximately 33% feel insecure about their personal financial situations in relation to meeting day-to-day expenses. Sixty-three percent of consumers blame the increased cost of living for their worsening financial situations, causing them to be more frugal, even as the retail industry races towards important shopping seasons.
This surge in living costs has impacted each of the five consumer groups that NielsenIQ has been tracking since January 2022.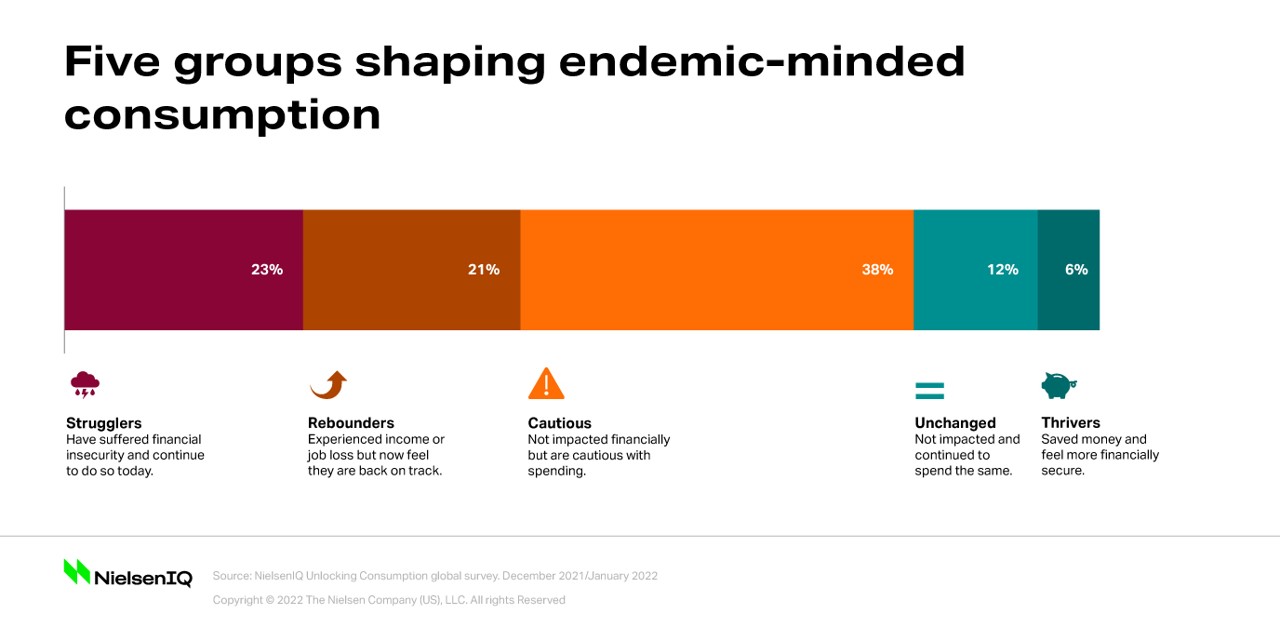 As prices rise and create financial problems for many, consumers are responding by changing their shopping behaviors and preferences to ensure they can meet daily expenses. From strugglers to thrivers, the top three primary causes of financial concern for consumers across the globe are food and grocery costs (57%), gas prices (49%) and utility costs (38%).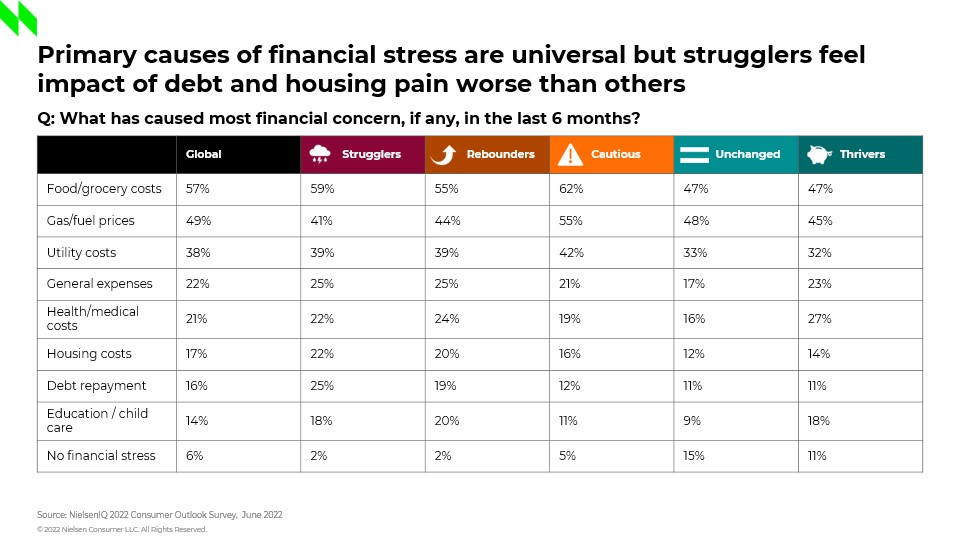 Recent figures from retailers show that all, not just low-income groups, are pulling back on their spending. In fact, Walmart's Q2 FY23 earnings report highlighted that 75% of its market share gains came from households earning greater than $100K. The discount retailer also reported that its 8% increase in total sales was driven by growth in the grocery and household essentials categories.
---
The cost to consume is rising around the world
External pressures on consumers' day-to-day spending differ around the world. For example, NielsenIQ estimates that while the average cost of food for U.K. consumers will add an additional £500 to their overall spend this year, U.S. consumers can expect to add an additional $481 to their total grocery food bill.
This is because certain categories, like pasta and edible oils, are seeing price increases globally. For some markets including the U.S., U.K, Mexico, and Poland, inflation has become a broad issue affecting multiple categories. In other markets, steep price increases are isolated to just a few categories.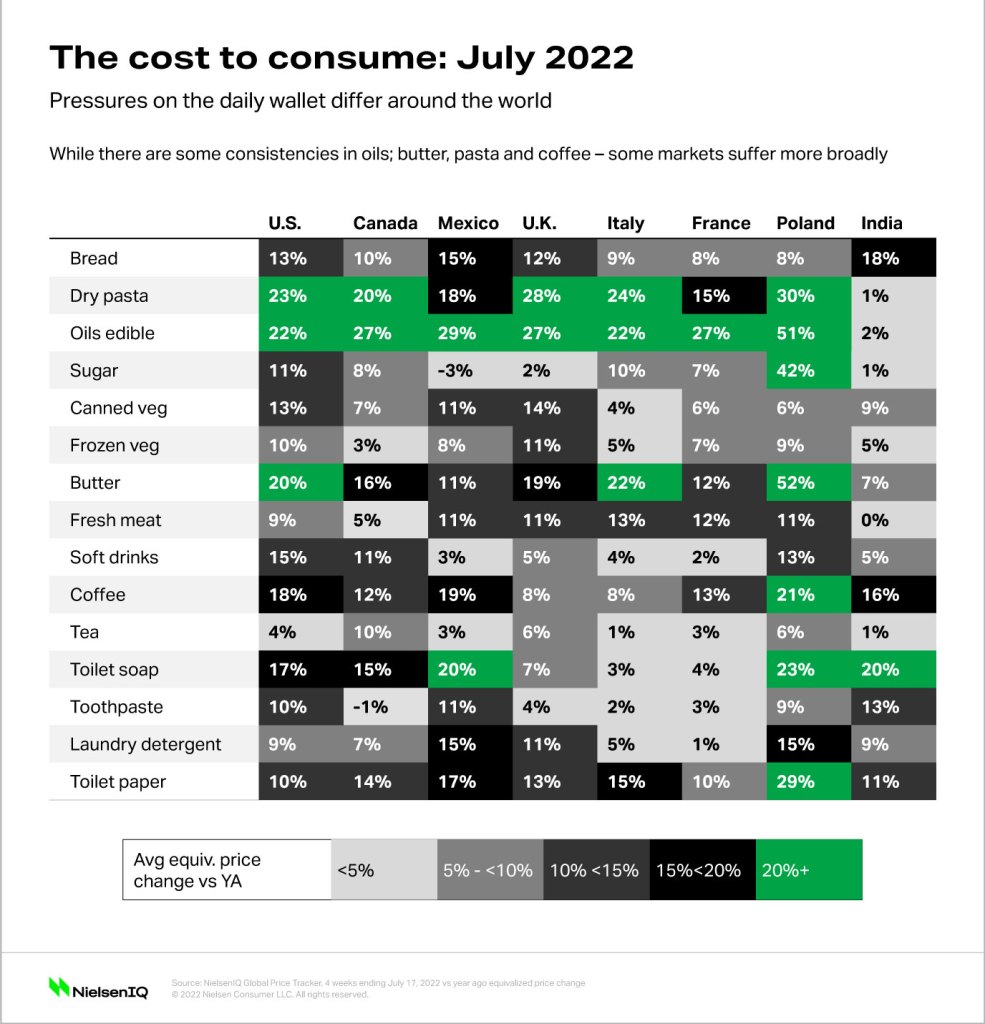 This could explain why some areas of the world, like Italy, consumers started noticing an increase in grocery prices more recently (75% in June 2022 vs 31% in December 2021) In other markets, like Poland, consumers have been feeling the strain of higher prices for some time. However, it is important to recognize that increased grocery prices are just one of the inflationary pressures causing financial stress for consumers. More Italians say gas and fuel prices are the key drivers of financial stress while Polish consumers are feeling the cost-of-living strain due to fuel and food prices.
With no signs of relief from inflationary pressures, it is understandable why so many consumers around the world are cutting back on discretionary spending in various categories. This includes consumer groups that have not been impacted financially, such as thrivers, unchanged, and cautious. Staples like food, groceries, shelter, and utilities will continue to take precedence over bigger ticket items like car purchases, taking vacations, dining in restaurants and more. This disruption in shopper attitudes is expected to be indefinite because 59% of consumers believe that we are currently in a recession or are about to be in one.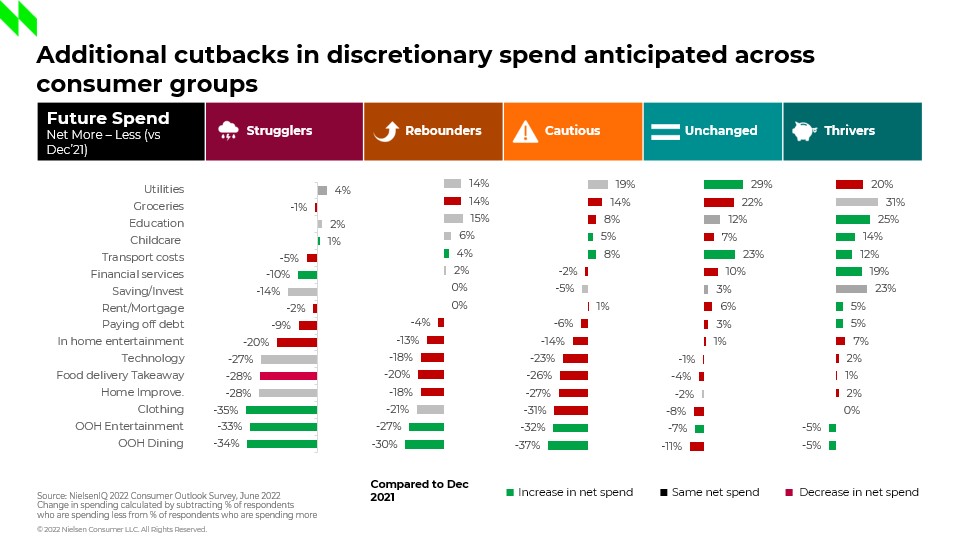 While many are concerned about the prospect of a global economic slowdown, in North America, there are strong signals that both Canada (75%) and the U.S. (42%) are already well on the way towards a consumer recession. Inflation and current recession uncertainty, combined with ongoing pandemic-related social and lifestyle disruptions, have pushed consumers around the world to shift priorities and continue to change what they intend to spend on. Uncertainty about what the future holds is pushing consumers to seek out affordable options for everyday essentials.
"We are entering 'the age of thrift', where consumer spending decisions will be more considered, cautious, and calculated throughout 2022 and 2023 as they weigh up what is critical and important and reshuffle priorities," stated Nicole Corbett, Vice President of NielsenIQ Global Thought Leadership.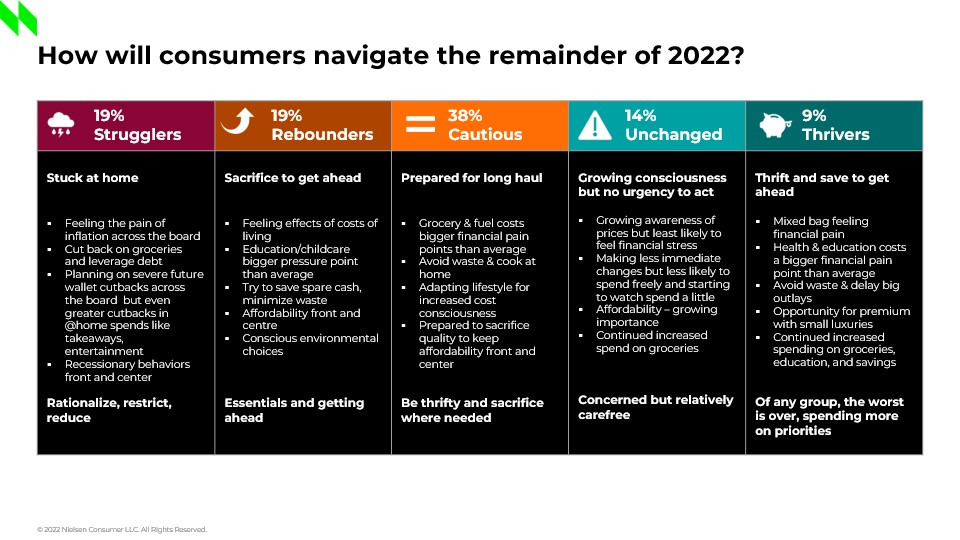 This article is part of Navigating 2022, a series about the impact that inflation will have on consumer shopping habits