A marked drop
According to NielsenIQ's OSA Barometer, at the end of April 2022, the year-to-date OSA rate for baby formula across the country had dropped from 89.9% in 2021 to 85.4%. For context, the average OSA rate for all CPG products in the U.S. is 93.3% this year—highlighting the troubling reality of the baby formula shortage.
Furthermore, it is taking an average of 5.5 days to resolve an out-of-shelf situation for baby formula this year, an increase of one additional day compared to 2021.
To make matters worse, it appears this shortage is going to get worse before it gets better. A significant decline occurred during the week of March 5, with baby formula dropping to an 84% OSA rate. The week of April 30 set a record low—an 81.2% OSA rate, with missed sales at $11M due to product unavailability, compared to a weekly average of $4.8M in 2021.
---
Varying impacts
While shortages of baby formula can be seen across the U.S., not all regions and states are impacted evenly. The states most impacted by the shortage include:
Iowa (78.4% OSA)
West Virginia (78.7% OSA)
Louisiana (79.1% OSA)
Kentucky (79.8% OSA)
Minnesota (80.2% OSA)
Regionally, those most impacted include the West North Central, East South Central, and Middle Atlantic portions of the country.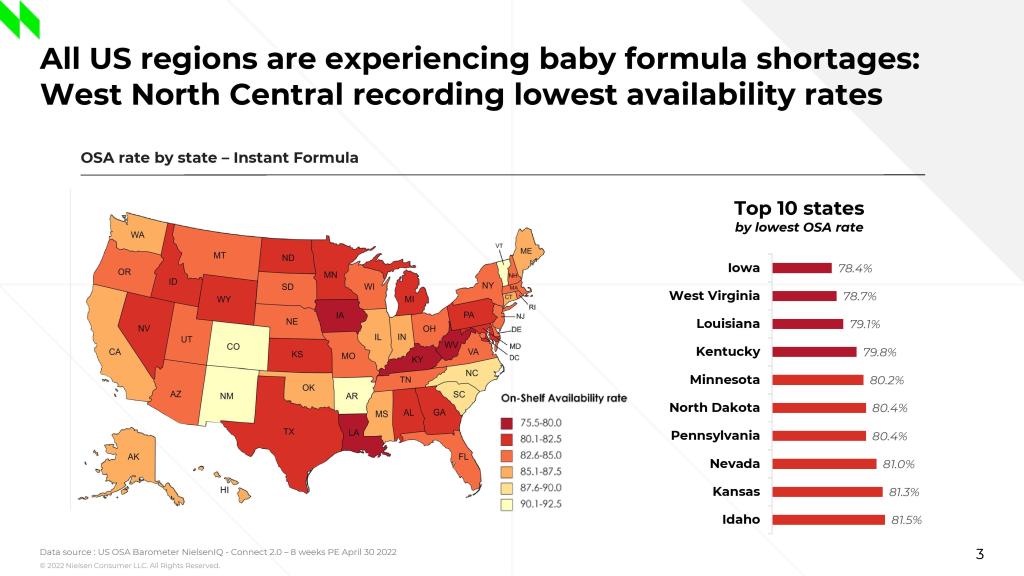 Baby formula suppliers have obviously been highly impacted by shortages—notably Abbot Laboratories, which was forced to recall formula and shut down production at a plant—but not all retailers have been evenly affected.
As the chart shows below, there is a nearly 25% gap between those retailers with the highest OSA rates and those with the lowest.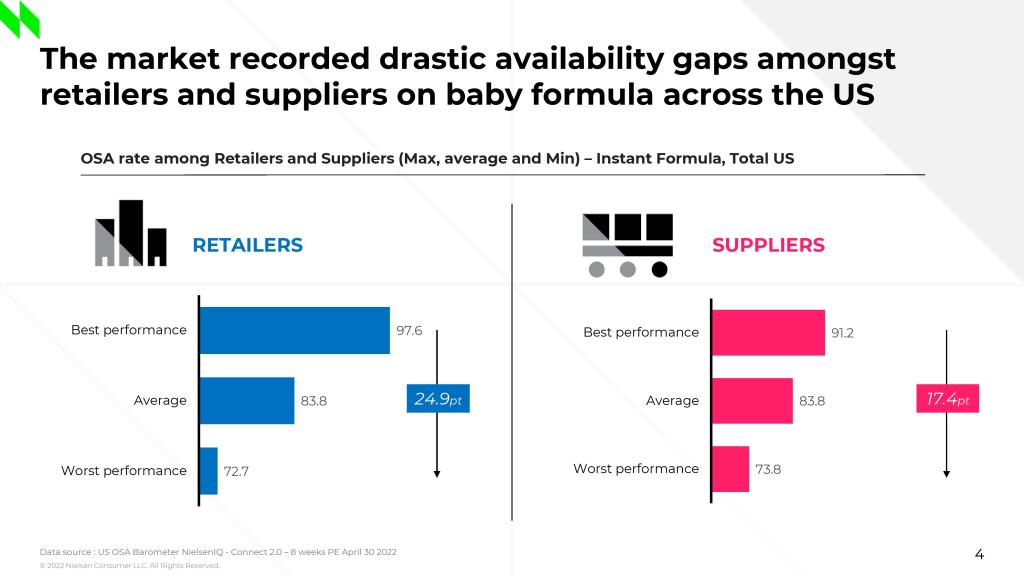 ---
Relief on the horizon
Unfortunately for desperate parents and retailers trying to get formula on their shelves, it appears as though the baby formula shortage may stick with us for a little longer. The FDA cleared the way recently for international formulas to be more easily sold in the U.S. but noted it could still take weeks for these products to hit shelves.
Stay one step ahead by staying up to date.
Don't miss out on latest insights, offers and opportunities by NielsenIQ.