What's changing and why?
Social media is no longer a "nice to have" for brands and retailers to simply communicate brand messages and personality. Now, brands can sell directly from social media pages, streamlining the shopper experience and creating deeper relationships with consumers.
Social media has become a top research hub for many shoppers, with 44.8% of global shoppers using social media apps and sites to research products they are interested in buying. This is largely because a brand can directly communicate their unique personality and marketing messages on social media, allowing for a more intricate and personalized experience for shoppers.
---
Instant-click shopping: Who's making moves?
In recent years, platforms like TikTok and Instagram have expanded into the social shopping realm.
Instagram Shopping allows brands to apply shopping features, including product tags that highlight products in images and videos. Consumers can easily tap the tag to buy or learn more, and see the products in a natural setting.
Amazon has responded to social shopping by partnering with influencers across social media platforms. Amazon Influencer Store Fronts allow influencers to create dedicated Amazon shopping pages for their followers to shop from. This strategy draws on the feelings of personal connection that influencers create with their followers.
We've previously discussed how important brand trust is to shoppers, and this form of social shopping allows them to know more about the brands they buy from and even instantly communicate with them via direct messaging. The Digital Marketing Institute notes that over 49% of shoppers rely on influencer recommendations, showing the growing importance of trust and influence in today's retail spaces.
---
Make way for DTC
The impact of social shopping might seem limited to categories like fashion, technology, and beauty, but its reach now extends to the grocery e-commerce landscape.
For example, Heinz has adapted to the format in the U.K. by adding a section to its website where shoppers can purchase products directly. These pages are filled with product marketing content from images and detailed information about ingredients to recipes. Heinz.com provides visitors with a more holistic experience than a retailer page. Shopper can seamlessly discover the entire Heinz assortment and learn more about the brand with just a few clicks.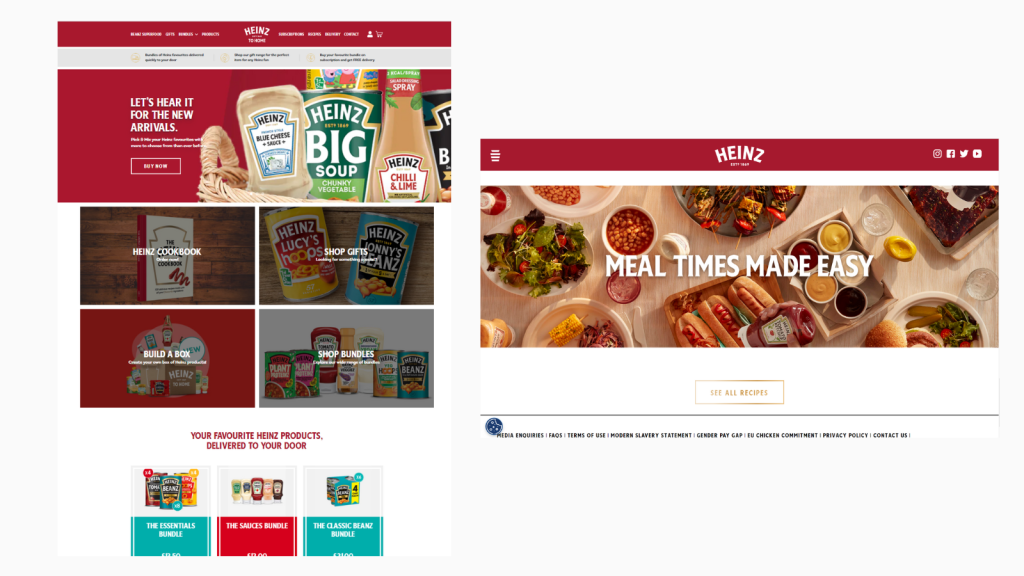 There are a variety of direct to consumer platforms, like Shopify, that empower brands to sell directly via their own websites and control the design and feel of the shopper experience. This shift puts additional pressure on traditional retailers to create detailed product pages that match the direct-to-consumer experience.
---
What can retailers do to stay competitive?
So how can traditional retail leverage their platforms to stay competitive in this environment? It's simple: enriched product content.
Ensuring that brands can place brand marketing, media (GIFS, images, and videos), and extended product information is a simple and easy way to improve the online aisles or product page. Including content that calls out major product attributes like allergen and dietary requirements can boost brand transparency and improve shopper trust. Enhanced marketing assets like lifestyle product photography and recipes can improve the shopper experience and replicate what they would find on a brand's social media or own website.
Studies show that the majority of retail purchases still come from traditional retailers, but social media and DTC platforms have a growing presence in the e-commerce space. To learn more about how retailers can evolve and adapt to shopper needs, renew shopper trust year over year, and provide enriched content across all their product pages and categories, download the full NielsenIQ social shopping report.